The SGIA Expo kicked off on Wednesday at the Orange County Convention Center in Orlando, Fla., expecting to draw near-record crowds. According to SGIA President Mike Robinson, 21,500 pre-registered for the show—only slightly below last year's ~22,000 expo, held in Las Vegas. (Vegas traditionally draws the largest crowds—well, there's no accounting for taste.) Perhaps most significantly, 49% of this year's pre-registrants have never been to an SGIA Expo before. Indeed, SGIA analyst Dan Marx identified one of the drivers of increased SGIA Expo attendance the fact that commercial print providers see wide-format and related areas of specialty graphics as substantial areas for growth, calling wide-format "the shining star of the printing industry." Like last year, exhibit space on the show floor was sold out.
At last year's SGIA Expo, the focus was on flatbed printing and if this year's show has a theme at all, it's textiles. Specifically, digital printing of textiles. "Soft signage," to name one digital textile application, has emerged as a top application, and new (some brand new) models have been introduced to help print service providers tackle what has traditionally been a tough nut to crack.
Weaveworld
Last June, Agfa Graphics announced its brand-new Ardeco direct textile printer, and it's actually being shown for the first time anywhere here in Orlando. A 3.2-meter aqueous dye-sublimation printer, the Ardeco prints directly on polyester materials without need of a transfer sheet. Unlike many other fabric printers that require a secondary system to fuse the pigment to the fabric's fibers, the Ardeco features a built-in calendering unit that helps boost speed and productivity (up to, says the company, 1400 square feet per hour). The Ardeco is a four-color device, available in 8- or 12-head configuration. It also offers an optional inline cutting system. The Ardeco is targeted to the soft signage market which, said Peter Wilkers, Agfa President, North America, represents a $1 billion market, growing at 16% annually. Agfa also announced a new workflow solution called Asanti, based on the classic Apogee, that offers automation and productivity solutions specific to sign and display printers, boasting "dedicated device settings for dedicated applications," said Andy Grant, Agfa's Global Head of Software.
The New Agfa Ardeco 3312 Soft Signage Printer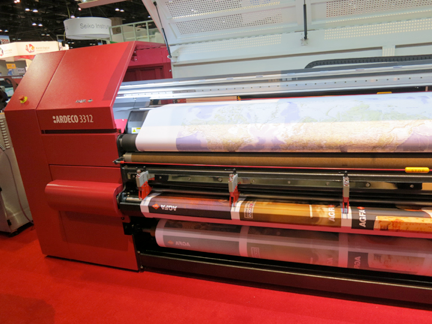 Durst is no stranger to textile printing, and they are using the SGIA Expo to showcase the new Rhotex 322 (an upgrade of the 320), a 3.2-meter disperse dye-sublimation industrial printer capable of printing direct to fabric. It boasts twice the speed of the 320, features a new media loading system that requires only one person and reduces the loading time to two minutes, offers an inline hot air dryer, and prints up to 1,057 square feet per hour. The Rhotex 322 is also targeted toward the soft signage market.
The Durst Rhotex 322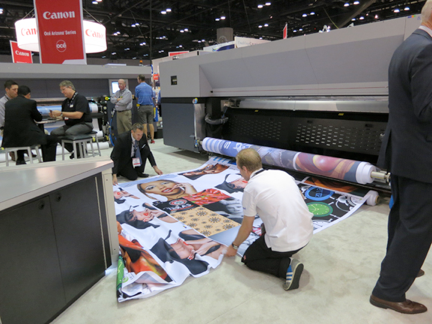 Cold Is the New Hot...But Then So Is Hot
I have written on occasion of EFI's GS Pro-TF thermoforming system (a modified GS2000 UV printer, software, and special inks), which, it was announced at the show, is now available commercially. And not only that, it was announced on Wednesday that the thermoforming system won an SGIA Product of the Year award. But at the same time, whilst thermoforming is hot (as it were), for EFI it could be said that cold is also hot. Specifically, so-called "cool cure" LED. EFI introduced the VUTEk GS3250lxr (take that, copy editors!), a 3.2-meter roll-to-roll UV printer that uses LED drying technology. This is not the company's first LED printer, but further represents the direction EFI is going. The advantages of LED curing are myriad, but among them is the ability to print on thin plastics without the heat of the curing lamps deforming the substrate, causing head strikes and other printing problems. EFI's new ink sets have also been designed to withstand stretching and other manhandling, especially when used for vehicle graphics. And if anyone at the show happened to notice that EFI's booth personnel were largely garbed in pink, it was to support Breast Cancer Awareness Month, via what the company was calling—in a pun (and cause) dear to my heart—"Pinkjet," a program that is supporting cancer charities for the duration of the show. During the SGIA Expo, EFI is donating $1 for every Twitter retweet (@EFI_Print_Tech, #EFIeverywhere, #Pinkjet), Facebook like or share associated with the campaign (www.facebook.com/EFI.Digital.Print.Technology), and $10 for every photo shared with EFI via Twitter or Facebook. Additionally, EFI will donate $1,000 for printer orders signed at SGIA and shipped by November 30.
EFI's Thermoforming System Wins an SGIA Product of the Year Award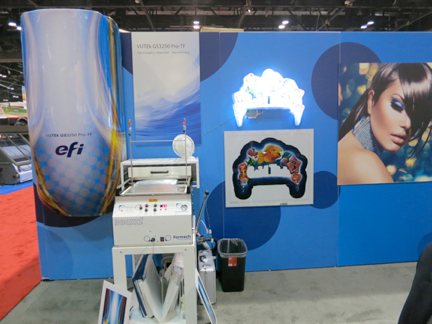 Take Two Tablets and Call Me In the Morning
In these show recaps, we (the royal we) often speak of big hardware announcements, but one unique new product was offered by MacTac, the supplier of pressure-sensitive adhesives. Called DesignScape 3D, it's an iPad and Android tablet app that offers designers, print service providers, and other wide-format output producers a unique interactive guide to MacTac's substrate offerings. Users can view six "environments" (shopping mall, retail store, convenience store, etc.) which are arrayed with a variety of applications within those environments: floor graphics, bench graphics, standalone signage, and so on. Clicking on each of those applications brings up MacTac's product offerings suitable for each, complete with related products (like laminates) and performance guides. The app also gives the user the ability to request physical samples. It's a very cool idea. DesignScape 3D is not available via the App Store, but can be requested via the user's MacTac product distributor.
MacTac's DesignScape 3D
Cuts Like a Knife
As SGIA's Dan Marx pointed out in a press event to kick off day 1 of the SGIA Expo, competition in the wide-format space has become fierce ("gone are the days of cushy margins," he said) and commoditization is creeping in. It's safe to say that anyone can generate high-quality output with the state of today's wide-format printing equipment. And when you see how many commercial shops are muscling onto this space, competition will only get fiercer. Where companies need to differentiate themselves is often in the finishing. What is done with the print after it is output? That includes installation, but part of the equation is also speed and productivity in simple things like cutting.
Last summer, I wrote about an xpedx wide-format printer summit at which an Esko cutter stole the show. Here in Orlando, a brand new Esko cutter may very well steal this show. The cutter in question is the Kongsberg C digital finishing platform. If the name conjures images of King Kong, you would not be wrong. The thing is a beast. The "C," says Greg Stewart, Esko's Segment Manager, Sign & Display, "is 'C' as in "complete.'" You may have noticed that 3.2 meters has become a common output size. So, the new cutter complements these output devices, handling media up to, yes, 3.2 meters wide. And is it fast. It also handles complex shapes with aplomb, and "supports high speed, fast acceleration, high quality creasing and exclusive, powerful 3kW milling capabilities."
More to Come
This was just day 1 of the SGIA Expo. Look for more reports—and video!—as the show goes on.