It wasn't necessarily unusual to find a blues guitarist choogling away on a Gibson in a trade show booth (I remember the late 1990s when you could pretty much find anything on a trade show floor, and at times half expected to see logo-emblazoned wildebeests sweeping majestically down the aisles), nor for there to be a working bar (offering Pabst Cyan Ribbon, perhaps?). In fact, these two items were a welcome respite from two days of developing that telltale "trade show stagger" common to those of us in the trade media who spend two or three days covering a show. No, what was unusual about the ersatz "blues club" set up in the Agfa booth at the SGIA Expo-held October 18–20 at the Las Vegas Convention Center-was that virtually every surface was printed on an Agfa wide-format device. The faux tile flooring, the blue awning over the entrance, the bar tables (bought at an IKEA and imaged directly by an :Anapurna M2540 without any kind of transfer material, a breathless Tony Lampariello, National Rigid Media Manager for Pitman, told me), the mirrors, the bar stools, the bar top, the bar taps, spot art distributed throughout the "club"-at one point I felt that if I stood still too much longer I'd end up getting printed on. (Hmm...now there could be a unique application for high-speed inkjet printers, once conventional tattooing reaches its saturation point.)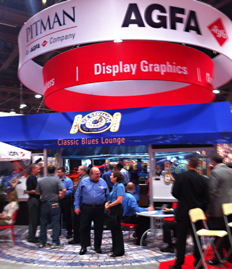 Agfa's Six Strings show floor blues club-nearly every surface, from the faux tile floor, to the blue awning, to the wall graphics, to the tables, bar top, and bar taps, was printed on an Agfa wide-format device, often without any kind of transfer medium.
A short ways across the floor, HP had a small bakery display. Again, every conceivable surface and object printed on an HP wide-format device: the curtains, the faux marble countertop (dang, I thought it was real until I tapped it), bottle labels, the parquet-esque flooring, the wallpaper. Funny, the posters-once the quintessential wide-format application-seemed quaintly prosaic. Elsewhere in its booth, HP was displaying a large dinosaur mural that had been produced for the Royal Ontario Museum in Toronto; the original incorporated augmented reality so that a visitor with an iPhone or iPad could aim the device at the poster and see a video or animation of dinosaurs. HP had customers on hand (Inflatable Images) who talked about how they produce giant wide-format-printed inflatable objects-from beer or other retail displays, to those inflatable tunnels that sports teams bound out of before a game amidst dry ice and the opening strains of "Sirius" by the Alan Parsons Project. (For example, the giant Colt which egests the Indianapolis footballers.)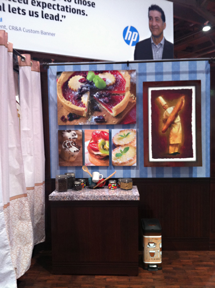 HP's wide-format "bakery"-everything from the parquet floor, to the curtains, to the wallpaper, to the "marble" countertop was printed on HP wide-format equipment.
Elsewhere, actual cars were on the show floor, as vehicle wrapping has become an increasingly popular application. (Mutoh has long brought along a vehicle or two for show-floor demo purposes; Mutoh, by the way, was also celebrating its 60th anniversary with a little party on Friday afternoon. They had beer. Between that and the Agfa blues club, the trade show stagger was curiously pronounced.)

Showcasing printed output is, of course, nothing new. Heck, isn't that the whole point of exhibiting at a trade show, to demonstrate your equipment and the output it produces? And even in the wide-format space, even going as far back as the 1990s, show attendees would stand transfixed as large images unfurled from devices. The sea change in exhibitor raison d'étre today, however, is not so much to demonstrate machine capabilities-although that still is of course necessary-but to give print providers and print buyers ideas, to stimulate their creativity. And, said David Murphy, Director of Market Development, Americas, for HP's Graphics Solutions Business, stimulating demand for print. To that end, customers are taking a more active role in trade show participation than ever before, and print providers and creative professionals are helping equipment and software manufacturers demonstrate that the sky is the limit when it comes to designing, developing, and producing unique products.

You may have seen the video interview we conducted with Phil Yu, Creative Director of Brea, CA's Gamut Media, who was on hand in the Roland DGA booth to discuss their creative wide-format applications. In fact, they won an SGIA Golden Image Award for Saladish, a California restaurant for whom Gamut created an interior décor and branding campaign that included floor-to-ceiling wall wraps, POP displays, and other graphics. It's all about stimulating ideas.

Managing Color
One major theme of this year's SGIA was color management, which, if you have been following these features, is also emerging as a major issue in the wide-format space, especially as commercial printers and other companies are incorporating wide-format graphics as part of a larger overall campaign that also involves output from a number of different types of presses. This was perhaps best illustrated by a graphic affixed to one wall of the HP booth that featured a tiled image, each tile of which was produced on a different press. With the help of GMG's ColorServer and SmartProfiler, the different tiles match perfectly.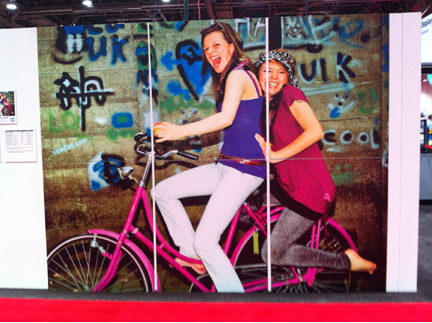 This image comprises six tiles which were printed on (top row, left to right) an HP Scitex XP5500, a screen printing press, an offset press, (bottom row, left to right) an HP Scitex TJ8600, an HP Scitex FB7600, and an HP Scitex LX850, all color managed using GMG software.
Spot On was also demonstrating its Spot On! Verify software that allows print providers to verify that a print or proof conforms to G7, ISO 12647, or some custom specification. It also helps control the color "drift" that can occur over the course of a pressrun.

But It Is All About the Hardware
The length and breadth of wide-format printing equipment is well-nigh impossible to summarize in even an entire 1200-word feature, let alone one section therein.

Canon/Océ announced its new Océ Arizona 480 GT and Océ Arizona 480 XT printers, with the Océ Arizona 480 GT making its worldwide debut at the show. Océ was also showing a proof of concept demo of its Project Velocity, its wide-format printing system based on Memjet inkjet technology that is said to be able to print up to 15 times faster than conventional aqueous inkjet devices. We'll be eagerly anticipating the official availability of Project Velocity.

EFI was also showing its wide (as it were) range of EFI and VUTEk products, including the new EFI VUTEk HS100 Pro high-speed digital UV inkjet press that, to this writer, looks more than a little like a monorail car. They were also demonstrating the EFI VUTEk QS3Pro 3.2-meter UV hybrid printer, EFI VUTEk GS3250lx Pro, a production level LED UV-curing printer, the EFI R3225 UV roll-to-roll printer, the EFI T1000 UV flatbed printer, and much more.

Epson was displaying representatives of its broad product range, as well as its new line of wide-format color plotters-comprising the SureColor T3000, T5000, and T7000-designed for engineering, scientific. and technical printing.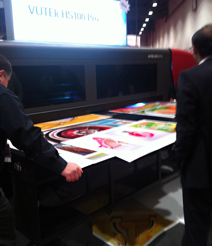 EFI's VUTEk HS100 Pro flatbed printer.
Fujifilm was showing its Inca Onset S40i UV flatbed press, the new Acuity Advance Select UV flatbed, and Acuity LED 1600, as well as the latest in the company's series of Uvistar super-wide format printers, the Uvistar Pro8.

Roland DGA had a wide variety of its disparate portfolio on hand, as well as its just-announced SOLJET Pro 4 XR-640 printer/cutter, which features an advanced eight-channel printhead design and the company's new Eco-Sol MAX 2 inks.

And, Finally
There was a palpable sense of excitement at the show, and it drew record numbers of exhibitors, as well as more than 22,000 attendees, "a record for us," says Michael Robertson, SGIA President and CEO. More than one-third, it has been estimated, were first-time attendees.

Finally, note to self: for the next trade show, bring a better digital camera; cellphone cameras are uniformly awful-portraits always tend to look like those last-known photos they would show on Unsolved Mysteries.