The corporate news of late from HP has painted a picture of turbulence: planned layoffs of up to 27,000 employees worldwide; an anticipated record loss of nearly $9 billion in the latest fiscal quarter; and a companywide restructuring that will leave few aspects of the $127 billion technology giant unchanged. Missing from most of this news, however, have been details about how the turbulence will affect the part of HP that matters most to print service providers: its Graphic Solutions Business (GSB), the unit that makes digital presses, consumables, and related software and systems.
HP tried to provide some reassurance during a customer event last week at its Graphic Arts Experience Center in Alpharetta, GA, a northern suburb of Atlanta. The event, also attended by journalists and analysts, provided insight into what the GSB can expect under new leadership in the wake of organizational changes. The briefing also offered a review of the unit's technology portfolio, including the newest Indigo and HP Inkjet platforms.
The Graphic Arts Experience Center, a 60,000-sq.-ft. demo and conference facility, was opened last year, and HP regularly hosts visits to it by groups of current and prospective customers. It is the only location in the U.S. where the entire range of GSB products, services, and applications can be seen under one roof. Those who came to last week's tour were among the first in the U.S. to see products unveiled by HP at drupa 2012, including the Indigo 10000 B2-format digital press.
Imaging & Printing Gets Personal
The GSB now is a part of the new Printing and Personal Systems Group (PPSG), formed by merging the erstwhile Imaging and Printing Group with the part of HP that manufactures personal computers, workstations, and many other commercial and consumer products. In charge of PPSG is R. Todd Bradley, its executive vice president; reporting to him as head of GSB is Christopher Morgan, senior vice president.
The ranking GSB executive at last week's customer event was Sumeer Chandra, worldwide vice president for marketing and strategy. He said that the reorganization of HP does not appear to portend much change for his unit or its business strategies.
Although synergies between HP's computer business and its production printing operation may be limited, Chandra said, the uniqueness of GSB within HP as a whole should be strongly to its advantage going forward. "Todd and Meg (HP CEO Meg Whitman) are very supportive," he said. "Both Todd and Meg get it." The two attended drupa 2012 and were, according to Chandra, very favorably impressed by what they saw on the stand and heard from customers. Whitman even made drupa one of the first things she mentioned in a recent earnings call.
As layoffs and budget cuts begin to make themselves felt, said Chandra, "the impact to us will be limited" as long as GSB hits its targets. Top management understands, he said, that the unit is in the forefront of a shift from analog to digital production and that this technological shift is still in an opening phase.
Mainstream Ripe for "Attack"
According to Chandra, the shift will accelerate as perceptions of digital printing change—and as patterns of print procurement adjust along with it. Initially, he said, most of digital print's growth occurred in very-short-run applications, and that tended to pigeonhole it as a niche technology. Even now, he said, "we are still not attacking the mainstream of the market."
But, a broader horizon for digital printing is taking shape. Marketers are focusing less on the unit cost of digital printing—higher than that of conventional printing in anything except short runs—and more on the attractive ROIs that personalized printing and print-on-demand make possible.
"It's starting to tip," according to Chandra, in markets such as book publishing, where he said some HP customers are producing 25% of their volume on digital equipment. "Once it gets to a certain point," he added," the rest will follow."
Yishai Amir, vice president and general manager of HP's Indigo & Inkjet Press Solutions business for the Americas, discussed the direction in which HP is working hardest to make digital printing go—high-volume production.
He said that based on placements of Indigo equipment, HP can claim a 60% share of the world market for high-volume production devices. Of the 5,567 Indigo presses installed worldwide, more than one-third (1,888) are at work in the U.S. On the inkjet side, HP has sold more than 80 of its T-series web presses around the world, with more than half of them installed in the U.S. According to Amir, the global base of HP inkjet web presses has produced more than 14 billion pages since the platform was introduced at drupa 2008.
R&D by the $B
Since then, he said, "from one drupa to another," HP has invested $1 billion in R&D for graphic production. The money funds pure research from which HP selects technologies to "productize." This was the sequence of events in the genesis of the Indigo 10000, for which research began in 2006. Product development commenced in 2009, and today, Amir said, the project is supported by 400 personnel who have contributed about 1,000 man-years of effort to the design and launch of the press.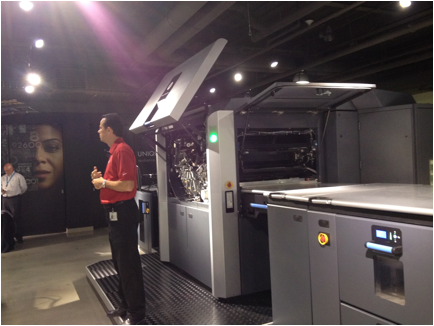 HP Indigo 10000
The Indigo 10000 at the Graphic Arts Experience Center is the first of its kind to reach North America. Beta testing in the U.S. is to begin soon at Consolidated Graphics and Sandy Alexander; full commercial availability is scheduled for early next year. The machine in Alpharetta aims to impress visitors with the Indigo 10000's fitness for 20" x 29" production in up to seven colors at speeds as high as 4,600 sheets per hour (4/0).
The press in the showroom has a precision pile feeder supplemented by two additional media drawers. The Indigo 10000 can be ordered with up to four drawers from which sheets of the same size can be fed interchangeably at full press speed. The ElectroInk delivery system permits on-the-fly mixing of spot colors. On-board spectrophotometry and registration cameras automatically monitor quality.
HP's inkjet technology complements the electrophotography of the Indigo line with a high-volume "sweet spot" of its own, said Amir. He spoke of a U.S. customer that, until about a month and a half ago, had no thought of acquiring an inkjet press. But then, after the landing of a massive print order abruptly changed the company's capacity requirement, a T-series press originally slated for installation in Europe was re-routed to the American site.
Webbed Up to the Max
The Graphic Arts Experience Center houses a 22", 400 fpm T200 color inkjet web press—the largest T-press that the space can accommodate. The platform also is configurable in a 30" web width as the T300 series, with running speeds up to 600 fpm; and as the T400 series, with a 42" web width and a top speed of 800 fpm.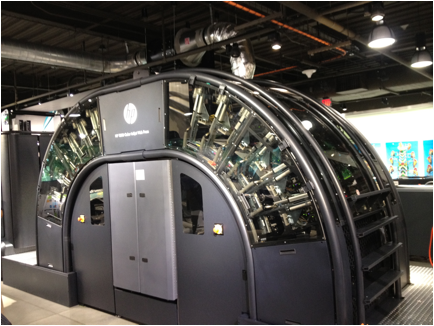 HP T200 Color Inkjet Web Press
During last week's event, visitors heard from Paul DeSantis, director of IT technology at ANRO, a West Chester, PA, marketing communication service provider that installed a T300 inkjet press in May. The machine is housed in the same pressroom as ANRO's offset equipment, DeSantis said, and is currently operating at about 45% capacity. Utilization will go up, he added, as ANRO shifts more of its letter work to the digital platform.
A special appeal of inkjet for printers producing direct mail, transactional documents, and other high-volume applications with variable content is its unique capability for mass customization, according to Amir. With inkjet, he said, "digital approaches offset productivity"—a perception that HP means to encourage at every opportunity.
Amir said that members of his sales team are compensated partially on the basis of how many pages their customers produce on HP and Indigo equipment, reinforcing the idea that the company's success in high-volume digital production is measured primarily by what end-users do with the technology.
The program also included an overview of HP's SmartStream workflow solutions. Among the highlights was SmartStream Director, a web-to-print and production management package co-developed by HP and PageFlex. Another tool for digital print efficiency, SmartStream Production Analyzer, automatically gathers machine and operator productivity data from print runs on Indigo equipment. The data can be displayed on a dashboard that presents real-time performance measurements for all of the Indigos in the plant.
"Yeah, We Can Do That"
The implications of digital production for the business of printing were well expressed by Kent Larson, vice president for on-demand production at Bridgeport National Bindery, a provider of binding and book preservation services in Agawam, MA. About six years ago, the company installed an Indigo press to take advantage of an opportunity to print and bind library books in quantities as small as one. It currently operates three Indigos and has expanded profitably into photo book manufacturing as well.
According to Larson, printers should regard digital production technology as a form of empowerment. "Never forget just how great it is to say, 'Yeah, we can do that," he said in a breakout session. With all that's made possible by solutions like those seen in HP's Graphic Arts Experience Center, "the new paradigm is, 'If they come, you will build it.'"