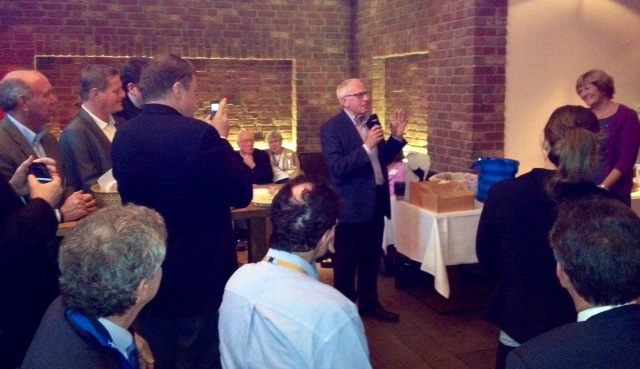 Regular readers of WhatTheyThink need no reminder of who Andy Tribute is or of how much value he has added to the WhatTheyThink editorial space. Admirers of his writing probably will not be surprised to learn that his peers hold him in as much personal affection as they do in professional esteem.
On May 5, both kinds of praise were lavished upon him in a "Tribute to Tribute" that brought a large crowd of journalists and analysts to a beer hall in the Düsseldorf altstadt for a celebration in his honor. The gathering was graciously hosted by GMC Software Technology (GMC), a developer of customer communications management solutions.
There, over glasses of Düsseldorfer Altbier and shots of Killepitsch, a potent local schnapps, the cognoscenti relentlessly kidded the guest of honor that he'd never go through with his recently announced plan to retire—for real, this time!—from consulting. More seriously, Andy's friends spoke for the record about his tremendous influence as the best of the best in graphic arts journalism—a researcher and reporter whose knowledge of technologies and trends in graphic communications almost no one else comes close to matching.
They spoke with warmth about his amiable nature, his generous good fellowship, and above all, his unfailing integrity when divulging relevant facts as he finds them and calling critical shots as he sees them. Among those taking turns as toastmasters were Frank Romano, Katherine O'Brien, Laurel Brunner, Roger Gimbel, and Bill Lamparter. Their reputations as industry thought leaders spoke volumes about the preeminent stature of the person they'd singled out for their highest praise.
Andy thanked WhatTheyThink for the editorial exposure that it has given him, but that expression of gratitude needs to be turned around. The addition of his name to our roster went a long way toward putting WhatTheyThink on the map as the industry's premier source for news, commentary, and analysis. If Andy really is serious about resting on his long list of journalistic achievements, then the rest of us who ply the same trade have been left with one exceptionally tough act to follow.