In a quiet business park in Hanover Park, Ill., about 40 minutes northwest of downtown Chicago, Fujifilm houses its nearly 24-foot-long J Press 720 behemoth.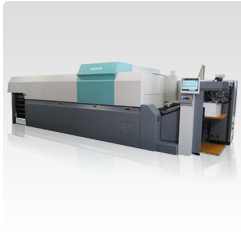 The J Press 720, the sheet-fed inkjet press first introduced in 2008, is the company's much-talked-about solution to a gap seen between digital and offset printing. The company says the J Press 720 creates a new product category: high-quality, sheet-fed inkjet press. And its first installation of the machine at Gilson Graphics this fall in Michigan has brought the J Press 720 from news articles, headlines and presentations into reality.
In its demo facility in Hanover Park, Fujifilm brings interested parties to see the machine — it was not onsite at the show during the most recent GRAPH EXPO in September of 2011; rather, potential buyers traveled to the suburbs to see the J Press 720 in action. According to Peter Vanderlaan, the director of product marketing for the Graphic Systems Division of Fujifilm North America Corporation, the company has had scheduling difficulties with performing internal work on the prototype machine because of the high level of interest in the press on the part of potential buyers.
It is an understatement to say that the product has been a long time in the making for Fujifilm, whose strategic acquisitions have well positioned the company to introduce the J Press 720. "It's the first device of its type; it certainly won't be the last," Vanderlaan said. The J Press 720 is for commercial printers who want high-quality, short-run inkjet work, in addition to digital printers who might want to offer more print services. Vanderlaan says that as run-lengths continue to decrease and clients want "just-in-time" printing, this machine will be ideal. "Any half-size commercial printer, this product really fits," he said. Since other options for production inkjet today are web-fed, an important advantage of the J Press 720 is that it is key for commercial sheet-fed printers who do not want the added expense and different workflow (including finishing) associated with adding roll-fed presses to a sheet-fed environment.
Michigan receives the first
At Gilson Graphics in Grand Rapids, Michigan, the first J Press 720 was installed in 2011, nearly three years after Fujifilm first announced the product. According to its profile, Gilson says three "picky" industries have relied on the company's services: furniture, food and automotive. So a short-run press that still can produce swiftly fits into its production model.
Gilson likes to be ahead of the pack: "We're continually investing in new technologies, traditional and digital, to maximize customer efficiencies," their site says. Gilson's receipt of the J Press 720 follows three installations in Japan. Though there is a demo facility in Europe, there are no installations there at this time, according to Fujifilm.
Marco Boer, vice president of the consulting firm IT Strategies, has nearly two decades of experience with inkjet technology. He says the J Press 720 is "quite revolutionary" and he believes the hubbub about the machine will only accelerate. But he notes that only certain print shops will purchase it at this time — those with the financial stability to make a large investment and those that have the vision to see that the J Press 720's capabilities are ideal for the future.
At this time "it's not replacing offset," he says. "Rather it's complementary."
Fujifilm has noted that the J Press 720 is ideal for companies that want to produce pocket folders and yearbooks, for example.
For the time being, complementary is the role of the J Press 720 for Fujifilm as well. According to Vanderlaan, the "bread and butter" of Fujifilm is still offset aluminum plates. The J Press 720 sits "perfectly for our wheelhouse," he said.
Boer agrees. "Inkjet has a huge importance to this company and it's not going away," he said.
Acquisitions pave the way
Unsurprisingly, the J Press 720 is a product of years of acquisitions and development for Fujifilm.
"To make further headway toward new growth strategies, a key part of its medium-term management plan, Fujifilm has been aggressively making capital and R&D investments," read a press release from 2005 after Fujifilm acquired Sericol Group, an ink manufacturer. That same year, Fujifilm also acquired the chemical company Avecia's inkjet business: "Fujifilm expects to expand its business in ink materials for inkjet, a field in which stable growth in demand is anticipated," the company said at the time.
Six years later, that demand was clear.
"Fujifilm saw that the printing industry was changing and really started looking at future," said Kristi Hubert Mendez of the public relations firm KMPR. She has worked with Fujifilm for approximately 11 years. "(It took) a lot of forethought five or six years ago to acquire these companies."
Fujifilm is anything but a small player in the graphics world. As of March 31, 2011, the consolidated subsidies of Fujifilm Holdings included 239 companies. Headquartered in Tokyo, Japan, Fujifilm Holdings is a large, dynamic organization, with businesses in graphic arts, medical systems and photo imaging, among others. For the first half of fiscal 2012-2013, the company recorded a 2 percent drop in consolidated revenue from the previous year. According to financial reports, this was primarily due to strong yen appreciation and the decrease in demand in Japan due to the earthquake and tsunami — despite new products and sales promotions in emerging countries. Reports note that when the yen appreciation was excluded, consolidated revenue was almost at the same level as the previous year.
With the J Press 720 being the first of its kind, fitting into this new niche in production inkjet printing, it could well position Fujifilm to be a bigger player in the market. The company certainly believes so — and Boer believes that in five or 10 years, the name Fujifilm could hold a different power in the printing world.
"It's a wonderful time to be in this market," Boer said. "And Fujifilm is being rewarded for being the first."
The J Press 720 Basics
- Prints a 20" x 29" sheet in a single pass
- Output of up to 2,700 sheets per hour
- 1,200 dpi x 1,200 dpi resolution with four-level gray scale
- Four print bars, each with 17 individual heads and 2,048 nozzles per head
- Utilizes Fujifilm's XMF Workflow
Website: www.jpress720.com