Joe Davis, CEO of Consolidated Graphics, has been named WhatTheyThink's Print CEO of the Year.
Davis, chosen from among five finalists by more than 2,500 printing executives in an online ballot, accepted the honor last night at the award dinner of WhatTheyThink's second annual PrintCEO Forum in Chicago. The other four finalists included Robert Keane, CEO, Vistaprint; John Lacagnina, CEO, ColorCentric Corp.; Joel Quadracci, chairman and CEO, Quad/Graphics; and Adam Slutsky, CEO, Mimeo.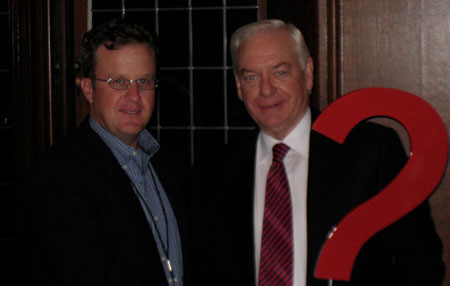 Randy Davidson, WhatTheyThink, presents the PrintCEO of the Year Award to Joe Davis , CEO, Consolidated Graphics.
By a vote of his peers, Davis was acclaimed as the printing executive who most thoroughly embodies the qualifications established for the award, which are keynoted by inspirational leadership and business success. Davis was cited for creating and building Consolidated Graphics' network of 70 printing companies while maintaining a flat management structure, controlling costs, and making progressive use of technology.
In his acceptance remarks, Davis said that one of the achievements of which he is proudest is an internal leadership development program that has produced 23 of Consolidated's 70 company presidents. Consolidated actively recruits recent college graduates, regardless of degree, who demonstrate a history of success and the motivation for further accomplishment. Then, said Davis, "we try to teach them the printing business." This year, Consolidated hired 99 June graduates whom it has begun to groom for management positions.
Davis said that they will be taught the virtues necessary for success at every printing company: "being eager, aggressive, working hard, and servicing the customer better than the guy down the street."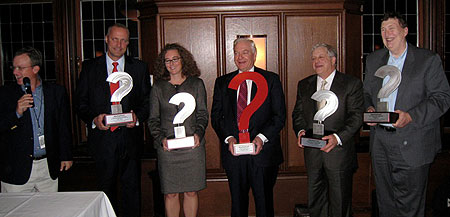 Davidson introduces the finalists or their representatives, from left: for Joel Quadracci, Tim Sands, vice president, press operations, Quad/Graphics; for Robert Keane. Wendy Cebula, president, VistaPrint North America; Joe Davis, Consolidated Graphics; John Lacagnina, ColorCentric Corp.; for Adam Slutsky, Charlie Corr, vice president-corporate strategy, Mimeo.
Davis and his fellow finalists accepted specially commissioned trophies bearing the characteristic "?" of the WhatTheyThink logo. manroland co-sponsored the award dinner, with opening remarks by CEO Vince Lapinski.
The PrintCEO Forum, a C-level symposium held in conjunction with Graph Expo, concludes today.