Economic Round-Up
Good news, bad newsLet's look at the good news first.
Good News: August shipments of printing and printing services were up by $18 million dollars compared to July.
Bad news: It was the lowest August since 1994, and $300 million in shipments less than last August.
Of course, adjusting for inflation makes the data look even less appealing (the worst August since reporting began in 1993!); and the 12-month inflation-adjusted moving total is running at an annual rate of $94.6 billion, meaning that the industry will be about $1.9 billion in shipments less than last year. Remember, printing and printing services includes commercial printing and a host of other related industries.

So now what? The improving economy will make things less bad, and I do expect an upturn in shipments for October and November. If we don't see an upturn, that means that the rising economic tide is not enough to counterbalance the media mix shift undertow.
But I remain optimistic that holiday season retail printing will give us a little bit of a printing upturn as retailers look to grab hold of a growing economy with more confident consumers who are willing to open their wallets for the holidays.
Finally, most corporations are on a calendar year, and January 1 starts a new budget cycle. I hope that our business gets a boost from that, too.
Recent employment data that initially looked pessimistic was revised to be more optimistic once the full data came in. The ISM indices, on the surface, looked slightly negative but were still in growth territory, and the new orders data in the ISM calculations were very encouraging. The calendar quarter has ended, so corporate earnings data will start to appear in the business press. Some of the reporting may fall prey to overemphasizing declining profits, but that will be the result of accelerated depreciation (remember my column from a few weeks ago?). Continue to look toward corporate cash flow and productivity improvements. Looking at EBITDA will be a much better measure of actual economic performance at this stage.
On a Brighter Economic Note 
One hopeful economic sign is that small business formations are increasing again. Since January, we have had about 900,000 net new establishments (meaning that after business deaths are subtracted from business births, there is a net gain). This is great news for the economy, and for dealing with our sluggish unemployment issues.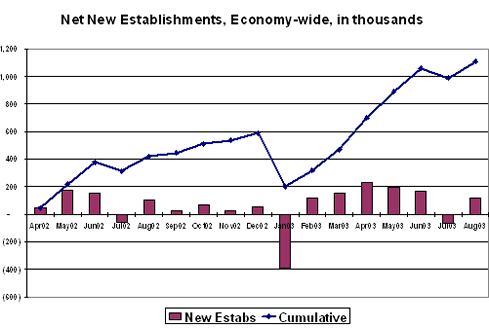 Economists have been sparring over the last few months over the difference in employment data that comes from the Bureau of Labor Statistics' employer survey and the household survey. The employer survey counts people on payrolls. The household survey checks in with households, asking if people are employed or looking for work. The latter shows a 200,000 shortfall in employment. The former shows a 2,700,000 shortfall.
In the long run, it is far better to have new business formation since that drives economic growth and helps the economy deal with change. Larger businesses tend to react more slowly to upturns in the economy, as was recently shown in a Conference Board survey of CEOs reflecting some skepticism of the sustainability of our renewed economic growth.
All in all, business formation is very bullish, since their role in hiring new employees and increasing overall employment is well documented. Corporations are less likely to hire as the desire to continue to outsource services is deeply entrenched, and that is one of the prime drivers of small business growth. Large corporations have gotten used to the lower breakeven points they have established through downsizing and productivity increases, and they want to be sure that they retain them.
We won't get a bump in print demand, though, like the last small business surge of the early 1980s that stimulated quick printing and sheetfed work, but this does offer some encouragement that our freefall is about to end.


Back to top
World Bank Issues Shocking Report
A "shocking report" came from the World Bank this week: "...excess regulation stifles productive activity..." One of the more interesting paragraphs in the Wall Street Journal's coverage was:
It costs next to nothing...and takes two days to create a private company in Australia . Starting a business in Angola costs $5,531, or more than nine times the country's per-capita income, and takes 146 days... The report uses its comparisons to advance the thesis that heavier regulation is usually associated with more inefficiency in public institutions, causing longer delays and higher cost. The consequence often is more unemployment and corruption, and less productivity and investment."
Finally, the World Bank is on board. Now, if only the International Monetary Fund will join them, we might make some progress!
I have long been a fan of the Heritage Foundation's Index of Economic Freedom which profiles countries based on various free-market characteristics (wages, regulation, property rights, and others). It is a resource no international business manager should be without. It contains excellent economic analysis and even describes unmentionables like black market economies. You can download the PDF of the document (for free!) here . Just scroll down to "download the book."

On the Web: Wall Street Journal (requires subscription)
Controversial GraphExpo: "Get Ahead of Your Competition: Thriving in the New Print Reality"
On September 29 at Graph Expo, I delivered a presentation hosted by WhatTheyThink.com and sponsored by MAN Roland. The presentation was very well received by those who attended. As word of the presentation went though the show floor grapevine, I was approached with some very interesting questions, the nature of which implied that many of my statements were taken out of context. (Gee, that never happens to me.)
The presentation covered these topics:
Can printers be in the communications business? The way you answer this affects all aspects of your organization.

Are you driving sales or are sales driving you?

Do you know your customers? Immerse yourself in your customer's business.

The new role of print
This presentation focused on strategic management issues and was not an economic outlook.

Download the presentation in PDF format

Listen to the audio

(I apologize in advance for the quality of the audio, but you will at least be able to understand the gist of my remarks. Please note that the audio begins with Slide 3.)
Enjoy the presentation! Thanks again to MAN Roland and WhatTheyThink.com for their generosity in hosting this event.
Other important presentation notes
In this presentation, I describe some basic strategy alternatives for competitive differentiation for printing companies but reminded the audience that they can't escape the laws of manufacturing economics. I was especially pleased with the positive audience response to my comments about sales compensation plans and how they often undermine strategy when they are not congruent with strategy. When sales plans are constantly changed they disrupt and extend sales cycles and other processes unnecessarily. Short-term obsession with press loading at all costs means that a better strategy can never be implemented.
In the end I think the audience was rattled about my discussion of our inability to stimulate print demand. We did have practices in place to stimulate demand, and they never worked. Just look at how powerful the newspaper industry is, and even they, as content owners , can't change the media habits of young readers. Our industry is a subcontractor to content owners, so our influence is demonstrably less than theirs.
So what I proposed is that we not fall into the use print, the other stuff doesn't work as well trap, and instead do something quite different. We have to get into the thick of the media fray and become participants in changing the way media are used, and actually sell those new media capabilities as if they were our own. The aggregate technology, social, economic, and demographic trends are something we need to ride, not to fight.