One of the drawing cards for attendees at GOA 04 were three specialized Zones focusing on specific interests of print providers. There were Zones for Mailing Systems, Package Printing and Converting, along with Design City, each featuring vendors showcasing tools and sharing knowledge of these areas.
Mailing a Big Draw
A very large percentage of all printed documents wind up in the mail stream and a growing number of print providers see adding mailing services as a logical--and profitable--way to broaden the mix of services they provide. Here at GOA, the Mailing Systems Zone was sponsored by the United States Postal Service, Mailing Systems Technology Magazine and AIMED. Major vendors such as Pitney Bowes were on hand with equipment, software, and products to show print providers how they could add mailing services to their operations. I spent some time with the USPS staff and got a look at the tremendous amount of services they can provide businesses and printers who want to optimize the use of the mail. It's amazing how many of the services once available only at your local post office are now available on line, and how much information, previously known only to your local postmaster and direct mail experts is readily available on line.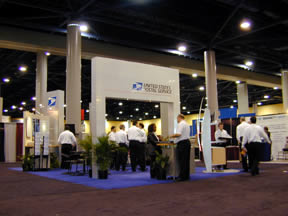 I really liked the part of USPS On-line Services that makes it easy to build basic marketing communications programs. These provide guidelines and even design templates, some of which printers could use to market their own mailing services. For a detailed look, prowl around www.usps.com and investigate all that's there. The first thing I thought of as they gave me the tour was that printers looking to add mailing services could easily become a consultant to their customers on direct mail marketing, bulk mailing, and more by studying the information on the USPS site. Mailing services can be quite complicated, but USPS is clearly on a mission to help individuals and businesses use them more effectively and profitably. If you are considering adding mailing services to a print operation, do some direct marketing on your own, or want to know the questions to ask a mail house, this is definitely the place to start. USPS will also have booths at various trade shows this year.
Packaging & Converting
While speakers at TrendVision cautioned printers about jumping too quickly into packaging, there is still room for printers to expand and get a bigger share of some customers' print budgets. Companies like Mark Andy-Comco, Accuratech, Bielomatik, and R Tape were busy in the Package Printing and Converting Pavillion, showing how printers could add various types of packaging to their services. Many of the options shown were around labels, a specialized market that can be a good entry point for printers looking for ways to go beyond their regular jobs without going too far outside their comfort zones.
Helping Employees Be Better
Meanwhile, over in Design City, a unique solution for training and learning was on display at Staffing Tools. While a printer might want to learn about mailing, a graphic designer may want to ratchet up their skills in Photoshop, Creo Preps, QuarkXPress, or other graphics programs. Or a printer might want to evaluate a prospective employee's claims about their prowess with various software tools. Enter Staffing Tools (www.staffingtools.com), which provides personalized, affordable, and comprehensive testing and training for graphic arts, all online and 24/7.
With its features driven by the requests of customers in major corporations, ad agencies, and large print providers, Staffing Tools can provide custom curriculum development for individuals that allow an employee to work toward certification in specific programs. A series of step-by-step lessons on a given topic--such as working with layers in Photoshop--measures a user's expertise and sets time limits for providing the correct answers. The interactive tools seem to coach a student and draw them up the learning curve in a friendly manner. And from a management point of view, it doesn't disrupt getting the real work out the door. The lessons are short enough so an employee can learn in small chunks of time--just 15 to 30 minutes--and use and performance can be monitored by a manager.
Best of all, it is perhaps the most affordable software training option I have seen. I expected it to cost several hundred dollars per seat, per course--sort of like the one-day traveling seminars you see advertised by direct mail. But individual courses run just $150, and the entire Prepress Training Solution runs $300/seat for up to 9 users, with multi-seat discounts available. I sure wish I had something like this when I taught my self QuarkXPress a dozen years ago. Think I may go take a Photoshop course.
The Print Council
Michael Makin, CEO of GATF/PIA ran a luncheon meeting where following a series of projections for 2004--the year is expected to offer some improving business conditions and some vendors are already seeing an uptick in orders--he hit on some challenges for the industry. It is vital, he said, to educate buyers, sell solutions rather than finished goods, and expand services to meet changing demands. Being able to provide services that cross from print to electronic media is becoming a business imperative. "But most important," Makin said, "print providers must unite to compete against other media not each other."
This is one of the foundation messages of The Print Council, a business development alliance dedicated to promoting greater use of print media. Its goal is to educate, increase awareness, support market development activities, research and be an overall advocate for print. The Print Council had its launch meeting last September at GraphExpo and represents a mix of some of the biggest players in the industry. What is remarkable is its make-up of equipment vendors, print providers, publishers and consulting firms. Perhaps for the first time, there is an organization that works as an alliance to promote the entire industry rather than a subset of it constituents.
In my humble opinion, this is long overdue and represents a change in the thinking of industry leaders that we can work together to keep print as a vital medium. Just as television did not replace radio, the electronic media are not destined to replace print. But because virtually all documents are digital, the print industry is in the unique position of being able to support production of those documents across multiple media--and add value for customers every step of the way. And The Print Council is poised to help vendors, print providers and customer keep print a vibrant and relevant part of the media mix.
But there's yet more to go at GOA 04. Coming up, CTP in Latin America, Graphic Arts Leaders and more.