Predictions of the future--even from those who make a business out of predicting it--range from wild guesses to overlays of the present onto dates that are veiled in mystery. That's how Frank Romano began his Friday morning TrendVision session, "How to Predict the Future." Many of the technologies, machines and appliances we use everyday were not envisioned by even the most imaginative of futurists or science fiction writers, while other remain as fantasies. The internet, points out Romano, was not predicted by anyone, yet it has reshaped communication, education, entertainment, and much more. Likewise, it is difficult to predict the future of the printing industry.
Romano discussed the challenge of predicting the future and how even tracking trends--which requires looking backwards--is often of limited help in determining what lies ahead. It is one thing to look forward a year or so, but when technology is involved, all bets may be off. New technologies are often spawned by previous ones and can abruptly upstage accepted processes and cause massive change. Romano pointed out how various printing technologies have changed, first over centuries, then over several decades, and are now arising, gaining acceptance and losing market share in about a generation. Phototypesetting, for instance, began in 1945 and vanished around 1990, eclipsed by laser imagesetting and desktop publishing. Even today's leading edge color digital printing technologies may only be around for 20 or 30 years before being replaced by other digital imaging techniques already being developed. As Bob Dylan noted 40-odd years ago, "The times they are a changin'."
The Many Flavors of Convergence
Romano pointed to nearly 20 different points at which convergence has influenced our lives and businesses, and many of these affect printing to greater or lesser degrees. So many of these relate to communications. Television converges with computers, cameras with cell phones and PDAs, print and converting are on the verge of spawning a revolution in packaging. Digital and analog presses are merging dynamic and static printing. Print is competing not just with TV screens, but with computers, PDAs, and cell phones, with "electronic paper" just appearing on the horizon. "A trend is a pattern of change over time. " noted Romano, "All these trends reflect changes in the very infrastructure of society and have impacts on the printing world." The print providers who survive --and thrive-- in these convergent times are those who can adapt and take advantage of the changes by delivering the services their customers want and need.
Meanwhile, on the Show Floor
There was a steady, moderate crowd comprised of plenty of print providers looking for tools that could help their businesses move ahead in the new year.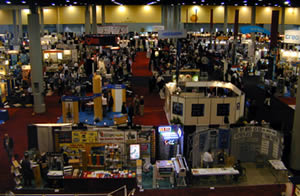 One of the ways I gauge a show is reading name badges. When I cruise a booth and see mostly vendor badges, I know something is amiss. But here at GOA, most badges bore the names of printers from the U.S. and all over Latin America. Eavesdropping like any good journalist, I heard earnest questions and discussions about hardware, software and applications. There were detailed answers and long conversations. As is the norm at shows, some vendors were pleased with the traffic while others thought it slow, but there remained a positive feel. Cruising the entire floor, I sensed an energy that was absent here in Miami Beach last year.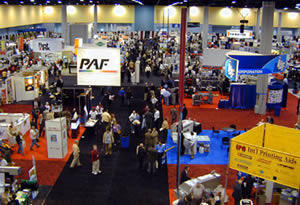 There were about the same number of vendors here this January, but many, especially the bigger players, have significantly expanded their booth sizes. The result is GOA 04 looks and feels much more like a major trade show - sort of a GraphExpo South, if you will - than a regional show. The credit for this goes to Printing Association of Florida (PAF) which owns and manages the show. Chris Price, VP of PAF and general manager of the show says the association has made a concerted effort to make the show much more vibrant and has been successful in attracting more attendees from both Latin America and the U.S. The result is the larger crowd--expected to be 20,000 to 22,000 and stronger vendor presence.
Big Players take Big Spaces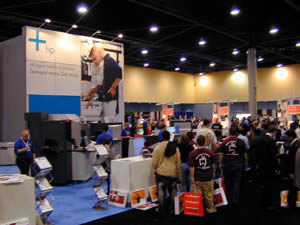 Notable among the major vendors is Hewlett-Packard, which had the largest booth at the show and featured many of its wide format, inkjet and Indigo products, along with HP's traditional humorous skits to demonstrate the versatility of its Indigo product line. It was not unusual to see a crowd spilling out into the aisle watching the performance.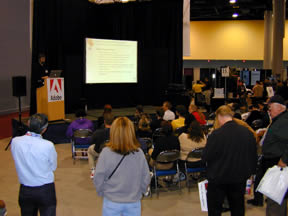 The Adobe booth drew crowds to its theatre where the new Adobe Creative Suite and other software tools were demonstrated to often sizeable crowds. Creative Suite is an important product for Adobe, uniting the company's key products of InDesign, Illustrator, Photoshop, Acrobat 6.0, and GoLive into a single suite in which the tools are much better integrated than in the past. This delivers a smoother workflow and enables faster, more reliable document creation and production. And it's a bargain, to boot. Upgrades from any version of Photoshop start at $549 for the standard version and are $749 for the premium edition. This is a huge value for any designer or print provider and worth the investment.
Xerox used their expanded space to show a variety of color machines and gave a glimpse of the new Phaser 8400 and Phaser 7750 printers that will formerly launch on Thursday, January 29. More details will come following the launch. Xerox also saw a lot of interest in the DocuColor 6060, which has just been licensed by Pantone, enabling color matching for Pantone solid coated colors. Making this possible is a Pantone-calibrated DocuSP color server used in conjunction with Pantone color look up tables. The DocuColor 3535, which is offered with a selection of RIPs was on hand to offer an economical entry point to digital color, while the 2101 Digital Copier/Printer, demonstrated its light production monochrome printing performance.
Coming next, a look at the ZONES and economical new ways to train employees without having them leave their desks.