About Thinking Creatively
Thinking Creatively is about taking a step back... when you want or need to think strategically and creatively about your business... or about your customer's business... or about a solution to a challenging business problem. The goal is to be one part inspiration and one part motivation. We hope to provide - over time - thought-provoking advice, tools, ideas and company profiles that help get you to your next breakthrough. Your feedback and interaction is invited, welcomed and encouraged.
Thinking Creatively is made possible by the support of GMC Software Technology. Normally such features are for "Premium Members" only. However, because the topic is so timely and essential to all executives in the industry we asked GMC Software Technology to provide support for this series. Their support allows us to to present these articles free for all WhatTheyThink.com members.
In a recent article titled "How Well Is Your Business Positioned for the Future?" , we posed a series of six strategic questions designed to prompt some reflection. And introspection. The questions are designed to get you thinking about positioning your business with more clarity…getting to a more successful path to the future. To plot a course…to stand apart from competitors…to find growth opportunities that are perfect for your business.
In this article we elaborate on the question: What Business Are You In?
Can You Define the Business in Which You Operate?
This sounds like such a simple question. Yet, how you answer it could mean the difference between growth and stagnation.
In some positioning models, this is called "frame of reference".
Sometimes it is easier to look outside your own industry for analogies to then apply to your own.
There is a classic question in marketing strategy books that illuminates just how crucial frame of reference is, as an element of strategy. Imagine, 100 years ago, if someone asked: Are you in the railroad business or the transportation business?
Railroads moved so many goods and services in society. Yet, there was the shipping industry (getting imported oil turned out to be important). Then we had the trucking industry (imagine how WalMart would get all those hundreds of billions of dollars of goods around the country without trucks). Not to mention air freight and overnight shipping.
...so what do you do for a living?...
In modern times, imagine if Coca Cola thought of themselves as a soft drink, soda or pop business, instead of being in the beverage business? If they did, they would have missed the bottled water craze (they own the brand Dasani). Or, they would have missed the flavor/enriched beverage business…and never purchased Glaceau, the maker of Vitamin Water.
So when it comes to your business, what do you tell people when they ask, so what do you do for a living?
Providing Some Dimension to the Question
The following chart can help us in the discussion.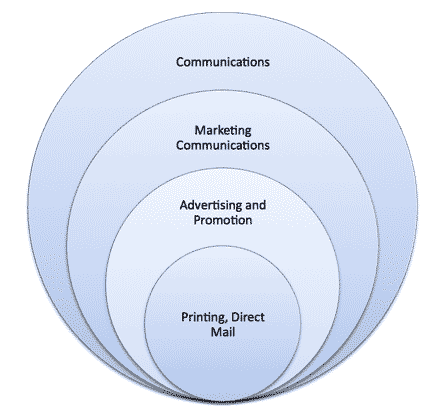 Depending on where you put yourself within this chart, you find that the answers to fundamental questions are different.
For instance, if your customers see you as a printing/direct mail/fulfillment company, will they call upon you to design a companion brochure that explains the direct mail piece you're printing, to their employees? Will they ask you to create the Facebook page that is used as a response mechanism for the mail piece?
If you are in the advertising and promotion business, will customers ask you to write and design a speech for the CEO of their company (a major relationship enhancing project)? Probably not. But if you were in the communications business – and they saw you as having deep communications expertise – they might.
You May Now Have Different Competitors
Answering the question about what business you're in also provides insight into your competitive set. If you see yourself in the printing/direct mail business, how many competitors do you have for each job? Are you one of the top three in your market? Once you attempt to "move up the food chain", your competitors change. Sometimes it is better to specialize. Focusing on being the best direct mail company for a specific industry can help you narrow your focus…while you expand your opportunities.
Your Industry Definition Should Also Guide Your Investments…and Where You Focus Your Resources
If you are going to put yourself in the communications business, you'll have to grapple with the question of how you staff, what equipment you need to buy and your physical plant.
You might concede that you have to get out of the manufacturing business altogether and put your resources into creative staff. This might mean less finishing equipment and more Macs for design. You might even consider your location…where you "office" and what impressions are created when people walk through your door? The implications of the choice you make will impact every facet of your business.
One Way to Start
Another way to consider this question of business category is to ask: Where should we play? What type of business should we be competing for? And how would we win?
One thing I would never recommend is to make wholesale and dramatic changes all at once. Making a shift like this needs to be evolutionary, so you don't sacrifice the business you have today. You need to use your existing platform as a bridge and a funding source to the future.
One strategy term I've used with clients is "adjancencies". What business is "adjacent" to the business you currently do? If you currently do no paid design work today – but print highly designed pieces – consider the possibility of entering the design market. If you are printing a lot of direct mail pieces but sending out your direct mail finishing work, consider tackling that segment. Or, if you are doing a lot of digital printing, consider the things you can do with the digital files you are handling. What other forms of electronic communication could you handle?
Bottom Line: Ask the Question
Consider the question, what business are you in, as the beginning of a process to chart a path to the future. It can get you on your way to a more revealing, realistic and optimistic view of the future.
Bob Lieber wrote a great piece earlier this year, How Unique is Your Business?. It also deals with the subject of defining what your business does.