With the world abuzz in electronic communications -- from Facebook to Twitter to blogging and text messages -- there is no shortage of ways to connect. Things are evolving so quickly, that social network sites are now more popular than email (a stat I was reminded of at a conference last week, listening to a major "cloud computing" CEO).
About Thinking Creatively
Thinking Creatively is about taking a step back…when you want or need to think strategically and creatively about your business…or about your customer's business…or about a solution to a challenging business problem. The goal is to be one part inspiration and one part motivation. We hope to provide – over time -- thought-provoking advice, tools, ideas and company profiles that help get you to your next breakthrough. Your feedback and interaction is invited, welcomed and encouraged.
Thinking Creatively is made possible by the support of GMC Software Technology. Normally such features are for "Premium Members" only. However, because the topic is so timely and essential to all executives in the industry we asked GMC Software Technology to provided support for this series. Their support allows us to to present these articles free for all WhatTheyThink.com members.
Yet, it is ironic and reassuring that my mailbox at home and at work are still brimming with traditional and creative direct mail pieces.
Here are five of my top reasons why direct mail is irreplaceable…outlining the creative tactics that still work to engage and encourage response.
To add some levity and playfulness…I've taken the liberty to create some special words to communicate the "uniquity" of direct mail. If "Twitter and tweeting" can become an international sensation, certainly direct mail deserves a new lexicon as well.
For reference and a few laughs…who is old enough to remember Professor Irwin Corey (http://www.irwincorey.org/video.html)? Or who watched the show "Not Necessarily the News", where Rich Hall invented the "sniglet" (a word that doesn't appear in the dictionary, but should); http://www.youtube.com/watch?v=N08JBJhh4uw. With the utmost admiration to these comedians, I present my list.
It's All About "Tacticality"
The sense of touch is the domain of print and mail. Some of my favorite techniques include foil stamping and raised lettering. There is certain "specialness" when I get an envelope with some embossing; you just have to look inside.
And then there is the feel of the paper…when a mailer uses super high gloss stock and varnishing on a postcard mailing…or the feeling of handmade paper or invitation stock. The richness and the uniqueness of feeling prompt you to pay extra attention. A company can instantly dial up their quality perceptions with the right choice of paper for their mailing.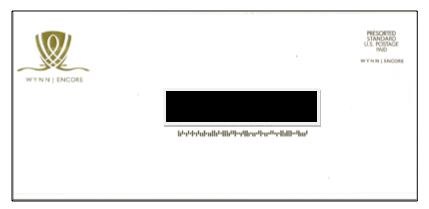 Foil embossing here takes an obvious promotional mailing and makes it "openable."
Nowhere Else Can You Convey So Much "Officialness"
Is it any wonder that when the IRS or other government entity needs to get your attention, they use the mail? Or, consider the mailing pictured below that I received from Toyota; with their recalls all over the news, never has so much specificity forced me to pay such close attention to a mailing.
By the way…on a personal note…I have never been a fan of the "fake officiality." You know what I'm talking about. Those envelopes that nearly threaten jail time if a certain postal regulation isn't followed in the delivery of a piece of mail? If so much trickery is required to convince me to read a message, then how can I trust doing business with the company?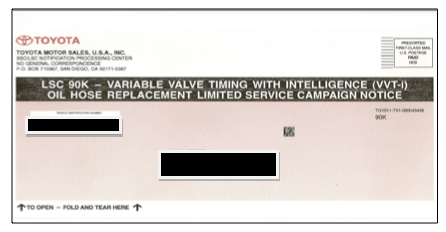 Maybe some of the most compelling teaser copy to ever adorn an envelope…I absolutely opened this.
Don't Ignore the "Enclosivity" of Direct Mail
When there's a little something extra you want to deliver…to encourage a behavior or action…direct mail provides a myriad of choices for things to "ride along."
Two pieces I recently received in the fund raising arena prove the point. In the tiniest of packages – 3 ½ x 5 ½ to be exact -- the Lupus Foundation of America delivered a 23" x 38" plastic "clothes donation bag." It is super thin and neatly folded down to fit in a cellophane wrap, sitting right behind an addressed postcard.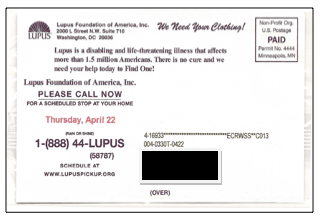 Hard to believe, but inside this tiny cellophane pack was a huge, neatly folded, plastic bag.
The second was from my Alma Mater, Washington University. They produced this beautiful, full coverage, faux finish booklet, with a tipped in business reply envelope for me to include a donation.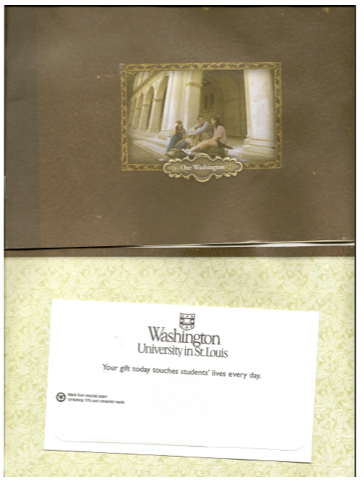 The beautifully printed faux finish background – shown first on the cover and then inside, set off this tipped on Business Reply Envelope. Nice touch.
Make People Feel Important Through "Substantialness"
Every so often, we get an invitation for the Black Card from American Express. It oozes sophistication and status that is a hallmark of this financial firm. This can be accomplished by the style and wording of the teaser copy…through the use of unusually sized envelopes…to the quality of the paper and printing, to the depth of content delivered. Marketers like American Express can make you feel like you are a part of something super-exclusive.
The car companies are also famous for using this technique. When Mercedes tries to woo me back to the franchise…or Audi aims to conquest a new buyer…you can tell when someone has spent money to persuade you.
To Create Stopping Power, Try a Little "Thicknicity"
When I went to print my first batch of business cards for OriginalThought, we went with a double thickness on the card stock -- Cranes Crest Cover 179lb double thick. People get it and think they're getting two cards. The rationale? To demonstrate that your firm is a force to be reckoned with, nothing says "significant" than a super thick card.
With so much mail now converted from envelopes, to self mailers, this technique is a sure fire way to get attention and communicate "heft".
There you have it. Five solid reasons why direct mail will continue to be an important part of the marketing communications mix.