Each year for the last several years, I have taken the time to speak with Bill Lamparter, who coordinates Executive Outlook and the Must See 'ems program for Graph Expo/Print, to learn more about what went into the Must See 'ems panel decision about top technologies. This year was no exception.
While the Must See 'ems awards are helpful in terms of identifying individual products visitors to the show should take the time to see—and of course very popular with the award recipients—the work of the technology panel is, in my opinion, much more important. This panel, comprised of editors and consultants to the industry, gives thoughtful consideration to the technological keys to success for printing businesses in the current environment. But sometimes I wonder who actually pays any attention. For the past several years print MIS has been identified as the top critical technology for survival. While most companies have some form of MIS, even if it is only estimating, woefully few have actually implemented the full range of modules most MIS solutions offer.
This year, the panel upped the ante—there were three technologies that tied for first place.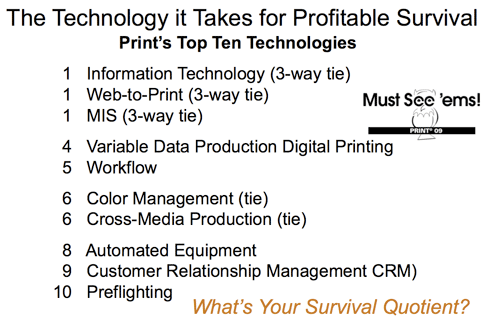 "This list is pretty sad," Lamparter said. "It is a list of the industry's deficiencies and it is a bit scary to me. If you walked into your average small to mid-sized printer, they are probably doing little if any of this. At Executive Outlook, we will tell folks that they should be appraising their company's capabilities with respect to each and every one of these items and be planning to address the entire list if they haven't already. For those that have implemented none or a limited few, we believe they are literally at the end of the road."
This sounds dire, and it is. We are in a very precarious situation as everyone in the industry knows. This is not a recession we can simply wait out, and then pick up with business as usual. The economic downturn is accelerating the structural changes we were already undergoing. If you have been reading WhatTheyThink, this should not be new news.
In giving the importance of IT competency, MIS and Web-to-print equal weight, the panel said, "Today's print production operation is a computer-centric manufacturing process, built around interfacing with the print buyer, that handles content material, controls manufacturing and distribution operations, and also provides information used as the basis for managing a print business."
Lamparter adds, "The biggest issue is that so many printers don't have anything that even begins to look like an IT person on their staff. Even when they say they do, it often turns out to be a high school or college student who works part-time or on a will-call basis, or a consultant that is helping set up an estimating system. That's not at all what we mean."
While Lamparter has no statistical data to back it up, he believes, based on his interactions with a wide range of printing companies, that one thing that distinguishes profit leaders from everyone else is their use of MIS, which in his opinion also includes Web-to-print and having qualified IT people around or at least access to them. He says, "I will go out on a limb and say that what differentiates a profit leader from a laggard in most cases is the way in which they use information. For many companies, if they are collecting the data, they don't know how to make effective use of it when they get it."
Lamparter admits that Web-to-print has its limitations, especially with complex work such as a new multi-page company brochure or an annual report. But there is a growing demand for customized, versioned materials based on templates that can be made available through an online storefront. And simple reorders can certainly be handled through any Web-to-print solution. As visitors to Print 09 will see, today's Web-to-print solutions are increasingly sophisticated as well as easier to use than in the past. Complex jobs require a knowledgeable print buyer to enter specifications, and that is a commodity that is not always reliable in today's market. Still, for most companies, a large amount of their work can most likely be processed through a robust Web-to-print solution. Plus, these solutions are proven to add new revenue streams, lock in customers and grow revenue volumes with existing customers. They are also a great door-opener when approach a new customer.
So the bottom line, then, is that these three technologies are absolutely mandatory if a company has any hope at all of implementing the type of integrated automation required for survival in today's marketplace.
Next on the list is variable production digital printing. This is also a sore spot with Lamparter. "We have had the capability to do variable color printing for almost two decades now," he says, "yet the vast majority of what is being printed digitally is still static. This says that as an industry, we are not taking advantage of the one thing that digital can do that nothing else can: variable imaging. Even worse, a lot of what people are calling variable data print is nothing more than mail merge, and that will not help us compete against electronic media."
And before you think this warning about competing with electronic media only applies to email and the Web, think again. It won't be long before you will start seeing personalized television from your digital cable provider. They know what you watch, and that helps them build preferences into their database. Believe me, they are on this. "In fact," Lamparter says, "I have a demo tape of a water purification company selling products with a personalized commercial that is designed to be sent directly to my set-top box as part of a nationally syndicated television program."
I personally continue to find it amazing that color management and preflighting are still on this list. Apparently Lamparter does too. He told me, "You would be amazed at how many printers don't do ink fountain presets even though they have CTP because their pressman thinks he is smarter than the automated system. It is very discouraging."
My hope is that the attendee turnout at Print 09 will be high, and that attendees will be focused on addressing these issues. Even if you can't go to the show, there is plenty of information available on the Web—either directly from suppliers to the industry or in articles like this on WhatTheyThink and in other trade publications—to get you started on the road to recovery. Don't wait this one out … as I write this, I am reminded of one of my favorite quotations from an unknown source:
"Every morning in Africa a gazelle wakes up. It knows it must run faster than the fastest lion or it will be killed. Every morning a lion wakes up. It knows it must outrun the slowest gazelle or it will starve to death. It doesn't matter whether you are a lion or a gazelle – when the sun comes up, you had better be running."
To learn more about the top ten technologies, to hear the announcement of the Must See 'ems award recipients identifying the most compelling products at the show, or to view the full agenda and registration information for Executive Outlook, go to the Print 09 web site.