Perusing Nipson, Megaspirea, HP and Kodak
Drupa has closed and another show is moving in, but there is more to tell. I went by Nipson's stand because it's always interesting to see what this low-key player is doing. Magnetography, the imaging process used on Nipson's VaryPress models, continues to evolve, and offers some unique advantages over most EP print engines. Most notable is the ability to print on a wider range of substrates, even some plastic films, and since the toner is magnetic, a VaryPress is by default a MICR printer. Banks, financial services firms and others find this attractive and often use Nipson systems for printing checks and other documents where MICR adds additional security and processing capabilities.
Then there's speed. The VaryPress 500 runs at 500 feet per minute and prints at 600 x 600 resolution. A new print head decreases dot size by about 50%, giving the equivalent of 106 lpi linescreen. The new head is part of Nipson's Commercial Print Quality Option, available in 2009, which also will include upgrades to the print control electronics that ensure a wider contrast range and high image quality, consistency, and reliability at the VaryPress's full rated speed. And indeed, the quality of halftones has improved. While not the equal of the best EP cut-sheet presses on the market, when one factors in speed and substrate flexibility, the VaryPress fills a niche many other presses do not. VaryPress owners I've talked with say the quality is fine for their needs and talk of reliability, especially for high volume applications such as heavy duty transactional printing and digital book production. The new Print Quality Option is compatible with current 200, 400 and 500 variants of the VaryPress, and will be available as a field upgrade.
The VaryPress 500 at drupa was shown configured with the inline SCS Spot Color System, introduced last year, which can print from 1 to 4 spot colors (depending on the number of print heads) with the same print quality and speed characteristics as the VP500. The day I visited the stand it was adding red and yellow ink to a document, and also combining them to create orange. A simple exercise, to be sure, but a straightforward way to add color to a document.
What is a Megaspirea?
Along the rear wall of the Xerox stand there was a constant three-person-deep crowd around the Megaspirea Mailliner 100, a machine anyone --anyone-- who is in the print and mail business absolutely has to look at. I reported on this device at Graph Expo last fall and it continues to amaze me. Here's the drill. On any flavor of continuous-feed color press, you print a document of five or six pages and, should you be so inclined, personalize the living daylights out of it. The first page you print is going to turn into an envelope, so the postal indicia and address are part of the print stream and you've put some eye-catching graphics and a personalized message on it. Now that roll of paper hits the Mailliner 100 which breaks each document into separate sheets. The first one is trimmed, glued and folded to form the envelope, into which the other pages are trimmed, folded and inserted on the fly, all in a few seconds. It comes out the back end of the machine sealed and ready to be mailed. Talk about data-to-mail integrity! Even though I'd seen it before it is still one of my top picks of the show.
Wide, fast, full color. What else is there?
Another machine drawing a crowd was the HP's 36"-wide Inkjet Web Press. Technically, this machine isn't a press, as the ink isn't actually pressed into the paper, but at 400 feet per minute, this device is still likely to change the printing landscape when it comes to market in about a year. And maybe sooner. HP says O'Neill Data Systems and The Taylor Corporation in the U.S and CPI, a French book manufacturer, have already signed up to take the Inkjet Web into their operations. Live betas, to be sure, but it takes a lot of confidence in the technology to let the world know exactly where your newest and largest products will be undergoing real world trials.
A 36" inkjet system that can turn out 3,200 A4 pages per minute is not for every printer, but there are a number of high volume niches where it should be able to succeed. Aurellio Marucci, HP's man charged with bringing this landmark device to market, said the key for this machine is productivity and economics, presumably meaning fast throughput at a low cost per impression. Just how fast and how low remains to be seen, and inquiring minds want to know, so we'll be watching this. Anyway, the sheer size of the this box is astounding to digital print shops accustomed to "wide" meaning 20 inches, but the machine also showcases HP's Scalable Printing Technology. This means print width can vary based on the number of heads used, so I suspect there will be alternative configurations when this bad boy is more formally launched. HP is mum about other sizes but it is easy to envision the availability of a narrower device --say 24 inches-- as a starter model that could be field-upgraded to 30" or 36". Or maybe wider. In fact, the machine introduced to the press at a pre-drupa dog and pony show in Israel was 30" wide, not the full three feet shown at drupa, so the direction seems clear.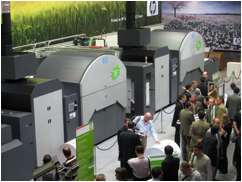 HP's Ink Jet Web
Whatever the width, it uses snap-in 4.5" long modules that contain five print heads, each a little under an inch long, that are staggered in two rows and boast some 10,560 nozzles. These are essentially the same as those used in some other HP inkjet devices, including the new large format latex ink DesignJet L65500 covered in an earlier article. But with the Inkjet Web being the fastest machine to ever use thermal heads, the question on everyone's mind --actual head life-- is a number that's still TBD. Mr. Marucci says heads are considered a consumable, but there is no hard data yet on what running costs may be.
While the big machine was shown running roll to roll at drupa, HP is working with EMT, Hunkeler, MBO, Muller Martini and Pitney Bowes in developing finishing solutions for the new system. Word is that some equipment these vendors offer for web offset presses may be adapted to work with the Inkjet Web, and new systems are inevitable. To show what the machine can do, transactional and direct mail jobs and a newspaper were being run at drupa, all key target apps for this machine. Print quality is certainly fine for inkjet, but it was difficult to make a comparison to other inkjet machines due to differences in substrates. Suffice it to say, it should be fine for many of the apps being targeted.
This big box rates as another top drupa pick for me, even though it is some ways from commercial availability. While I don't think inkjet is the wondrous replacement for offset some say it is, I like this device because it expands the envelope of what can be done. I'm looking forward to hearing how it works at the three beta sites and how development progresses.
The Kodak Upgrade Strategy
It used to be that if you bought a digital press and later wanted to upgrade to a faster one from the same supplier, it was out with the old, in with the new. These forklift upgrades worked for vendors but weren't always so good for print providers' balance sheets. Now print engines are more and more often field upgradeable. You keep the old one in place and a service tech comes in, waves parts, tools and computer at it for a few hours, and the old machine is suddenly imbued with new speed and capabilities. It's almost like a miracle!
Kodak has adopted this born-again printer strategy on much of its Digimaster and NexPress line up and it looks to extend both the life and utility of installed machines and shows awareness of customers' financial concerns. I sat with VP of Marketing, Mark Weber, who explained how field-upgradeability and protection of customer investment is part of Kodak's game plan wherever possible.
For example, an older NexPress 2100 model can be upgraded to the new S3600 model in about five hours, bringing the machine's throughput up to 7200 pages per hour. Existing Digimaster 110 series monochrome printers can not only be upgraded to the 150 ppm models, but can be combined with a second EX 150 to become a new tandem-engine EX300 (when it becomes available next year). This new model produces 300 duplex impressions per minute, the fastest presently on the market. Weber says the RIPs on these devices are also scalable, so they can be upgraded to support the newfound speed of the engines.
Weber also talked about STREAM, the high-speed inkjet color technology from Kodak Versamark that was being demonstrated at drupa. Like all the other new inkjet systems being shown or demonstrated, STREAM has a lot of appeal. It looks great, as I reported after seeing it in Dayton a few weeks before the show, and at drupa many got to take a look for themselves. Weber says the response has been very positive with respect to print width, image quality and speed. One implementation at drupa was with some monochrome heads on the back end of a Muller Martini four color press, showing how STREAM can run at full press speed. STREAM is black-only for the moment, with full color expected in about 18 months, according to Versamark. Down the road, we can expect STREAM implementations to range from 20" to 30" wide. With HP singing the same tune, this segment of the market is going to get very interesting.
And since this piece is already longer than you really want to read, I'll stop, but our schedule for this show goes on and on, so I'll be back in a few days with one more installment and a final take on the show.