August 4th, 2009 -- Most of the recent press announcements from Heidelberg have not made pleasant reading. Recent announcements have emphasized the poor state of the printing market and the major drop in order intake the company has received generating significant financial losses. There have been rumors coming from a German financial newspaper that Heidelberg and manroland have been discussing a potential merger, but naturally neither company has been prepared to comment on these rumors. There was however a very interesting press release last week concerning the Heidelberg innovation project Linoprint.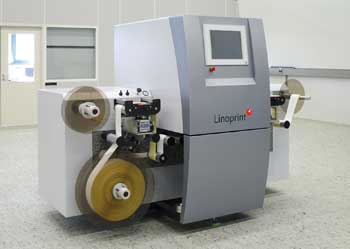 Linoprint has been developed as part of an innovation project at Heidelberger Druckmaschinen AG. The Linoprint system is an inkjet printing system working at resolutions of up to 720 dots per inch. The modular Linoprint systems can be integrated into existing press or finishing lines as well as into new lines. They are aimed initially at businesses in the pharmaceuticals, cosmetics and beverages industries as well as packaging firms and suppliers of packaging lines. Linoprint was introduced to the market in 2008, however Heidelberg has been working with inkjet technology for many years. It first showed a single pass monochrome printing system as a technology innovation at drupa in 2000. At that time Heidelberg also had an investment Spectra, the inkjet print head manufacturer.
When Heidelberg announced Linoprint last year they only spoke of this being a single-color integration solution for installation in existing or new packaging lines. Such implementations are now undergoing further development under the name FixedLine. The system is defined as being ideal for decoration and variable printing in production and packaging lines. The range of substrates stretches from paper and board to aluminum and plastic films.
The key announcement in the recent press release however was an extension of the Linoprint model, this being of DriveLine. DriveLine will function as stand-alone solutions and can be employed independent of existing packaging lines, e.g. for web printing with various substrates. DriveLine systems can print on labels, films and board with a high degree of variability and quality. The maximum resolution of 720 dpi makes it possible at the present time to print web widths of up to 340 mm. The maximum print speed is 60 meters per minute. First customer installations of a pilot series of DriveLine printing systems for four-color printing were taken into operation in June 2009.
What is not clear in this release, and there is no further information on the Linoprint web site (http://www.linoprint.de), is whether the maximum print speed of 60 meters/min is achieved at the full resolution of 720 dpi. If it is these will be very interesting systems installations. In the stand-alone digital label systems area, a speed of 60 meters/min with a web width of 340mm (13.38 ins) and resolution of 720 dpi is impressive In terms of inkjet label presses the only product that in any way matches this specification is the Nilpeter/FFEI Caslon that has a maximum speed of 50 meters/min at 180 x 360 dpi with 8 gray levels. Other inkjet web fed label presses such as the EFI Jetrion 4000 and the Sun Chemical Solarjet only print a narrow web up to 6.5 inches in width. The market leader in digital label printing is HP Indigo and their latest press is the HP Indigo WS6000. This in four-color mode prints at a speed of 30 meters/min with a print width of 12.48 inches. The other key player in this market is Xeikon with the Xeikon 3300 press that prints at 19.2 meters/min.
The above is an assessment on speed and not quality or price, however it shows that in the digital label market that the Linoprint DriveLine may well be a winning product. DriveLine is however predominantly targeted at the flexible packaging marketplace that is only just opening up.
The key however with the announcement of Linoprint DriveLine is that Heidelberg is appearing to be a serious player in the digital printing market in the label and packaging markets, a market where Heidelberg has a significant presence. One only has to look at the Linoprint web site to see the level of the company's understanding of the specialized packaging areas. One can also see interesting clues for future Linoprint developments, and from this one can speculate on where Heidelberg may see inkjet technology for the future.
Linoprint does not state whose drop-on-demand inkjet technology it is using for the DriveLine application. It does state however that it employs inkjet technologies from Konica Minolta, Xaar, Panasonic, TOSHIBA TEC or Dimatix. The Linoprint brochure for Drive line states, "today the DriveLine family offers efficient, highly flexible systems, which can be specifically adjusted on demand, for the variable packaging printing industry. For the near future more versions are planned, some of which include higher speed and larger printing width."
Does this mean that Heidelberg plans to just keep these technologies for the labels and packaging markets as a short run replacement for flexo printing, or do they see that these technologies and Heidelberg's inkjet printing expertise can also be used to move inkjet printing into the offset markets?
Whatever Heidelberg's plans turn out to be it is encouraging to see that the company did not abandon the digital printing market when it handed over its share of the Nexpress and Digimaster business to Kodak.