Episode 6: Finding Nemo -- Lessons learned by a tramp abroad
By the time you read this last article in the series, I will have completed my circumnavigation and started a lecture tour of Poland, Czechia, and Austria. My trip has truly taken me around the world and I have seen first hand how we are all pretty much in the same boat. My ship is a mini city floating on a planet that is mostly water which is travelling through space. Is that too philosophic? You get that way staring at water for hours on end.
Chinese companies have built over 50,000 factories in the last 20 years and China has become a global production hub for manufactured products sold around the world
Asia has become the world's workshop. Chinese companies have built over 50,000 factories in the last 20 years and China has become a global production hub for manufactured products sold around the world. In South Korea, advanced semiconductors, mobile phones, and technology products are made. Japan is renowned for its quality engineered cameras, automobiles, and technology products. In India, a vibrant economy is based on a highly educated workforce.
The Asia-Pacific region is also a burgeoning market of sophisticated and high-income consumers. Asian consumers are spending increasing proportions of their growing incomes on high-tech products and conveniences. In South Korea, the entire country is blanketed with one of the world's most advanced wireless networks, making low-cost, high-speed data and voice services available to consumers. In China, the market struggles to meet consumer demands for automobiles (and gasoline). Indian consumers are spending their new wealth on condominium apartments in high-tech communities. And many of these new consumers are taking cruise and travelling around the world.
But Asia is more than China, Japan, and South Korea. It is also Maylasia, Vietnam, Thailand, Indonesia, Cambodia, the Philippines, Sri Lanka, and India, among others. It is a vast land area and a vast population.
Vietnam has a population of 80 million people and a growth rate of 7.5 percent. There are 1,000 printing enterprises/companies employing 40,000 workers. ll are licensed by the government. In addition there are thousands of "photocopy" and photo finishing shops. Most printers use offset, although monochrome digital printing is common. Color copiers and printers must be registered and are under government control. The largest plants are located in Hanoi and Ho Chi Minh City, and small and medium sized ones are scattered all over the country. State-owned companies are the largest companies. The Vietnam printing industry is developing at 10 percent per year due to the opening of the domestic market. Exports of printed products are increasing as Vietnam's low labor cost and the stability are advantages for export to the international market. There are many joint ventures.
The largest printer is Itixi, a government-owned plant with over 500 employees. They have a Doculor 6060. Nguyen Khoa Cat is vice director of KTC Company, a pre-press service. The company has a film imagesetter and an Esko flexo platemaker. They prepare film and plates for printers but also print corrugated. Their clients include Dentsu and other ad agencies. To enter the World Trade Organization, Vietnam had to meet certain requirements, like establishing a banking system, and thus ATMs are popping up everywhere and credit cards are now common.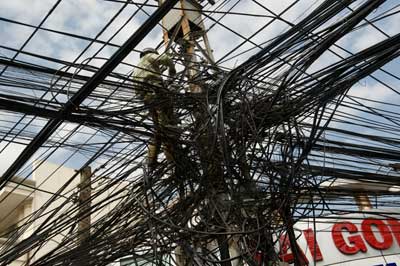 The Vietnamese road system and transportation infrastructure are seriously deficient for the growth. But I read that they are putting their own satellite in orbit to improve telecommunications. That will not help motor bike congestion.
I spoke to 150 Vietnamese printers, perhaps ten percent of the entire industry. My translator was Nguyen Huyen Vy (called Vee) with Fuji Xerox Asia Pacific. She made me sound better in Vietnamese than in English. I was heartened when there was laughter for my lame jokes. Then I found someone who undertood English and asked if they got my jokes. He said the translator said "Professor Romano has just made a joke, please laugh."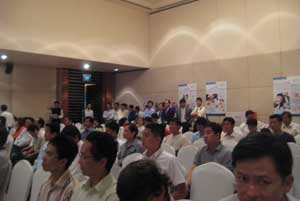 In 1858, Thailand – formerly Siam – adopted printing in the reign of King Rama the 4th (played by Yul Brynner). An American missionary introduced the first press to the Kingdom. The Thai graphic arts industry now has 5,000 companies including paper manufacture, graphic design, pre-press, printers, and post-press firms. Of the total population of sixty-three million, 120,000 people are employed in this industry. The Thai Printing Association has a pro-active policy to expand printing and packaging consumption through domestic consumption and export. Thailand has compulsory education for every child to twelve years. This has resulted in the increasing numbers of new magazines and books appearing on newsstands and in the bookstores. English is a compulsory second language with Chinese as an optional third language.
Thailand has long been a major exporter of food products. Most of this has been exported as raw materials but the government is emphasizing the export of frozen foods which are either semi-prepared or ready-to-eat. This has created a growing demand for food packaging for the export market.
A printing school project was established to produce skilled printers and workers to serve the market demand for 10,000 positions annually. Thailand's export of printed products and papers were valued at $1.18 million (US) in the year 2006, which is a 15.6 percent increase on the year before. In 2007, export values of $1.42 million (US), an increase of 15 percent. 800,000 acres of land are being used for the cultivation of eucalyptus trees with many paper mills producing world-class paper for writing and printing purposes. Paper is a major capital cost of print material, accounting 50 percent of the costs. The government fully supports the growth of the printing industry as it believes that this is one of the export industries that has a bright future.
Thailand has the world's first industrial park for the printing and packaging industry -- Sinsakhon Printing City and Industrial Estate, which was established in 2004. Factories are owned by both domestic owners and also joint ventures with international firms, such as Fuji-Ace, the flexible packaging printer from Japan, PMCL Adhesive Paper & Labels from Singapore, and others. Sinsakhon is only 30 km from Bangkok.
Singapore is a city designed and run by Disney. I met with 82 printers at the famous Raffles Hotel. Because wage rates are low, short run jobs can be done with offset litho, but digital printing is making inroads. Over half of all Singaporean printing is exported, mostly to the US and UK. I met Eddie Tan Director of Toh-Shi Printing Singapore, who was among the first in digital printing and then expanded into offset, flexo, and gravure. He was on his way to discuss a project with Procter & Gamble, which has been buying packaging materials globally. RR Donnelley had a major facility here but sold it. They have plants in China. Dicky GOH Ming Tung is General Manager of Times Publishing Limited. They produce editions of Time, Forbes, etc for distribution around the Pacific Rim.
Foreign companies can establish printing plants in Malaysia with 100 percent equity so long as output is only for export. All printing companies whether local or foreign must apply for a printing license from the Ministry of Home Affairs with conditions imposed in the license -- over 3,200 companies are registered. Printers with less than 75 employees are exempted from the Manufacturing License requirement. Books rank the highest with 70 percent of total exports. The increase in outsourcing activities and relocation of operations of multinational corporations from the US and the Europe to the Asia Pacific region has benefited Malaysia (in terms of overall exports). There is increased Intra-Asian trade. All Asians – including Malaysia – are sharing in the wealth that is being generated by China.
In Kinabalu, Maylasia on the island of Borneo they were in the midst of an election. One poster for a candidate said "Time for a Change" so I guess that theme is universal. I found a lot of small printers, but the larger ones are in the bigger cities. The twin towers of Kuala Lumpur were awesome -- what a cosmopolitan city. I spoke to 42 printers, small and large. My hosts at Fuji Xerox were Chang Feng and Connie Yap. They were extremely knowledgeable about print and their industry and even US politics. I met Danny Chong of Grafik Scan Service which has advanced from scanning to new digital services.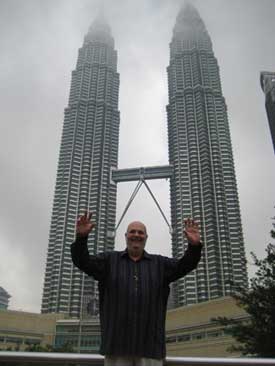 Singapore is about 100 miles north of the Equator, which separates poor soccer players from weak ones. The Singapore Master Printers Association was set up in 1936 by 32 Chinese printing companies to protect themselves against militant workers and the high price of imported paper. In the Seventies the Government attracted many multi-national companies to set up shop. In the Eighties a few larger companies began to take the lion's share of the local business. The bigger players also started to venture overseas with books and magazines for publishers in Europe, America, and Australia.
There are 800 printers in Singapore, employing 18,000 workers. With more modern printing machines, the number or workers in the industry has declined in recent years. There are about 100 large and medium-sized companies with another 700 very small family-owned printers. Several have set up branch operations in countries like Malaysia and China, where operating costs are lower. Singapore printers operate in clusters very close by to one another. It is not uncommon for several printers to operate from the same building.
The total output of the printing industry in Singapore is about $2 billion (US). The paper industry has 80 companies employing about 4,500 workers. Most of the larger printers make full use of IT in their operations and this IT has enabled Singapore printers to be very efficient and productive. But many printers still use old machines for basic printing jobs. There is rampant price undercutting and low profit margins. There is also a high concentration of foreign workers and most of the workers are trained on the job and then work their way up.
Hong Kong is an internationalcity that boasts Asian and European influence. It is a mecca for business and a wonderful blend of East and West with numerous apartment towers. There was a constant haze over the city, created by air pollution from China. Only a few miles away by ferry is Macao, which is outdoing Las Vegas, if that is possible. Weathly Chinese stand in front in slot machines all day.
Singapore means lion city, Kuala Lumpur means muddy delta, and Hong Kong means fragrant harbor.
Well, this will end the series. I will cover India and Dubai and Europe in and after Drupa coverage.