It used to be that when a company demonstrated book production at a trade show they cranked out a few public domain titles of the books by dead guys. Not only were the contents the reason Cliff Notes is successful, but the bindings of these volume often left something to be desired, with random pages coming loose or the cover being laminated in a way guaranteed to curl. But no more. Vendors with a book production agenda have clearly turned a corner and there were plenty of good examples of digitally printed books coming off digital presses in Chicago.
There were texts and technical manuals, novels and children's titles, and art and photography. The full-color covers were nicely laminated and bound using a variety of techniques. And all the pages stayed attached even when abused. All volumes were produced on the show floor and handed out to attendees as way of demonstrating the power and potential of digital books. There were several examples at PRINT 05, but the two companies making the biggest splash were Océ and Xerox, arch rivals in the race to place the most print engines in book manufacturing operations. At the show they were taking very different approaches to reach out and be part of a looming transformation of the publishing industry.
Live Authors
Océ kept it all in their booth with a pair of VarioStream 7550s feeding books into both inline and near-line finishing systems. Covers were printed on the CPS 900 Platinum color press. But to draw people to the solution they brought out the authors who signed books that were plain paper only hours before. Headlining the signing was industry luminary Frank Romano, signing copies of his latest work, Status of Printing in the United States, 2005. He was followed at the signing table by Harvey Levinson of Cal Poly, with his new textbook, Introduction to Graphic Communication. But the books were not all print industry serious. Two Chicagoland novelists also had their books printed at the show, Doug Cummings and Linda Mickey were signing their latest mystery novels, Deader by the Lake and Defective Goods.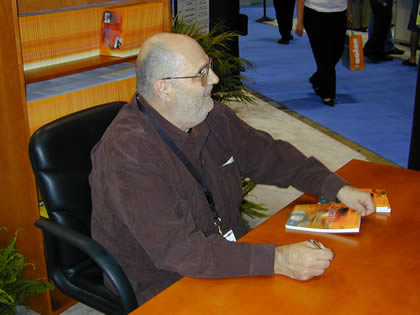 Frank Romano signed his latest book, freshly printed at the Océ stand.
The companies publishing the books tell a tale as well: Both novels were published through iUniverse, the online digital book publishing operation. The imprint for Levenson's book was Good Neighbor Press & Services, a small publishing house in California; and Romano's latest was from PennWell, one of the leading publishing firms for a wide range of specialized technical magazines and books.
Aspiring Authors
While the shift to digital print for the show was a bit orchestrated, it is certainly a harbinger of the future of book printing. And that's what Xerox was communicating with their focus on books. There were some top-notch full-color books in their stand, most notably college view books and a spectacular gallery of horses guaranteed to make the heart of any 11-year-old girl go pitter-patter. But the real story came a few blocks north at the Harold Washington Library Center. There, at a luncheon in the light-filled 9th floor atrium, Xerox introduced Barbara Grosh of Pittsford, New York, winner of the company's Aspiring Authors contest, a national search for the best work of unpublished fiction. Grosh received a check for $5,000 and 100 published copies of her work, Tenure Track to Mommyville.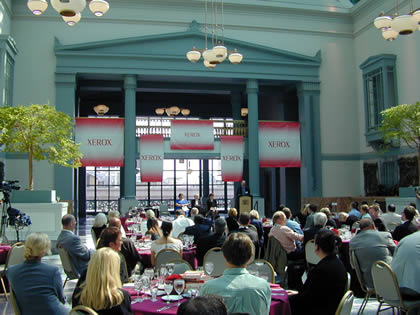 Xerox hosted the Aspiring Authors luncheon at the Harold Washington Library
The contest was designed to raise awareness of digital book printing as a smart and viable alternative to traditional book publishing. Grosh's book was selected from over 250 entries from across the U.S. Each entrant received a bound paperback version of his or her book, emphasizing the ability of on-demand book production to produce a single copy of a title quickly and economically.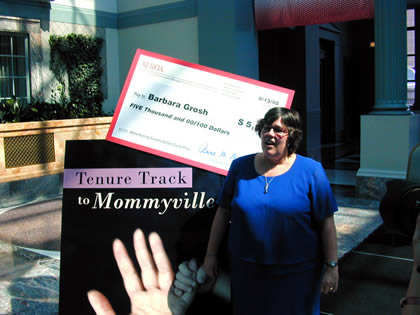 Barbara Grosh, winner of the Aspiring Authors contest.
To publish books entered in the contest, Xerox worked with Lulu.com, a provider of free online publishing tools and ColorCentric Corporation, a Rochester-based commercial printer that produces over 40,000 books on demand each month.
Keynoting the luncheon was Maureen Corrigan, book critic for National Public Radio and Aspiring Authors contest judge. Digital book publishing, with the author in control, changes the playing field, noted Corrigan. It raises the question--and changes the answer--of what gets published, what culture is, and who and what get supported.
"Reality TV, blogging and self-publishing are all evidence of a society's or culture's desire to be more public. And that's a sign of a healthy or energetic culture," said Corrigan.
It's more evidence, too, that the time for publishing to become a lot more personalized has arrived, and that digital printing and book production is the engine that empowers authors and that can have a far-ranging impact on other businesses, notably publishing and book selling. While it will never replace offset printing for best sellers, it changes the landscape and we'll be seeing a lot more--at Amazon.com and in your local bookstore.
Then there's stuff I forgot
These shows put our entire team--there were six of us in Chicago--on sensory overload. We arrive under-rested, over-scheduled, and run through the week fueled by caffeine and food grabbed on the fly. We can't manage to cover everything, but we do try. Among the things I've forgotten to tell you about are a company running live jobs on the show floor and another contender in the inkjet space.
Xeikon
The former is Xeikon, which was running live jobs for Expresscopy.com, a company that prints and mails marketing postcards for its customers, usually on a 24-48 hour turnaround. At the show, the Xeikon 5000 digital press was churning these out in an inline operation that duplex-printed the cards, UV coated both sides, and trimmed them to 4 1/4 x 5 5/8-inches, whereupon they were picked up by the USPS for mailing. It was a great example of a seamless operation with excellent productivity. Kristof Vereenooghe, president of Xeikon America, told me Expresscopy.com runs about 4.5 million cards per month, which no doubt keeps their Xeikon 5000 fairly busy. And they are not alone, Vereenooghe says, with the average print volume on the company's most recent installs already running about 1 million pages per month, higher than that of some competing machines, but only a third of the rated monthly duty cycle of the big red and beige boxes.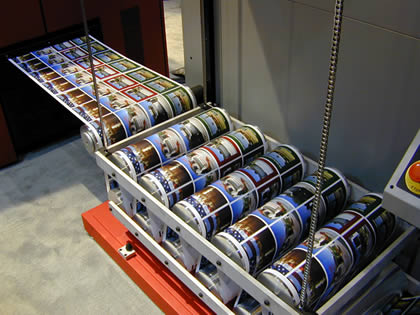 Expresscopy.com post cards rolling off a Xeikon 5000
Vereenooghe says Xeikon is building its business by developing personal relationships with its customers and providing excellent service, with another half dozen service techs coming on in early 2006. The reps are aided and abetted by remote diagnostics that enable them to have a good idea of what is going on with a machine before arriving at a customer site.
Agfa :Dotrix
In covering inkjet a few days back I was remiss in not mentioning Agfa's :Dotrix, a full-color, high speed inkjet printer for industrial markets. This machine is painted red and black but you can really just color it versatile. It's designed for roll-to-roll printing and uses arrays of stationary printheads that can print anything from labels to posters to packaging using UV curable inks.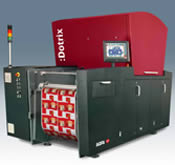 Color the :Dotrix inkjet printer versatile.
The :Dotrix comes in different configurations depending on how you plan to use it. The standard version is equipped with :ApogeeX, the front-end for Packaging, label, POP, Display and specialty printing. For decorative printing applications, Agfa offers :Inspiration, a suite of products for design, pre-press and digital production. And finally, for variable data and security printing applications, Agfa offers :Insider, a suite of products for design, pre-press and digital production.
Inkjet machines running at high speed always amaze me. No matter how small the throw distance (the space between the head and the substrate), it is a space, and with paper moving by it at a high velocity setting up air movement, the aerodynamics of the ink droplets come into play. So the fact that the ink lands where it's supposed to and does something other than look like finger-painting is nothing short of astonishing. And the :Dotrix is fast, running up to 79 feet per minute and with a print width up to 24.7 inches. This works out to a maximum capacity of 9,763 square feet per hour. That, folks, is cruising. It uses drop-on-demand piezo heads that produce different tints by varying the drop volume. The stated resolution is 300 dpi but the RIP uses stochastic screening to deliver images Agfa says are comparable to 900 dpi. I can't vouch for the technical claim, but I can say they do look good.
And that's a wrap from my end. I'll have a few other ruminations that'll probably show up in my columns in On Demand Journal.