The bulk of the news from drupa had to do with product and technology announcements, but some of it didn't. Here's a roundup of items that we found newsworthy even though we can't report them in terms of how fast they run, what stock thicknesses they can handle, how many colors they can print, etc. We gleaned most of them in lulls between press conferences, booth tours, and all of the other scheduled events that make drupa a journalistic enduro for those rash enough to try to "cover" it. Did you come upon interesting drupa vignettes of your own? Please send them in, and we'll share them either here or at PrintCEOblog.com.
Agfa's Bid for Bids
At trade shows, selling equipment and supplies from the stands is as much a part of the routine as rubbing sore feet in hotel rooms. At drupa, Agfa put a clever spin on show-floor sales by auctioning equipment and consumables instead of taking orders for them in the usual way.
Every day at 4:00 p.m., bargain-seekers foregathered at the Agfa stand to bid or not to bid on a broad assortment of the company's products: platesetters, prepress consumables, software, and wide-format inkjet equipment. Representatives of Heyman & Co. NV, a Belgian auction house, proffered the items one by one with opening prices that were deeply discounted from list. Then it was up to the audience either to signal their bids by flashing numbered ID cards or to stand pat if the auction action wasn't to their liking.
There was a philanthropic angle to the sideshow: Agfa's pledge to donate some of the proceeds to Friends of Burkina Faso, an organization dedicated to bringing clean water to the people of that landlocked and arid African country.
Among the items on the block when this writer sat in as a non-bidding observer were an :Avalon N8 50E eight-up thermal platesetter (list, €182,000); an :Annapurna Mv wide-format, UV-curable inkjet printer (€100,000); and an :Accento IIE four-up thermal platesetter (€102,000). The hard-bargaining mood of the crowd was reflected in the closing prices at every fall of the gavel. The :Avalon CtP unit sold for €78,000, a hair above its opening price of €77,000. Similarly, the :Annapurna wide-format device went home with a buyer who added just €1,000 to the €58,000 bid-starter. The four-up platesetter, attracting no bids at all, was withdrawn from the day's catalog.
Agfa's product marketers will have to decide whether their nerves can stand restaging this low-balling game show at other print expos. At drupa, though, the auction definitely succeeded in doing what it chiefly was intended to do: drawing attention to the Agfa prepress line. And the cause it supported—installing water pumps for drinking and irrigation in a desperately poor country that gets an average of about 31 inches of rainfall per year—couldn't have been worthier.
TDC's Typographical Oasis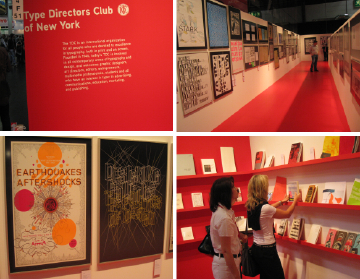 In the bustle and din of drupa, serenity was a difficult state of mind to come by—except for those who happened to discover an unexpected island of visual delights in a corner of Hall 4. This was the 54th annual Show of the Type Directors Club of New York (TDC), in its world premiere exhibition at drupa.
To showcase the winning entries, TDC created a gallery-like space in which the glass-framed judging specimens could be browsed at a pace much gentler than the frenzied tempo of the rest of drupa. On display were all 225 winners in this year's competition, which drew about 2,100 entries from 31 countries. More than half of the submissions came from the U.S., but drupa's home country also was well represented by the 378 entries originating in Germany.
Those selected for honors had been evaluated by a seven-member jury. Judging consisted of dropping a chip into a cup whenever a juror decided that a work merited recognition. Awards went to entries receiving more than four chips. A complete list of winners is posted at the TDC web site. The winning entries will be exhibited in New York City from July 29 through August 22.
Founded in 1946, the Type Directors Club of New York has presented the winners of its annual competition at drupa since the 1980s. This year, a team of students from the Schweinfurt University of Applied Sciences designed and produced the gallery and its promotional media as part of an academic project. Their creation was a bright red space with the look of an urban skyline.
From Komori, a Bit of Anticlimax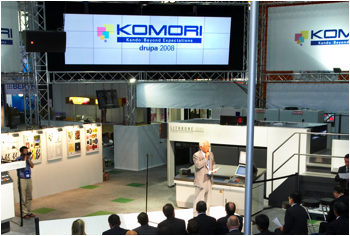 On June 3, Komori stirred speculation by convening an impromptu press conference to make what it said would be a "significant corporate announcement." What was in the air? An acquisition? A change of leadership? A show-stopping new product kept under wraps until everyone else's drupa debuts had been unveiled?
The actual news was considerably less dramatic, but significant nonetheless: the commencement of the third phase of expansion for Komori's main sheetfed manufacturing plant in Tsukuba City, Japan.
Yoshiharu Komori, president and CEO of Komori Corp., prefaced the announcement by noting that the company has been enjoying a steady run of growth with net sales turnover up more than 60% percent from five years ago. Buoyed by this performance, and further encouraged by what Mr. Komori said was a rising demand for long perfectors, the company will increase the production capacity of the Tsukuba plant by 50% in keeping with its "kando" philosophy of delivering ever-increasing customer satisfaction.
Other Komori executives said that implementing the expansion plan would bring about "drastic" reductions in manufacturing costs and unify the plant's various engineering and production processes. Additionally, the manufacture of Komori's web offset and banknote presses will be moved to Tsukuba.
To be added in the third phase is 27,000 square meters (290,000 square feet) of factory space for a total plant area of 60,000 sqm (646,000 sq. ft.). Another 5,000 sqm (54,000 sq. ft.) will be dedicated to an in-plant Graphic Technology Center for demonstration and training. The net result will be to double the size of the Tsukuba plant, making it, according to the company, the world's largest press manufacturing facility when the expansion is complete.
That will occur in December 2009 if work commencing this September goes according to schedule. The Graphic Technology Center will open earlier, in April 2009.
Komori expects to spend ¥10 billion ($94.3 million) on expanding the plant and another ¥1.5 billion ($14.1 million) on constructing the Graphic Technology Center. The formal opening of the fully expanded Tsukuba plant will take place in the spring of 2010.
GASC Promotes Print 09, Themed "MyPRINT," at drupa 08

Complete the following trade show timeline by filling in the blank with the name of the next event in the sequence:
drupa 08 Graph Expo 08 __________
Hint, like drupa, it occurs once every four years, but never in the same year as the Düsseldorf show. Bonus hint: it's owned and operated by the Graphic Arts Show Company (GASC), the same entity that owns Graph Expo and other prominent U.S. printing trade fairs.
The incomplete answer is "Print 09," the show that will occupy Chicago's McCormick Place from September 11 through September 16 of next year. At drupa, it was the mission of GASC vice president Christopher Price to promote the show's new theme—MyPRINT—and to explain why the repositioning will assure exhibitors and attendees the kind of "personalized" experience that's been missing from trade shows.
Working from a booth in the "American pavilion" of Hall 15, Price emphasized that Print 09 isn't being renamed or rebranded. MyPRINT, he said, reflects GASC's desire to "customize" participation in the event and to eliminate the "overwhelming" aspect that inevitably attaches to shows of Print's size.
Within the MyPRINT context of Print 09, he said, GASC will be able to categorize attendees according to the various lead-generating opportunities they represent to exhibitors. In this way, GASC hopes to channel prime prospects to the exhibitors who want to see them throughout the 1.3 million sq. ft. of space that Print 09 will occupy.
According to Price, the new theme also is a nod to GASC's Digital Print Advisory Council, a special group that provides direction in increasing attendance at GASC shows. The council wanted more weight given to digital printing and its market segment at Print 09, said Price, adding that the MyPRINT theme ties in well with the individualized communications that variable printing with digital equipment makes possible.
However, conventional print won't be overlooked in the campaign to make Print 09 a more personalized experience. Price said that GASC has conducted focus groups with commercial printers to make sure that these attendees will perceive Print 09 as a show personalized for them as well. He also said that he would meet with all of the major manufacturers of offset equipment while at drupa to win their buy-in for the show's new theme and direction.
Print 09 also will serve as the launching pad for PackPrint, a new, co-located package printing expo that was postponed in 2007 to await stronger participation by exhibitors. PackPrint has that support now, according to Price.