Océ North America announced some new color products here at PRINT 05, the CPT 60 and 90 and the VarioStream 9230. The former are tandem versions of its existing CPS 800 and 900 color printers and leverage those machines' high levels of consistency and print quality to deliver identical output on multiple devices.
The VarioStream 9230 is the three-color version of this line that was announced about 18 months or so ago. We should be seeing a fourth color on this device early in 2006, followed by process color.
The 9230 is the best example of Océ's message of "job-appropriate color," so I talked with Guy Broadhurst, Director of Product Marketing, about the new products and job-appropriate color on the mezzanine above the company's booth here Sunday.
WTT: It's good to see the 3-color version of the VarioStream 9000 here in Chicago. The timing seems to be in keeping with Océ's roll-out schedule for this machine, which is also nice to see. What can you tell me about the new unit? Also, what is the schedule for additional colors on the 9000?
GB: That's right, Noel. The first public showing of the Océ VarioStream 9230 is here at PRINT 05. The reaction of visitors has been overwhelmingly enthusiastic. In fact, the machine on the show floor has already been sold to Lason, and will be going directly there after the show closes on Thursday.
Visitors are especially excited about the business possibilities. They tell us a lot of jobs they're currently running on expensive full-color machines, like Xerox's iGen3 or Kodak's NexPress, could be transferred to the 9000 family for a fraction of the cost. That means savings for everyone.
When we first announced the product family, we projected that we'd introduce another color every 12-18 months. We're on the low end of that -- about 12 months. -- and indications are that we'll keep up that pace, at a minimum.
WTT: What kinds of customers have been buying the 9000 so far? What kinds of applications are they running?
GB: It's roughly a 50/50 split between in-house and commercial customers. We're finding more and more interest in how highlight color can affect the impact of transaction documents -- like highlighting "total amount" or "date due" in a billing application. Logo applications that use Océ Custom Tone color are getting a lot of attention.
The industry has been talking about a holy grail of zero price difference between color and monochrome. Our commercial print customers are finding that the Océ VarioStream 9000 family is getting them closer to that point since the cost of adding color is minimal when they compare it to other available technologies.
Book publishing is a great application because of the outstanding print quality. Financial applications on lightweight stock also have been popular.
WTT: Another Océ product announcement here is the Océ CPT60 and CPT90, the new tandem configuration of the CPS 900. How is Océ positioning this system in the market and what kind of companies are you targeting? Can you talk at all about whether customers have been asking for this kind of solution?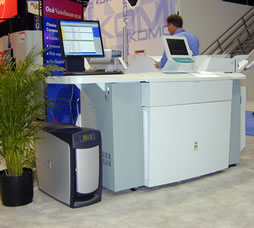 The new tandem color machines are an answer to customer demand. Many of them want to start competing for bigger jobs -- the ones you see going to the big-ticket 100 ppm+ machines on the market. But those machines usually require an investment of a half-million dollars -- minimum. They weren't comfortable making the investment, especially since they're building volume over time. This machine lets them grow at their own speed, adding capacity as it's needed.
The Océ Copy Press technology, which eliminates the need for calibration, means the image on the first page out of the printer will look exactly the same as the 1,000th -- and exactly the same as the pages coming off the printer next door. That unique Océ capability is what makes tandem color work.
And, in terms of our targets, pretty much anyone with a need for production-class digital printing is a candidate.
WTT: Océ's approach to color is different than that of some other manufacturers, maybe partly because your customer base has historically had fewer printers who required full color. Tell explain how the VarioStream 9000 and CPT60 fit into this strategy.
GB: At Océ, we believe in something we call job-appropriate color. Each print job has a specific business purpose. For many of them, the business objective can be attained more quickly or efficiently by using color.
But does every job need full color? What if the need is just to print the company's logo in the right PMS color wherever it appears in the document? Maybe important information needs to be called out in the document -- or maybe differentiated -- for example, in a service manual, showing a technician how to connect the red wire and the green wire. They all can benefit from color … but different kinds of color.
All this doesn't mean to imply that full color is irrelevant when it comes to achieving your business goal. I'd be willing to wager that somebody on the floor of PRINT 05 is printing a travel brochure today as a print sample. And those beautiful blue skies, green palm trees and sparkling sand don't entice a vacationer nearly as much in one or two or even three-color.
Our philosophy is simple: we think our customers should pay only for the kind of color that makes their print job effective. That client who's explaining the red and green wires in a service manual has needs different from those of the travel company-- and they need to hit a different price point.
That's the approach we're taking in the color arena, with a product set that addresses multiple levels of color -- as well as multiple technologies and speed bands.
WTT: You're also printing a lot of books at this show, and it is in fact a key part of what you are showing in your booth. Where particular advantages does Océ bring a to short-run book production?
GB: There are very compelling reasons to choose Océ for digital books. There's speed, scalability of the electronic printing systems, the ability to add value through things like job-appropriate color, being able to track the job through the whole process including printing and distribution, and tight integration with prepress and finishing. And, as Frank Romano said yesterday, you can't tell whether the books we're producing are printed offset or digital without a loupe!