"Color," says Homi Shamir, "is continuing to grow, and customers are becoming more and more interested in adopting it." Shamir, president of Transaction and Industrial Solutions at Kodak's Graphic Communications Group says that although the majority of Kodak Versamark's business is still black and white, customers are readying themselves to make the jump to color.
Although the company's high-speed V-series printers can print in full color, many customers begin using the machines for highlight or spot color. And while there are a few electrophotographic devices that can add highlight color, the speed of the Versamark devices and the ability to easily upgrade a printer to full color is a compelling attribute for ultra-high-volume service providers. One of these is ADP's Brokerage Services Group, based in New York City. At the show I talked with Gary Fratangelo, senior vice president of about the Versamark VX-5000 he has installed. ADP has numerous continuous-feed laser printers at its various facilities, but looks to the Versamark to provide the mix of speed and color. The key apps are a mix of financial documents including trade confirms, 410k kits, proxy statements, and the like. The volume borders on astonishing. "During proxy season we are running 168 million impressions per month," relates Fratangelo. "We put a lot of that on the Versamark because it is so fast."
Speed is only part of the picture. One of the key applications is adding graphics that show investment performance or allocation of investments. These are not elaborate, simply being printed in different shades of a single color, but it makes the information on the statement much easier for recipients to read and understand. That's all their customer wants--for now. "The price is right for the application," says Fratangelo, " the quality is sufficient, and it adds value--and clarity--to a statement."
"But it's really all about meeting the SLAs (Service Level Agreements) we have with our customers," explains Fratangelo. "They aren't so much interested in how we print the information, but it has to be produced and in the mail within very narrow windows. So the speed is very important in helping us meet all our SLAs and satisfying our customers. A single Versamark is the equivalent to two high-speed laser printers. And there's kind of a culture around the Versamark. It brings a commercial printing environment to a laser printing universe."
Shamir's role encompasses "industrial solutions" which span areas and substrates well beyond traditional ink on paper. He noted substantial market potential for applying Kodak's ink technology in a variety of industrial areas and that this potential is part of what makes transactional and industrial solutions a key growth engine for Kodak's Graphic Communications Group. There is some fascinating stuff here, but that's a story for another time.
Xeikon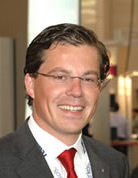 Kristof Vereenooghe
Filling a unique niche in the market--and doing it quite successfully--is Xeikon. The company's continuous-feed digital color press has essentially been reborn over the past year or so and offers features and capabilities-- such as single pass duplexing--not found on other equipment. Company president Kristof Vereenooghe says the company is finding much of its success in packaging applications, point of sale materials, and direct mail where the ability to vary page length enables printed solutions not possible on cut-sheet machines. Then, there's wallpaper. Custom wall coverings are in vogue for upscale shops, executive offices, restaurants, and even homes. Designers are using Xeikon print engines to test and even produce papers in short runs, relying on the machine's color consistency to deliver the final results they need.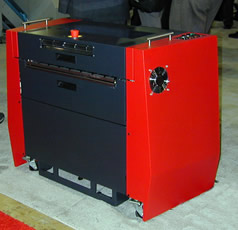 Addressing an important problem for digital presses, Xeikon also had its Print Protector UV coater at On Demand, although it was not connected to the print engine. Packaging, direct mail and POS materials need a coating that resists abrasion, a weakness for all toner-based digital prints. The Print Protector works inline or offline and sprays an aqueous emulsion of wax and silicone onto printed pages. The solution did well in a recent test by the PIA/GATF measuring how various solutions withstood the rigors of the USPS mail handling system. The coating makes the surface of a mailpiece slicker than with plain toner alone, reducing static build-up and letting mailpieces flow through automated equipment more easily. The Print Protector is moderately priced in the mid-$20,000 range with consumables costing about a quarter of a cent per linear foot on the 20"-wide rolls used in the flagship 5000 model.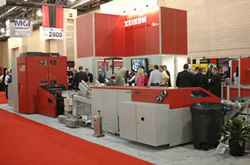 Xeikon also takes a different road with respect to the shape and color of its machines. The Xeikon 5000, while still a tall box, has a few curves, emphasized by the stylish red and gray paint that is now standard on the machines. The colors were in sharp contrast to the typical putty -colored boxes of most vendors. The color scheme carried across an Ibis Digi-Stitcher finishing system that can be configured to saddle-stitch and perfect bind up to 200-page books at a rate of 6,000 books per hour. Cloaking the print engine and finishing unit in red and gray livery emphasized the kind of ready-to-run integrated system many print providers want to see on a show floor--or their shop floor. I've seen this finishing unit in action before and it is a truly remarkable device. And with the growth in digital book printing it's likely to find homes in a goodly number of digital book manufacturers.
Nipson
Color and attractive industrial design was also evident at Nipson's stand where the VaryPress 200 was quietly duplex printing roll-fed paper at 230 feet per minute. The difference here, aside from the exquisite deep green color and curves of the machine's skin, was that it was a single box printing both sides of the page. The paper went in, was printed, run over a set of external turnbars at each end of the box, and the back of the page was imaged. Not a new technique, and not really a big deal, except it saves an enormous amount of space on a shop floor compared to typical twin systems. This is not inconsequential to many of the customers who would opt for this lower speed model of the VaryPress line. It means the green machine takes up less space than most leading cut-sheet machines that offer far lower throughput. In addition, the machine can print on paper, synthetic media, and label stock, with a maximum print width of 18.75-inches.
Nipson is coming off strong first quarter sales, especially for its flagship VaryPress 400, and has entered into a distributor agreement with Pitman Co. (Totowa, NJ), the largest independent distributor to the commercial and packaging industries. This puts more feet on the street for Nipson, and could help increase awareness of the company and its equipment in the market.
IBM
IBM (its machines are square and black) was locked and loaded on workflow. In most respects, IBM has traditionally placed much less emphasis on their equipment and far more on software and solutions. Bert Prospero explained that workflow automation remains the key to reducing costs, controlling output, and ensuring compliance of equipment from different vendors. He said IBM's AFP has long supported this as a published, open architecture, and that the approach continues through Infoprint Manager. He also noted IBM's leading roles in middleware, servers and professional services as further elements of the company's focus on comprehensive workflow solutions.
The professional services IBM wraps around its print engines and workflow are designed to ensure customers have access to IBM's technical expertise as they develop workflows specific to their business requirements. Prospero said the level of implementation is entirely up to the customer. Some large customers with extensive IT and systems management skills may not require IBM's services, while many smaller companies rely on IBM to partner with them and build the needed solutions.
But wait, there's more!
I talked with more customers (one each from Xerox and Océ), learned a bit about the next version of QuarkXPress that's coming later this year, checked out the UV coating system on the iGen3, chatted with Emtex about their role as an independent provider of print management and workflow software, and a few other things. And oh, yeah. Since I was in Philadelphia it only seemed fitting that I look up Ben Franklin. But that's all for next time.