Forgive me if this story reads a bit like a blog but as the title indicates, the day was a blur of meetings and demonstrations, and it is actually still in process as I begin this piece between show closing and dinner with yet another vendor. Thank heavens for caffeine!
During my Third Cup of Starbucks...
The show opened officially at 10 AM, but a legion of press and analysts flocked to Océ's booth an hour earlier to hear about how the company is faring with a revamped sales and marketing strategy that focuses on offering equipment and software that answers an ever-expanding range of customer needs. Mal Baboyian, president of Océ Digital Document Systems noted that the company has shown steady growth since 2003 and that the first quarter results from 2005 are up 25 percent over 2004. This is some of the payoff for the company's consistent investment of 7 percent of revenue in product development. Already the company holds leading roles in high-speed continuous forms printing and in wide-format printing. Its PRISMA workflow, noted Baboyian, is the most tightly integrated production workflow software architecture in the industry, spanning office and production printing. And now the company plans to extend its reach further into cut-sheet printing. The VarioPrint 5000 family has been expanded with the new 5140advanced model which prints conventional and MICR toner as well as highlight color toner in a single device. This printer, and the VarioPrint 2110 are two of the leading boxes Océ is using to reach its goal of 25 percent market share in the cut-sheet market of 300,000 monthly impressions or greater.
"Workflow," notes Baboyian, "can make or break a print operation. It is the single fastest track to profit for a print provider." To help make sure Océ's workflow message gets to market, Océ has been changing the training of its sales reps to help them not only better understand the real world needs of customers in a variety of environments, but give them the knowledge and tools needed to provide solutions that merge workflow and print engines in ways that deliver bottom-line results for their customers. The company's booth---set up as The Printshop of the 21st Century--is a live demo center of equipment and software running real jobs, including production of most show collateral materials. The numerous stations are staffed with people taking on the roles of document creators, prepress mavens and printer operators. Each tells a story that draws on the experiences of customers about how Océ PRISMA has changed the way a business worked and made it more efficient and profitable. And the story reiterates Baboyian's comment about PRISMA as a tightly integrated architecture. Both typical corporate print jobs and graphic arts jobs are in the workflow, showing how various PRISMA tools can streamline jobs from graphic designers and office workers alike. Some jobs reach prepress as Xerox DigiPath files, which are adapted to run on the Océ printers, showing the flexibility of both the workflow and the print engines. The jobs are passed to a prepress area where they are proofed then passed along to either a VarioPrint 2110, 5140advanced or CPS900 Platinum color printer.
Wide Printing and VERY Cool Software
Next door at Canon, I got a look at the W6400 Prograf, 24" wide format printer, and it's 42"-wide sibling, the W8500. These are a nice pair of printers that turn out some remarkable prints, but the story is not the printers. Canon is just as well known for its cameras as for its print engines. But while the logo is the same, the two parts of the company don't necessarily pay a whole lot of attention to what the other side is doing. Until now. These two machines come with software that may well make the two Prograf printers the most productive machines of their type on the market.
Wide format machines are great at printing outsized images. Some are faster than others, but in may cases the speed difference isn't really going to make or break anyone's wallet. But getting a job ready to print can, especially if the user is a print for pay operation such as a sign shop or quick printer, or the in-house operation at, say, a retailer or restaurant chain that uses wide format prints as part of their standard marketing and signage. The challenge in any of these environments is creating the various documents as quickly as possible. And this is where two new Canon software tools simply rock.
Digital Photo Print Pro is Photoshop for the rest of us. The photography side and wide format side of Canon have created a Photoshop plug-in that vastly simplifies--we're talking point and click, here--a number of image editing, resizing and page composition tasks that are usually better left to Photoshop wizards. Correcting for backlit objects (like a kid's face); virtually automated repair of dust, scratches and moiré patterns; creating collages of images, and more are a matter of a few mouse clicks that could be done by all but the most technically challenged. There's a preview mode so you can see what your edited image will look like as a final print. Digital Photo Print Pro simply makes preparing a image from any digicam for printing on a Canon Prograf about as simple as image editing and wide format printing can be.
Poster Artist will make the lives of a lot of sign shops, quick printers a lot easier, more productive and more profitable.
Canon didn't stop there. Again working with the photographic side of the company, they developed Poster Artist. This is intended to make short work of poster and sign production, using a series of professionally designed templates and stock photo images. Poster Artist will make the lives of a lot of sign shops, quick printers a lot easier, more productive and more profitable. At they same time, many types of restaurants and retail operations will find it a fast way to create posters and signage promoting just about anything. The templates are shells that users can change in a matter of minutes and a repository of stock photos are all designed with wide format prints in mind. All text and images can be changed as needed by simply pointing and clicking or dragging and dropping. And the customization potential is endless. Want to add your own photos to the stock library? Go right ahead, and leave them there for future use. The poster hanging on the printer in the image shown here, was changed from one for lunch at an Italian eatery to one for a Chinese Buffet in about two minutes, including swapping all the photos and changing and resizing the text and address. (The Canon folks, of course, couldn't resist commenting on my Nikon camera when I took the photo!)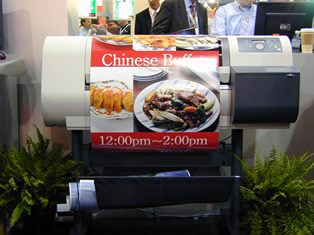 The ease of use--the real value-- in both these programs goes beyond the shorter set-up time. It also means less training and graphics expertise are needed to operate the software and the printers. This decreases production costs for all users while increasing the profit margin for print-for-pay operations. The hard costs--consumables--for the Prograf line vary with the substrate while the 6-color inks used run about $0.30 per square foot. Combined with printers that go for about $3500 (the 24") and $6,000 (42"), these machines comprise a terrific value, in my caffeinated opinion.
I saw a whole lot more today, but I'm running thin on space, so I'll stop for now. More to come from Kodak and IBM...