A brand-new press at a trade show is like a luxury car in a showroom—even if you don't know a thing about what goes on under the hood, it's impressive nonetheless.

Hordes of people who can't tell a tie rod from a tie tack buy new autos every day, and for most of the car-buying public, that's perfectly acceptable. Printers, on the other hand, like to have a better feel for the nuts, bolts, clamps, keys, and grippers when the time comes to invest in the next dream machine for their litho pressrooms.

Printers will decide whether the Roland 500, the newest press from MAN Roland, is the ticket to higher productivity that the sheetfed market has been searching for. What they will learn about the 500 before and during Graph Expo is a good deal more than trade show patrons customarily are told about an emerging machine's design, development, and pre-launch testing.

This is because Dr. Anthimos Giapoulis, the MAN Roland engineer who led the 500 project, has agreed to tell the story in this special pre-show report for WhatTheyThink.com. He also will share the highlights at a media briefing at McCormick Place on Oct. 6.

The 500, which will have its North American debut at Graph Expo, is a machine so complex and innovative that a brief description fails to do it justice. The salient points are these: It is a half-size (23.23" x 29.13"), two- to eight-color sheetfed press built for six-up printing. MAN Roland calls it the industry's fastest press (at 18,000 sheets per hour), and one of the most versatile in terms of the range of substrates it can handle (from 0.1 mm envelope stock to 1 mm packaging material). Controlled by MAN Roland's PECOM automated press operating system, the 500 incorporates a long list of advanced features for improved plate loading, ink management, sheet travel, and inline coating and finishing.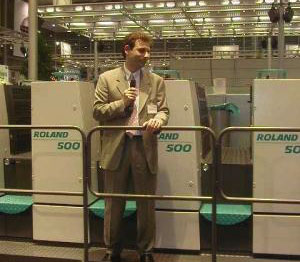 More Than Meets the Eye, Indeed
The six-color 500 that will be on display at Booth 1032 is the culmination of five years of work by scores of people at an R&D cost of EUR50M. But the real fascination, as Dr. Giapoulis unfolds the tale, lies in what won't be seen: the painstaking readjustment or replacement of most of the machine's components from the first "alpha" press to the model on the stand.

According to Dr. Giapoulis, the 500 project began at MAN Roland's manufacturing headquarters in Offenbach, Germany in December 1997 with three months of "marketing analysis." This included consultation with key customers about their expectations. MAN Roland sales and marketing staff added their recommendations, and from this matrix of requirements evolved the basic specifications for the new press.

Dr. Giapoulis said that the concept phase "was a little bit easy for us, because we knew from the beginning that we would design without compromise." He explained that because the goal was to develop "a press without competition," the R&D team was spared the need to devise shortcuts that would have resulted in a less capable machine. MAN Roland knew, he said, that competitors were copying the features of its existing models, and was therefore determined to take the 500 to a new level of engineering sophistication.

Realizing that ambitious objective would prove to be "a very, very big project," according to Dr. Giapoulis, a self-described process analyst who has been with MAN Roland since 1996. He initially assisted the company in obtaining ISO 9000 certification, which it achieved in 1997. He was then given charge of the 500 project, a task he compared to "building a small company within a big company."

His core group of 15 engineers soon bloomed into a 60-strong team of designers and technicians assigned to various elements of the press. The groups designed their systems simultaneously, not sequentially, so that no one would have to wait for anyone else to complete his piece of the buildup. The parallel approach shaved 20 percent off what typically would be the design time in a project of this kind, Dr. Giapoulis said.

Zero Tolerance for Out-of-Tolerance
The first prototype or "alpha" press was completed in March 1999, followed by more prototypes and the pre-launch press that was shown at drupa 2000. Internal testing continued for a year and a half, during which time the 500 team made more than 2,000 changes. In this critical stage of press development, said Dr. Giapoulis, "every hole that is not in the right position" must be identified, corrected, and documented so that the change can become a permanent part of the manufacturing instructions.

Including 10 machines subsequently built for field testing, the 500 team fabricated a total of 17 project presses. That is an "unusual number" of test machines for a press manufacturer to employ, said Dr. Giapoulis, but a justifiable quantity given the scope of the testing. He explained that in order to assure the "stability" of the press, the plan called for building the 500 in enough different configurations to test its performance in the all of the print manufacturing environments into which MAN Roland eventually would try to sell it.

The 10 presses for field testing were produced in two batches: five "beta" machines that were evaluated at customer sites from December 2000 to June 01; and five "gamma" presses that went into the field immediately thereafter. Field testing at the customer locations led to 1,000 more modifications, bringing the total number of parts changed to 3,000—a 75 percent reworking or replacement of the 4,000 parts in the 500's initial blueprint.

Making "thousands of changes" during the testing of a machine like the 500 is a normal and necessary part of the process, according to Dr. Giapoulis. He described printing presses in general as complex, high-precision devices that can be "harder than an airplane" to develop and debug. The fact is, he said, that from design to commercialization, a press like the 500 is built twice: "once as a prototype, and a second time as a press for the customer."

Field testing and modifications could end only when every customer site had reported that its press was "stable." Guaranteeing the "stability" of a press, Dr. Giapoulis explained, meant making sure that "the press is working, and there is no situation in which the printer is forced to ask, 'What happens now? What am I going to do?" Another overriding aim was to "reduce waste at every stage" of press operation, he added.

The Customer Is Always...
The customers were not easy to please. Getting their approval was "hard in the beginning," Dr. Giapoulis recalled. "I hated going to the telephone." Nevertheless, he said, the team "stopped the test with success" last April, giving the green light to the MAN Roland sales force. Since then, the 500 has been installed at six locations in Europe. News of further installations is expected from MAN Roland at the Oct. 6 media briefing.

Asked to identify the most significant of the 500's many advanced features, Dr. Giapoulis cited its "new generation" of on-board electronics for monitoring and controlling press functions. As presses become faster and more accurate, he said, their sensors and central computers must become correspondingly more powerful and responsive. He noted that the 500 contains "hundreds of sensors" that transmit diagnostic information to the central computer with every 10º of cylinder rotation. At 18,000 sph, he said. that amounts to thousands of signals per second—a torrent of data that only the most sophisticated of digital systems can capture and process.

He also emphasized the fact that "the 500 is 20 percent faster, with 20 percent less waste, than its competitors"—an advantage, he said, that can be exploited at any running speed. According to Dr. Giapoulis, tests of the 500 at a plant in Belgium enabled the printer to run at 10,000 sph a job he had never printed faster than 7,000 sph on his other sheetfed equipment. Later the output speed was increased again, to 11,500 sph. Dr. Giapoulis compared the press's performance to that of a sports car with "reserves" of speed that can be called upon to ramp up productivity, making the press competitive with larger equipment.

He also called the 500 "the most flexible press" of its kind when it came to substrates, particularly heavyweight stocks. Printing 1 mm cardboard is a bragging point for the 500, Dr. Giapoulis said, because none of its competitors can handle anything thicker than 0.8 mm. He added that the press can be configured for waterless printing, and that the press is being operated this way at one of the European installations.

WhatTheyThink.com will carry more news about Dr. Giapoulis's remarkable printing machine as announcements are made by MAN Roland at Graph Expo.