Each year, WhatTheyThink invites small commercial print business owners to participate in our "Top 100 Shops Survey." The key word is "small," with the upper limit for participation at $25 million in annual revenues.
Last year's winner was Strategic Factory (their second straight win), and in this space last year we had said, "Given their trajectory, it's possible they won't qualify next year"—as indeed was the case.
Their 2022 revenues exceeded $26 million, thus disqualifying them from this year's contest. We can't think of a better reason for being disqualified! So kudos to Strategic Factory—our loss is their gain.
Which means that we have a new Top Shop this year. This year's winner is no stranger to our Top Five, and it's great to see that this year they made it to the top: Allen Printing Company, with 2022 sales of $24.3 million. Congratulations to Allen Printing Company!
(Scroll to the end of this article for complete table of the Top 100.)
This Year's Entrants
In 2022, the shops included in our "Top 100" list accounted for more than half a billion dollars in revenue—$520.6 million, representing a 5.8% increase from 2021. If we look at revenues for our top shops, 74% saw a 10%+ increase in revenues in 2022 from 2021, while 12% said 2022 saw a 6–10% increase over 2021. A further 7% saw a 1–5% increase in revenues in 2022. Only 5% reported any decrease in revenues in 2022. (We won't adjust for inflation.)
As for their expectations for 2023, they are a little muted: 8% are expecting revenues to decrease, 45% are expecting revenues to increase more than 10%, and 24% are expecting revenues to increase between 6% and 10%.
Part of this lack of optimism is what we know from our "Fall 2022 Business Outlook Survey": 2022 still represented the recovery of work lost to the pandemic, and 2023 will be a settling back into normality. At the same time, we also know anecdotally that many businesses are expecting a recession in 2023—even if there is no sign of one.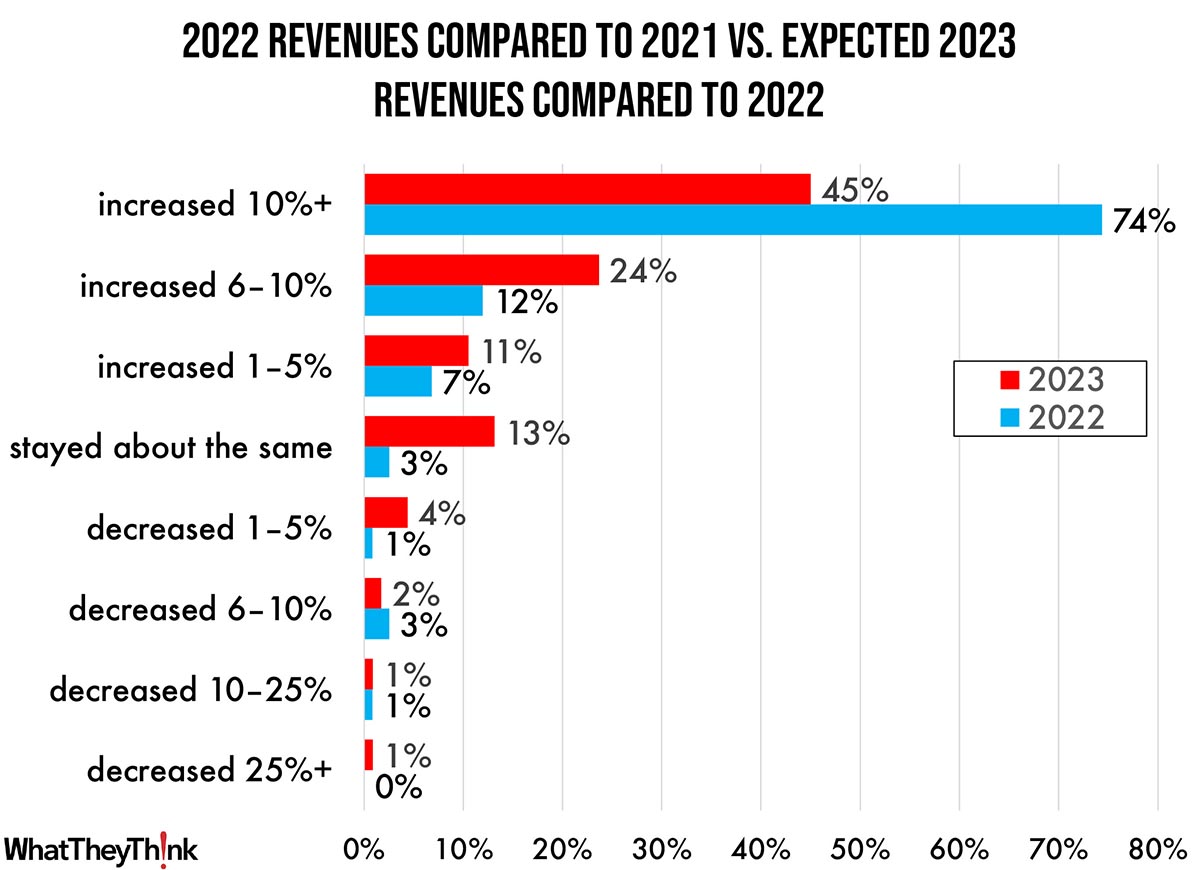 Demographics
If you look at our list of Top Shops, you'll notice a large number are franchises—lots of Allegras, AlphaGraphics, Sir Speedys and PIPs. If you read Cary's "Franchise Review," also in this issue, you know that franchise networks have been growing, and individual franchisees have been expanding into new product areas, like signage and display graphics. It also has to be said that individual franchisees were encouraged by their respective Mother Ships to respond to our survey, whilst indie print businesses were a lot more difficult to wrangle.
While we'd like to get a lot more independent printer participation, we unfortunately don't have subpoena power. And, alas, some of the Top 10 shops from previous years also did not participate this year. We can only hope it was because they "succeeded" their way past our sales cutoff.
The oldest company in our "Top 100" this year is State College, Pa.'s K-B Offset Printing, founded in 1902, while the newest company is AlphaGraphics Suwanee (Ga.), founded in 2019. The median founding date for all companies in the "Top 100" was 1988.
The majority of our respondents have one location, but at the high end, N.E.W. Printing in Appleton, Wis., reported 38 locations. In the "Top 10," 2 locations are the average.
In terms of employees, the average number of full-time and part-time employees in the "Top 100" is 25.8; our top two shops this year, Speedy CPS and Allen Printing Company, top the list at 147 and 130 employees, respectively.
Applications
Print businesses are becoming nothing if not more diverse in the kinds of applications they produce. When we look at the specific kinds of applications shops produce, we find a wide range of print products, including color digital printing/copying (produced by 97% of our "Top Shops"), wide format (89%), mailing (89%), black-and-white digital printing/copying (87%), and binding and finishing (86%).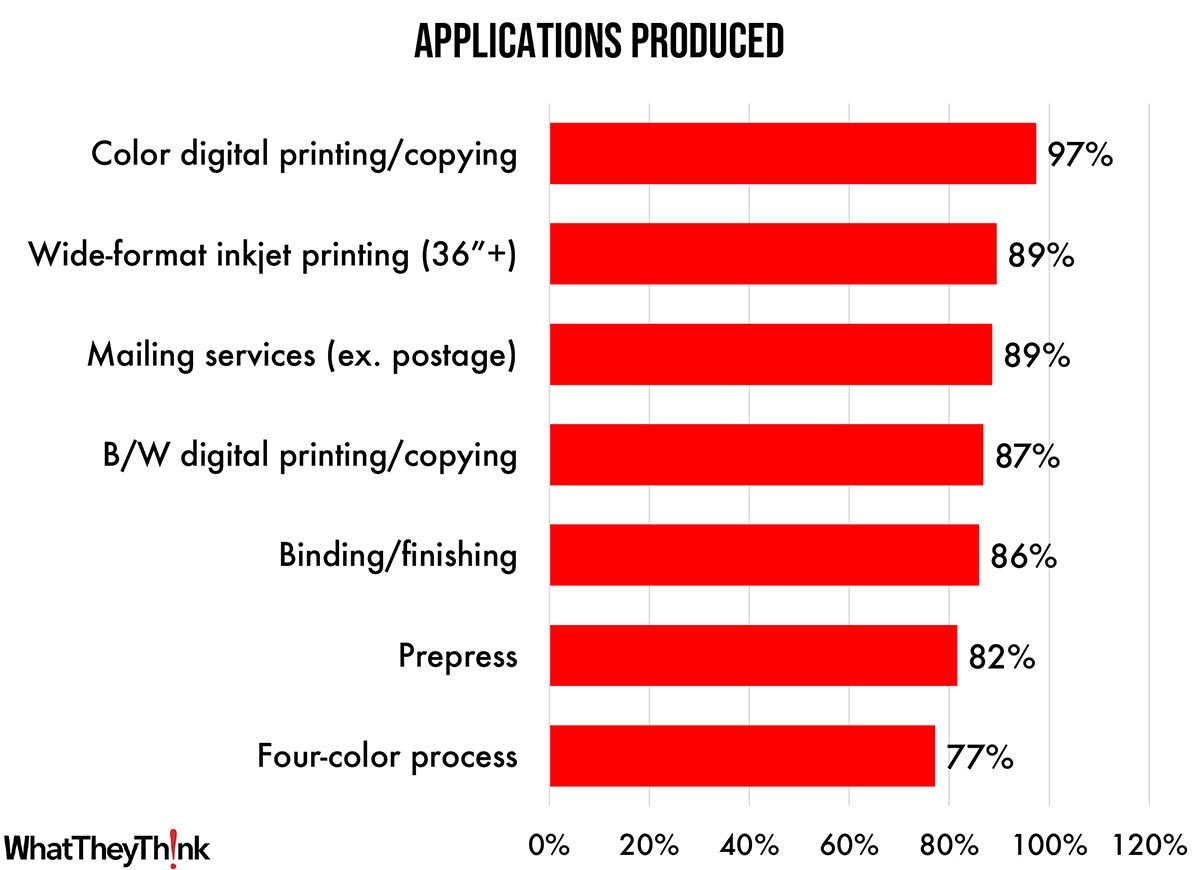 Top Challenges
This year's top challenges—and none will surprise you in the slightest—are "national economic conditions," selected by 52% of our "Top Shops." Here we find recession paranoia—again, macroeconomic conditions have been pretty good, although if you watch cable news you'd never know this. "Managing workflow automation" is number two at 50%, and "finding qualified production personnel" is number three at 42%.
We note that "availability of consumables and supplies"—which was the top challenge in our "Fall 2022" survey—is only at 18% here, so the "supply chain issues" that plagued print businesses last year have largely resolved themselves.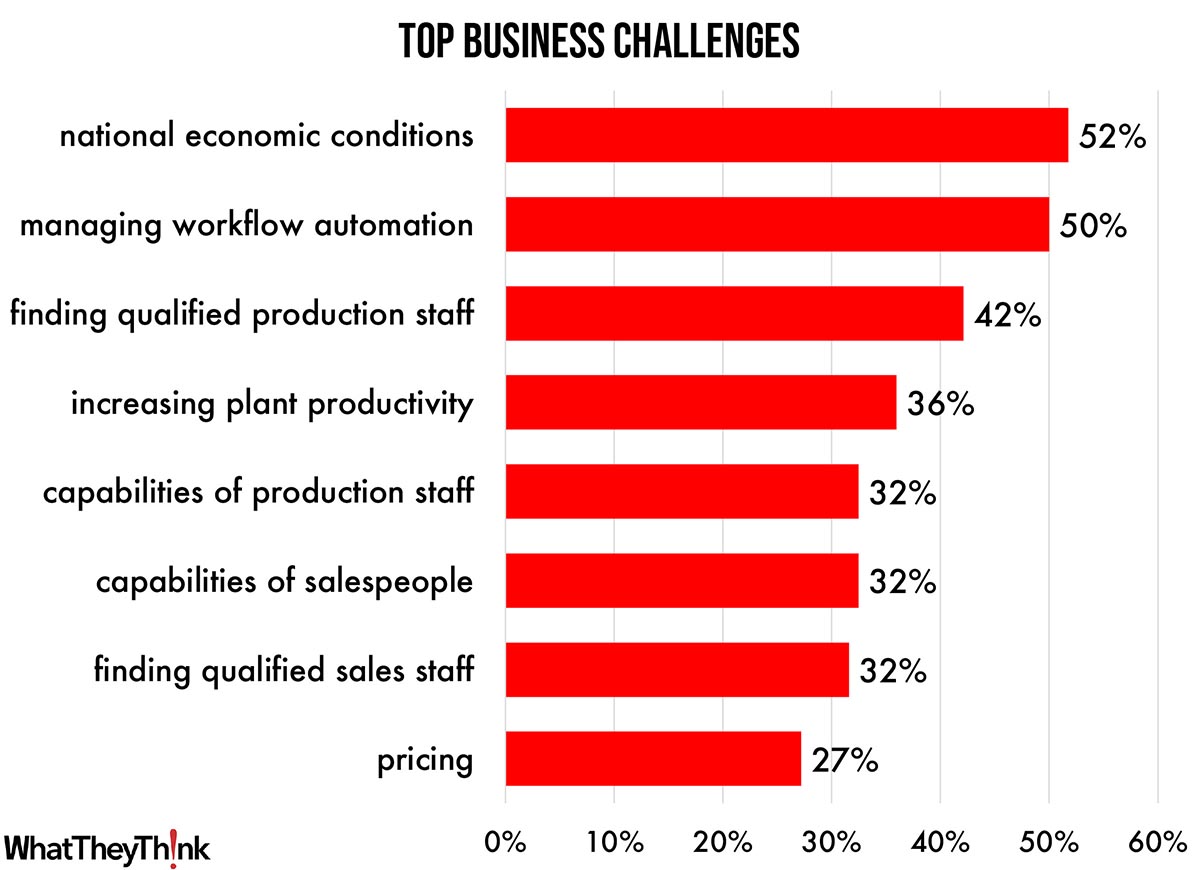 Top Opportunities
Despite the top challenge being "national economic conditions," we find "improving economic conditions" to be far down the list of business opportunities. Rather, the top opportunity is "customers outsourcing more work to us" at 44%.
Our boilerplate explanation for this opportunity is that there is always the danger that customers will be able to satisfy a substantial amount of their own printing needs in-house, whether that be "quick print" work or even some wide-format or other specialty printing. This is especially the case in the current environment, where businesses throughout the economy need to cut costs as much as possible. A new wrinkle to this opportunity is that companies throughout the economy simply don't have the staff to even handle their primary business tasks, let alone printing, so the more that can be outsourced, the better—for print customers and printers.
We also find that automation has become a top-of-mind issue—"automating production" is the number-two business opportunity at 34% of "Top Shops." "Hiring new salespeople" is number three at 32%.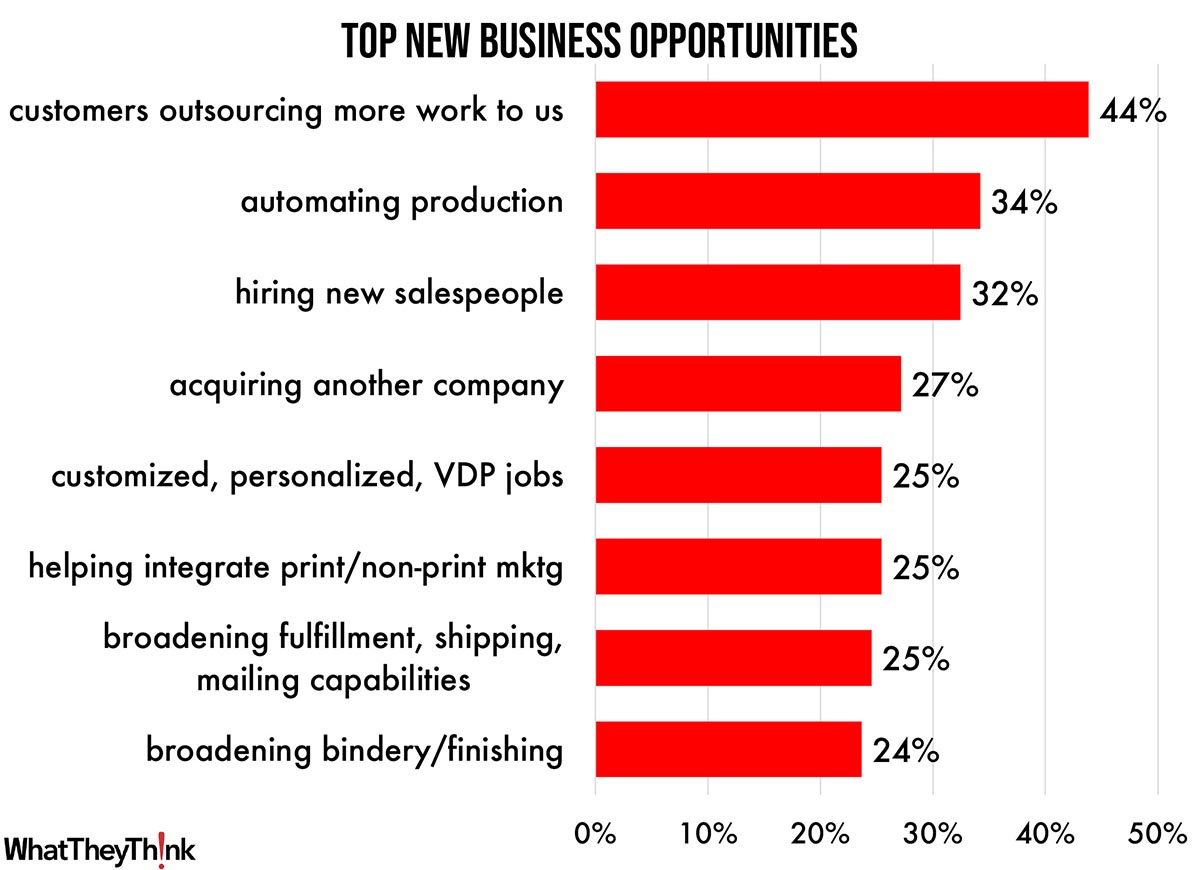 Planned Investments
Binding/finishing equipment has been a perennial number-one investment in virtually all of the surveys we conduct, and has been the case since pre-pandemic. Here we see that it is still far and away the most popular investment category. More than one-fourth (27%) plan to invest in additional space or a new location, and 21% are looking to invest in mailing software and equipment. A record low (11%) say they have no planned investments.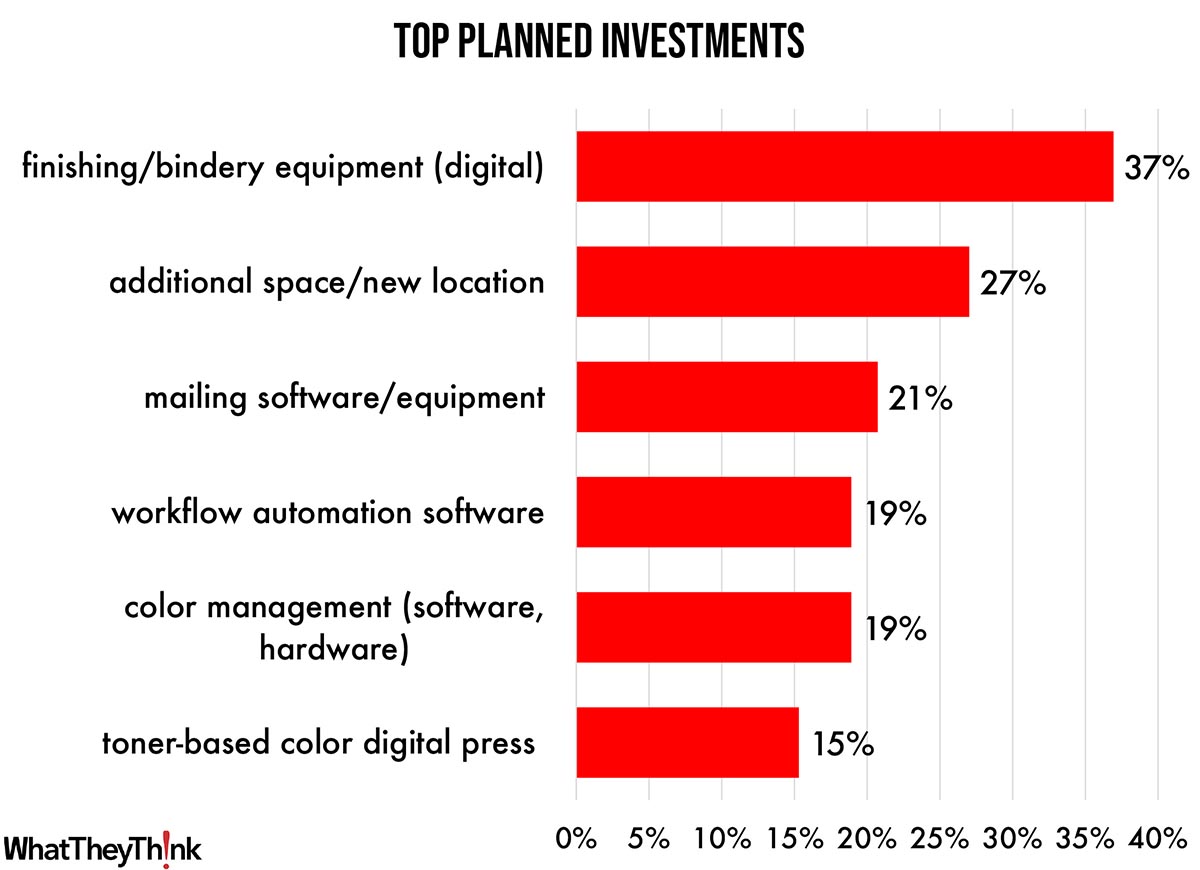 Product/Service Expansion
We also reprised our question concerning what products or technologies they have already added and which they are going to be adding. The top technology our "Top Shops" are looking to add in the next 18 to 24 months is high-speed production inkjet—22% said they'll be adding this. Still, 40% said they have no plans to add, and we don't expect that it's a suitable technology for too many print businesses the size of our "Top Shops," although as vendors' equipment portfolios expand and more "entry level"-ish units appear, the technology will have more appeal for smaller print businesses.
These shops are also still adding wide-format printing capabilities and even specialty printing.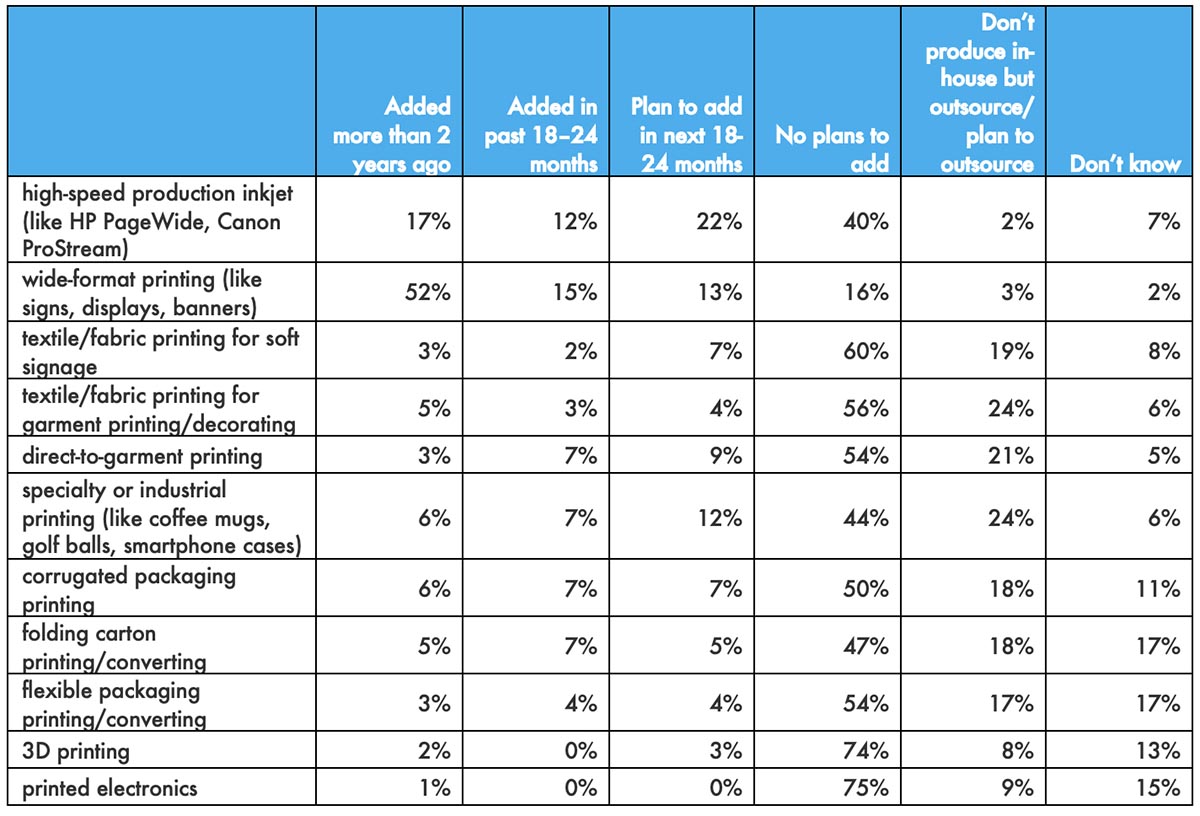 This Year's Winners
Congratulations to the winners of this year's "Top 100!" Our five "Top Shops" (by 2022 sales) this year are:
1. Allen Printing Company (www.allenprinting.com), Nashville, Tenn.—$24,250,000
2. Speedy CPS, d/b/a AlphaGraphics (www.alphagraphics.com/us-idaho-idaho-falls-us679), Idaho Falls, Id.—$20,078,037
3. PrintingCenterUSA (www.printingcenterusa.com), Great Falls, Mont.—$18,996,900
4. Holland Litho Printing Service, Inc. (www.hollandlitho.com), Zeeland, Mich.—$18,644,454
5. Allied Printing Company, Inc. (www.alliedprintingcompany.com), Ferndale, Mich.—$17,515,430
Aside from Allen Printing Company, all the rest are new to the Top Five. Read my profile of Allen Printing here.
Thanks to everyone who participated in our survey, and congratulations to this year's Top Shops!
| | | | | | | | |
| --- | --- | --- | --- | --- | --- | --- | --- |
| Rank | Company Name | Management | City, State | Year Founded | No. of Locations | Total Employees (FT+PT) | 2022 Sales |
| 1 | Allen Printing Company | Shannon & Paul Heffington | Nashville, TN | 1931 | 2 | 130 | $24,250,000 |
| 2 | Speedy CPS, d/b/a AlphaGraphics | Lynn Nelson | Idaho Falls, ID | 2006 | 9 | 147 | $20,078,037 |
| 3 | PrintingCenterUSA | Craig Barber | Great Falls, MT | 1970 | 1 | 37 | $18,996,900 |
| 4 | Holland Litho Printing Service, Inc. | Rick, Brian, Mike, & Tamas Baarman and Mike Driesenga | Zeeland, MI | 1957 | 1 | 96 | $18,644,454 |
| 5 | Allied Printing Company, Inc | Paul Zimmer & Bob Straub | Ferndale, MI | 1952 | 3 | 92 | $17,515,430 |
| 6 | Allegra Asheville | Dave Campbell | Asheville, NC | 1998 | 2 | 30 | $14,618,309 |
| 7 | Blooming Color | Brian Scott | Lombard, IL | 1988 | 1 | 48 | $13,895,000 |
| 8 | Haig Graphic Communications | James & Steven Kalousdian | Hauppauge, NY | 1943 | 1 | 42 | $12,510,006 |
| 9 | SS Whittier LLC | George Coriaty | Whittier, CA | 1979 | 1 | 29 | $10,919,285 |
| 10 | Alphaprint Inc d/b/a AlphaGraphics Seattle | Chuck Stempler | Seattle, WA | 1989 | 1 | 49 | $10,809,466 |
| 11 | Econoprint, Inc. | Dave Genin & Kevin Lucius | Verona, WI | 1971 | 2 | 59 | $10,686,382 |
| 12 | Thompson Print Solutions | David Thompson | San Antonio, TX | 1964 | 2 | 58 | $10,657,694 |
| 13 | N.E.W. Printing | Mark & Lee Weinfurter | Appleton, WI | 1984 | 38 | 38 | $10,020,027 |
| 14 | Lithotone Inc. | Bob & Jim Priebe | Elkhart, TN | 1962 | 1 | 36 | $9,600,000 |
| 15 | PIP Printing of Alaska, Inc. | Shelley Bramstedt | Anchorage, AK | 1944 | 1 | 41 | $9,223,191 |
| 16 | AlphaGraphics #004 | Mike Sparaco & Darin Osborne | Tempe, AZ | 1988 | 1 | 41 | $8,371,767 |
| 17 | Integra | Rick Richter, Gene Egan, Garren Richter, Tate Richter | crestwood, IL | 1989 | 2 | 20 | $7,562,174 |
| 18 | AlphaGraphics in the Cultural District | Bill & Clare Meehan | Pittsburgh, PA | 2000 | 1 | 28 | $7,000,000 |
| 19 | Arkansas Graphics, Inc. | Kevin Wilcox | Little Rock, AR | 1974 | 1 | 35 | $6,900,000 |
| 20 | AlphaGraphics #011 Phoenix, AZ | Larry Furlong | Phoenix, AZ | 1981 | 1 | 30 | $6,747,108 |
| 21 | Curry Printing | Peter Gardner | Westboro, MA | 1981 | 1 | - | $6,700,000 |
| 22 | Sir Speedy Sarasota | Eileen Rosenzweig | Sarasota, FL | 1980 | 1 | 25 | $6,113,599 |
| 23 | Southeast Printing & Mailing Service | Jeff Fraley | Lexington, KY | 2007 | 1 | 29 | $6,100,000 |
| 24 | Main Graphics | Haggarty & Blomquist | Irvine, CA | 1988 | 1 | 20 | $5,671,000 |
| 25 | Jeb-Phi Inc. d/b/a PIP Printing | Bruce & Linda Pansky and Matthew & Nicole Beresford | Downey, CA | 1969 | 1 | 25 | $5,469,000 |
| 26 | American Graphics Printing Co. | Bob Hindman | Clinton Twp., MI | 1984 | 1 | 20 | $5,432,000 |
| 27 | Master Printing Group, Inc. | Jeremy Dobos | Berea, OH | 1928 | 1 | 24 | $5,191,000 |
| 28 | PIP Printing Riverside/Corona—printmystuff.com | Justin Tracy | Riverside, CA | 1968 | 2 | 19 | $5,182,644 |
| 29 | Ultra Graphics | Jake Eaton | Billings, MT | 1994 | 2 | 34 | $5,145,546 |
| 30 | Sir Speedy Print/Signs | Edward Borash | Boston, MA | 1979 | 1 | 17 | $5,100,000 |
| 31 | AlphaGraphics #371, #600, #629 | Jane Harvey | Austin, TX | 1994 | 3 | 25 | $5,066,000 |
| 32 | Impressions Printing | Jeff Summerford | Oklahoma City, OK | 1996 | 1 | 45 | $4,993,869 |
| 33 | PIP Printing | Chris Cochran & Shane Parker | Peoria, IL | 1978 | 2 | 31 | $4,925,352 |
| 34 | Yotta Sky Group, Inc | Jose & Carmen Gutierrez | Miami, FL | 2012 | 3 | 30 | $4,913,415 |
| 35 | AlphaGraphics #54 | Sherry Perry | Dallas, TX | 1985 | 1 | 19 | $4,830,749 |
| 36 | Allegra Marketing, Print, Mail | John Fergusson | Richmond, VA | 1991 | 1 | 21 | $4,526,000 |
| 37 | Allegra Marketing Print Web Mail, San Diego | John Ferraro | San Diego, CA | 2006 | 1 | 23 | $4,500,000 |
| 38 | AlphaGraphics Downtown Raleigh | Owen Andrews | Garner, NC | 2011 | 1 | 19 | $4,426,990 |
| 39 | K-B Offset Printing, Inc. | R. J. Caravan | State College, PA | 1902 | 1 | 35 | $4,344,838 |
| 40 | Sir Speedy Tampa | Steve & Emily Albritton | Tampa, FL | 2017 | 22 | 22 | $4,309,446 |
| 41 | Big Ink | Thomas Trutna | Eagan, MN | 1999 | 1 | 24 | $4,300,000 |
| 42 | Bethlehem Business Forms, LLC | Frederick Fenselau | Bethlehem, PA | 1986 | 1 | 30 | $4,285,748 |
| 43 | Moran Graphics Inc. d/b/a AlphaGraphics | Richard Moran | Chicago, IL | 1993 | 1 | 25 | $4,257,762 |
| 44 | Airport Printing Service | Mike McCorgary | El Paso, TX | 1980 | 1 | 30 | $4,200,000 |
| 45 | AlphaGraphics Franklin | Jim Bright | Franklin, TN | 2009 | 1 | 20 | $4,019,480 |
| 46 | AlphaGraphics of Central Houston | Joel Kurian | Houston, TX | 1980 | 3 | 22 | $3,886,000 |
| 47 | Banyan Printing | Roger Manning | Lake Worth Beach, FL | 1977 | 1 | 19 | $3,720,619 |
| 48 | PIP Marketing Signs Print New England | Robert Pelzek | East Longmeadow, MA | 1976 | 1 | 23 | $3,626,644 |
| 49 | Allegra Dulles, VA | John Flynn | Dulles, VA | 1988 | 1 | - | $3,535,613 |
| 50 | AlphaGraphics of Bountiful | Grant & Diana Richey | Bountiful, UT | 2003 | 1 | 24 | $3,524,480 |
| 51 | YellowDog | Jennifer Mulligan | Denver, CO | 2005 | 1 | 22 | $3,428,802 |
| 52 | AlphaGraphics #146 Stamford | Frank Leone | Stamford , CT | 1988 | 1 | 10 | $3,406,571 |
| 53 | TruColor | Sallie Gold | Greenville, SC | 1980 | 1 | 17 | $3,358,715 |
| 54 | Alphagraphics Rockwall | Butch Clarke | Rockwall, TX | 2014 | 1 | 17 | $3,267,000 |
| 55 | AlphaGraphics of West Houston | Britt Houd | Houston, TX | 2003 | 1 | 13 | $3,263,368 |
| 56 | AlphaGraphics The Woodlands, US651 | David Dunphy | The Woodlands, TX | 2016 | 3 | 20 | $3,226,659 |
| 57 | Allegra Marketing/Print/Mail—Lansing | Brad & Shirley Naghtin | Lansing, MI | 1995 | 1 | 11 | $3,216,682 |
| 58 | Brand Connect | Jimmy Brumley | Burlington, NC | 1983 | 2 | 22 | $3,147,353 |
| 59 | AlphaGraphics 553 | Britt Houd | Houston, TX | 2003 | 1 | 14 | $3,087,792 |
| 60 | AlphaGraphics South Charlotte & Ballantyne | Rich Schepler | Charlotte, NC | 2015 | 2 | 15 | $3,066,790 |
| 61 | Sir Speedy Raleigh | Bill Conlon | Raleigh, NC | 1993 | 1 | 17 | $3,000,040 |
| 62 | Mormark Print Productions Inc. | Naz | Richmond Hill, ON | 1987 | 1 | 15 | $3,000,000 |
| 63 | Sir Speedy Printing | Jody Weber Shaw | Winston-Salem, NC | 1974 | 2 | 19 | $3,000,000 |
| 64 | AlphaGraphics Layton, UT | Jerron Hale | Layton, UT | 2002 | 1 | 16 | $2,998,305 |
| 65 | Allegra Marketing Print Mail | Eric Van Kerckhove | Cedar Rapids, IA | 1981 | 1 | 19 | $2,898,241 |
| 66 | Allegra Marketing Print Web | Michael Grant | Vancouver, BC | 1982 | 1 | 15 | $2,813,537 |
| 67 | Sir Speedy | Frederick Caffrey | Cranston, RI | 1972 | 1 | 17 | $2,788,500 |
| 68 | XPress Printing and Mailing | Jeff Swales | Sisters, OR | 1990 | 1 | 17 | $2,758,162 |
| 69 | AlphaGraphics Sandy | Andy Selcho | Sandy, UT | 1996 | 1 | 24 | $2,696,566 |
| 70 | Allegra Rocky Mount | Todd Hinson | Rocky Mount, NC | 1990 | 1 | - | $2,695,000 |
| 71 | Documents on Demand d/b/a AlphaGraphics | Raymond Mantyla | Worcester, MA | 2010 | 2 | 12 | $2,666,000 |
| 72 | Foote Printing | Michael and Steven Duhr | Cleveland, OH | 1907 | 1 | 11 | $2,658,920 |
| 73 | Flatirons Marketing and Print Services | Joseph Mullan | Aurora , CO | 2015 | 3 | 19 | $2,650,000 |
| 74 | AlphaGraphics Portsmouth NH | Chris Carrier & Chris Oberg | Portsmouth, NH | 1999 | 1 | 19 | $2,637,000 |
| 75 | AlphaGraphics Chandler | Gilbert | Scottsdale | Brandon Bagley | Chandler, AZ | 2007 | 4 | 12 | $2,593,560 |
| 76 | Sir Speedy Orlando | Michael LeVangie | Orlando, FL | 1980 | 3 | 11 | $2,589,517 |
| 77 | AlphaGraphics of Buckhead | Louis Malooley | Atlanta, GA | 2010 | 1 | 18 | $2,581,076 |
| 78 | AlphaGraphics.#291 | Steve Adams | Mesa, AZ | 1990 | 3 | 16 | $2,558,564 |
| 79 | ABG Print | Jesse Safir | New York, NY | 1992 | 1 | 17 | $2,500,000 |
| 80 | Conley Printing Co., Inc. | Dean Conley | Abilene, TX | 1983 | 1 | 15 | $2,495,000 |
| 81 | AlphaGraphics | Ray Mantyla | Worcester, MA | 2007 | 1 | 9 | $2,300,000 |
| 82 | AlphaGraphics US614 | Gregg McDonough | Salt Lake City, UT | 2007 | 1 | 11 | $2,300,000 |
| 83 | AlphaGraphics Nashua | David Orpin | Nashua, NH | 1989 | 1 | 12 | $2,267,856 |
| 84 | Sir Speedy | Jack, Evan, & Brandon Bloom | Westbury, NY | 1992 | 3 | 14 | $2,255,019 |
| 85 | Pinney Printing Company | Charles Arp | Sterling, IL | 1910 | 1 | 15 | $2,209,686 |
| 86 | AlphaGraphics of the Palm Beaches | T.J. Kerbs | West Palm Beach, FL | 2006 | 2 | 13 | $2,208,300 |
| 87 | AlphaGraphics Middleton | Ryan & Angela Paulsrud | Middleton, WI | 1978 | 1 | 14 | $2,139,575 |
| 88 | PIP Marketing, Signs & Print | Debbie Bremer | Omaha, Ne | 1984 | 1 | 12 | $2,120,000 |
| 89 | AlphaGraphics North Liberty | Dennis Tallman | North Liberty, IA | 2008 | 1 | 10 | $2,100,000 |
| 90 | AlphaGraphics Wilmington US641 | Rick Stinson | Wilmington, NC | 2009 | 1 | 12 | $2,098,363 |
| 91 | PIP Printing of Palo Alto, Inc | Jennifer Allen & Mike Maystead | Palo Alto, CA | 1973 | 1 | 10 | $2,041,297 |
| 92 | Sir Speedy Printing | Cindy Johnston & Mike McCready | Pittsburgh, PA | 1990 | 1 | 11 | $2,014,917 |
| 93 | Upstate Printing Inc | Kim Vinciguerra & Debra Rotondo | Syracuse, NY | 1996 | 1 | 15 | $2,000,000 |
| 94 | AlphaGraphics Suwanee | Robert Barnett | Suwanee, GA | 2019 | 1 | - | $1,961,947 |
| 95 | ColorMarx Corporation | Ray & Kay McNaught | Sacramento, CA | 1986 | 2 | 8 | $1,870,165 |
| 96 | AlphaGraphics Elkhart | Erik Shultz | Elkhart, IN | 2017 | 2 | 8 | $1,818,011 |
| 97 | Lake Printing | Timothy Goff | Charlotte , NC | 2005 | 1 | 7 | $1,812,723 |
| 98 | AlphaGraphics Birmingham | Cassie Burchell | Birmingham, AL | 1987 | 1 | 14 | $1,782,147 |
| 99 | Piedmont Press & Graphics | Tony & Holly Tedeschi | Warrenton, VA | 1987 | 1 | 13 | $1,738,126 |
| 100 | Ancar Enterprises LLC d/b/a Alphagraphics | Atul Chugh | Wilmington, DE | 1988 | 2 | 10 | $1,733,808 |