(Watch Cary's video interview with Frank Romano here.)
Frank Romano has a storied history in the printing industry, from running a printing business to publishing trade magazines, to teaching the next generation of printing professionals at RIT, and more. But perhaps one of his biggest contributions to the industry is the Museum of Printing, located in Haverhill, Mass. I recently had the opportunity to visit the museum and was blown away by what he and his team of volunteers have accomplished.

Frank is one of 14 people that started the museum in 1978. When the Boston Globe was getting out of letterpress printing, the group approached William Taylor, who was the publisher at the time, presented the concept, and asked if he could help. He agreed and also found free warehouse space for the project. Frank says, "We operated out of warehouses for years. We had no home, no money. But then we came into some money in the early 1990s and wound up in the old textile museum building in North Andover, Mass., where we were until about 15 years ago when we found our current location, adapted it to our needs, and we have been here ever since."

The library features more than 6,000 books and thousands of ephemera samples. Romano has spent 60 years collecting books about printing.
The scope of the museum is quite broad. Frank's goal was to accept just about anything that involves graphic communications. He didn't want to limit the collection. "We wanted to cover everything," he adds. "For example, we have many rare computers like the Apple Lisa, early Macintoshes, and PCs, and we've had fun putting that together. We also have all the office equipment—a typewriter collection, the first mimeograph machine, a working Linotype machine, and two working Ludlow machines, all of which we use on a regular basis. We have fixed up most of the mechanical machine so they are running. When you come here, it's a wide group of experiences."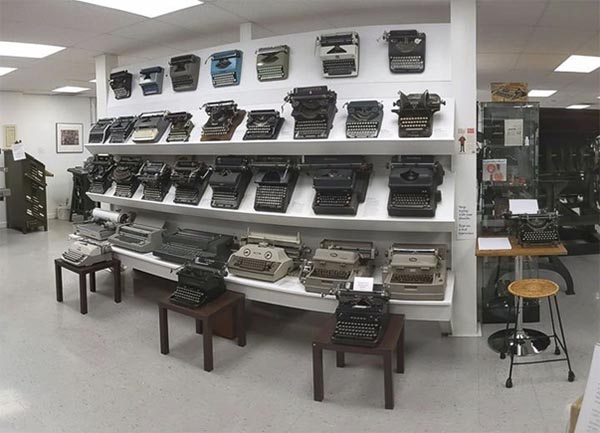 The museum includes an expansive collection of typewriters.
An example is experiences for kids on Saturdays, when the museum is open to the public. "We actually have kids print," Frank explains. "We cast metal slugs with their names on them. So it's a day of activities for them rather than just touring a static museum."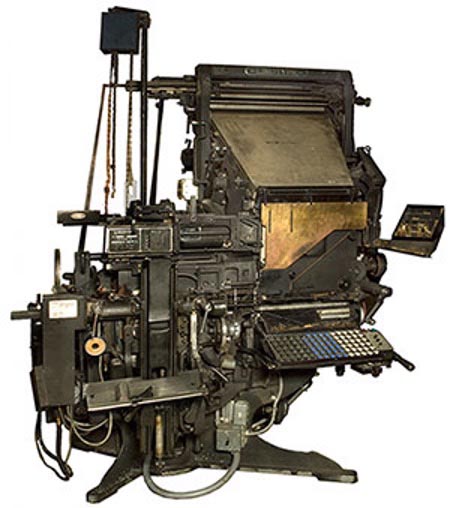 One of the fascinating aspects of the museum is the Bible Room. "The Bible is the most published book in the world," Frank states. "We started with an occasional Bible exhibit and then decided to expand the exhibit. It got so big it took over an entire room. We have about 60 rare bibles, starting with a Baskerville Bible from 1763, a Bodoni specimen book with the Pater Noster prayer in 97 languages, and at least one leaf from every Bible printed in Colonial America. There are 50 of them, including the Elliot Bible from Algonquin which was printed on the Stephen Day press, the first press to come to America. We also have the first Bible—in fact the first book—printed by a woman in America. We have the world's smallest Bible. We have a Doré Bible which has some of the most beautiful woodcut engravings you have ever seen. And we are not through yet. We are still looking for interesting Bibles. We also have about 40 books of reference on Bibles. People come here on a regular basis to do research on Bibles. We've made this room a comfortable experience, and we even have a stained-glass window!"
Frank is also a recognized expert in type fonts and has been an expert witness for many legal cases over the years. He notes that the museum has the largest collection of typography in the world in every form, from hot metal to wood type, to all of the drawings for the Linotype typefaces, and over a million reference pieces, including brochures, flyers, promotional pieces and specimen books, both from foundries and from typesetting services."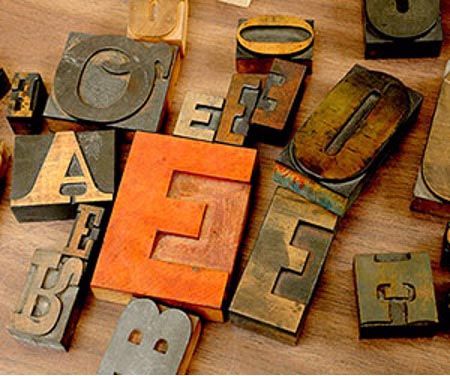 The museum, which is comprised of volunteers even to today, is now looking for ways to extend its life into the future. It is truly a gem, of global significance, and for those who love print, and who want to support the industry, a worthy cause. What we have described here merely scratches the surface. There are many things on display, and many more things that are being cataloged or are stored in containers behind the building because there simply isn't enough space to display it all.
I know our members love the industry! I'm hoping what we have documented here will stir more interest in the museum. If you are in Massachusetts, it's a must-visit venue. If you can't make it to Massachusetts, how about a small (or large!) donation? Or you and/or your company can become members. In exchange, Frank will send you his clever publication, The Virtual Museum of Printing, that uses Augmented Reality app Zappar to give you a virtual tour of the museum with Frank as guide. The museum's website is also a valuable source of information about all things printing.
Please help us ensure the survival into the future of this industry gem!