This article is sponsored by Datatech SmartSoft, Inc., makers of the PressWise Print MIS solution as part of WhatTheyThink's Print Software Product Spotlight series. In preparing this article, the WhatTheyThink Print Software Section editors conducted original, in-depth research on the company and product. This Product Spotlight describes what the editors feel are the company and product's strengths in the marketplace. Datatech SmartSoft Inc. reviewed the final article for accuracy but had no editorial control over the content.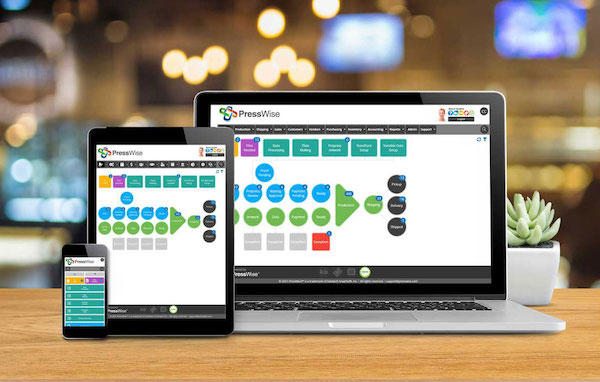 Software solutions evolve over time, and we generally think of evolution as a positive process that improves the solution. Some parts of the evolutionary process aren't so helpful. Software is a collection of features that have been added over time. Generally, the market considers more features to be better. We tend to buy software based on the volume of features (by the pound). More features don't necessarily mean more value to you if a large percentage of the features aren't relevant to your business.
One example of this evolutionary process gone awry in software is Microsoft Word™. For several decades (Word is 38 years old), Word was the leading word processor for virtually everyone. And Word evolved like all software products evolved: it continuously added more features. In fact, the control bar of Word turned into a minefield as unsuspecting (novice) users accidently clicked on features they had no use for or understanding of and then were perplexed on how to reverse their inadvertent formatting. My first job in print was essentially teaching retail customers how to set tabs in Word at Kinko's. Then came Google's response to the Office Suite, Google Docs—an offering that had a very small percentage of the features (the most relevant ones) of Word which made it seem way easier to use.
Many Print MIS solutions have been around awhile, and ERP solutions collect features by the hundreds. Over the past few decades, the print industry has gone through tectonic changes (digital transition, shorter run lengths, variable data, tighter turn times, etc.). Print MIS solutions built before these tectonic changes added layers of features on top of their existing feature set. PressWise by SmartSoft took a simplified approach. Their roots are in a short-run digital plant that desperately needed fewer manual touches and more automation. They were NOT transitioning from a long run cut-sheet litho operation where core assumptions like cost plus-based estimating occurred on every job and intensive shop floor data collection was required at every step in the process.
PressWise was built simply as a system to remove touchpoints in what we now know as a standard digital printing workflow. One system that is rooted in the core principles of digital printing: faster turn times, shorter runs, variable data, and multiple order entry points. This simplified approach focused on painful touchpoints: order entry, artwork approval, and estimate requests and built them into one unified system. Feature by the pound doesn't matter anymore when you have the most relevant features available to you in a simplified user experience that isn't overly burdening on your print business.
This is one of the reasons all Print MIS buyers should be perfectly clear about the features that matter most to them before they start shopping for a solution. You want to purchase the solution that has the most relevant features; this immediately takes you out of the buying software by the pound (of features). In PressWise, you can allow brokers or sophisticated customers to access your estimating engine. You can fine tune the access to certain products for estimating in a self-service manner. For your less sophisticated customers you can simply open an estimate request funnel. Remove manual steps. Remove duplicate entries and create automation.
One of the key choke points in the custom manufacturing workflow is artwork approval. This chokepoint can back up your entire organization as jobs are waiting for approval to go on press. PressWise handles artwork files directly; typically, Print MISes only reference the location of the artwork files. In PressWise's approach artwork is handled directly within the Print MIS. They provide storage and retrieval of all artwork files, basic prepress checking, imposition, and artwork approval. A single system working on removing touch points and getting your primary business process working more efficiently.
Order entry is built into PressWise. You can have a portal for every customer. This allows you to offer all your customers order history, request a quote, and if it's relevant to them a catalog of products that they re-order on a regular basis. There is no integration project to take on as the order entry is built on the same engine as the Print MIS. Your people are all interacting with one system. Again, back to the analogy of Microsoft Word vs. Google. More features aren't valuable unless they are relevant to your business. Fewer features makes software easier to use. Complexity slows everything down. Simplifying your business is one of the best ways to unlock its potential.
Software evolves and then new solutions are born out of the new realities. PressWise is an example of a solution born out of the reality of short run digital and the incompatibility of estimating every job and tracking every labor action on the shop floor for a job that is in your plant a few hours. Software runs your business, your people run your software. Simplicity helps your business and your people run better.