Earlier this year, we spoke with Palaniswamy "Raj" Rajan, Chairman and CEO of Softwear Automation, to get an update on the company's sewbot technology. The original vision of the company was to be able to enable on-demand made-to-measure production of certain apparel items with minimal human intervention, relying on "sewbots" to accomplish the sewing. Raj points out that garment manufacturing can be complex, with some 18 steps required to make a T-shirt, and 70 to 80 steps to make jeans. While jeans were an initial target based on early R&D, about four years ago the company decided that the technology, including fit technologies, and the overall supply chain were not ready yet for full automation, perhaps for another two to three years. Currently the company is producing T-shirts, a less complex process. Plus, sizing is easier for made-to-measure, and customization is easier. In addition, due to the pollution caused by microfibers from synthetic fabrics, Softwear Automation has also focused in on T-shirts made of cotton, both to reduce the overall environmental footprint and to support the US cotton industry. He points out that 98% of T-shirts are imported, and he believes the company can be responsible for producing a billion cotton T-shirts in the US over the next decade. That being said, the company is not yet selling its equipment, likely for another 18 to 24 months. Instead, they are running the machines internally in full 24/7 production, creating some 100,000 T-shirts per month.
So what's the alternative? Clearly, with a sewbot, much less labor is required. But the rest of the industry is not standing still. Some on-demand manufacturers, like OnPoint Manufacturing in Florence, Ala., have implemented automated manufacturing lines that, using barcodes and conveyors, direct pieces to be sewn to operators with the particular skill required—such as cap sleeves—whose backlog can handle the work and who have the right color thread installed. This makes completion of a manufactured piece of clothing much more efficient, but still requires skilled sewists to do the work, albeit likely fewer than in a traditional cut-and-sew operation.
Another approach was explained by Rick Frye of Brother in a recent TexProcess webinar [password required for replay]: what the company is calling Electronic Programmable Bridge sewing technology. Frye pointed out that programmable sewing machines have been around since the 1970s, especially for smaller items like athletic shoes, seatbelts, airbags, etc. But its Programmable Bridge technology takes sewing automation to a new level, and can handle larger items with complex stitch patterns.
The Brother Nexio BAS360H and BAS-375H bridge-type sewing machines can deliver high-quality sewing at speeds up to 2,500 stitches per minute with a resolution of 0.5 mm and a maximum sewing area of up to 1200 x 700 mm.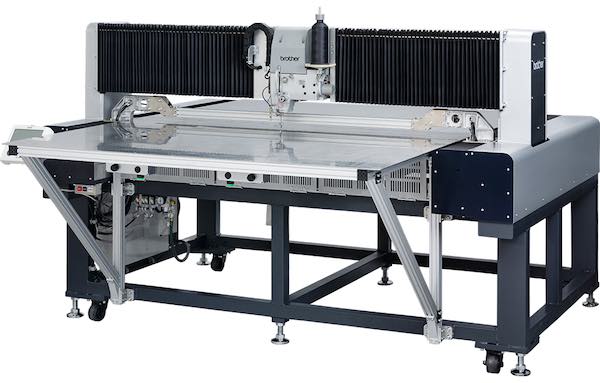 Brother Nexio BAS-375H bridge-type sewing machine.
Frye explained that patterns can lose shape when sewing with conventional sewing machines. Not so with bridge-type machines, he says. That's due to the fact that in conventional sewing, the needle point is fixed, and the piece to be sewn is moved along both the X and Y axes. With Brother's bridge-type machines, the needle point moves only on the X axis while the clamp holding the fabric to be sewn moves along the Y axis. This allows for very accurate, very high-speed sewing.
He stated, "This also provides for a reduced footprint and beautiful, stable stitches. Feed drifting doesn't occur, even with high speed or heavyweight goods, due to closed-loop servo control where you tell it where [the needle] is supposed to go, and get feedback that it actually went where it was supposed to. With 0.5 mm resolution per pulse, even slanted stitch lines and curves are accurately sewn with up to size 207 nylon thread."
This video shows the machine in action.
This approach requires a skilled person to do the programming, usually not the operator. But once the programs are developed, Frye says, a sewing operator can be trained within a day, adding, "The artisan part is done by servo motors. It's really more loading and unloading. They don't need a sewing skill set. Someone who has never operated a sewing machine before can be a good operator within a day."
The other issue the industry faces, of course, is attracting new talent. An educational effort is required to dispel the belief that a cut-and-sew operation is a "sweat shop" or a dirty environment. These days, with modern technologies both in cutting and sewing, a cut-and-sew shop can really be a high-tech operation. Programs like Detroit-based ISAIC have a multitude of programs in place to attract and train new industry talent, manufacture sewn goods such as masks and gowns, T-shirts, sweatshirts, and more, and to implement the newest technologies. Watch our interview with ISAIC CEO and Chair of the Industrial Sewing and Innovation Center Jennifer Guarino.
With all of these technology developments, the industry is well on its way to completing that last mile of automation that can help bring cut-and-sew operations back to North America and Europe. We will continue to follow developments as they occur and would welcome discussions with anyone who has experience in implementing these new solutions.