By FASTSIGNS International
Communities are built and strengthened by members and residents, and those members are linked by the experiences they share. Whether participating in the simple day-to-day routine of the community or working together to improve quality of life, all of these experiences are created, enhanced or reflected by signs and graphics. Throughout the pandemic, sign companies have had to quickly adapt to provide more relevant signs for the ever-changing situation. Signs continue to assist us in our everyday lives as we try our best to slowly get back to business.
"Our FASTSIGNS centers quickly adjusted their business models to provide everything from COVID-19 and social distancing signs to safety screens and shields to PPE across all industries. We're fortunate to have a business model that allows our franchisees to be nimble and respond quickly to whatever their communities need the most," said Catherine Monson, CEO at FASTSIGNS International, Inc. and Chair of the International Franchising Association, the organization that has assisted with the crafting of the COVID-19 relief bills and the CARES ACT, to support small business owners during the pandemic.
Here are three areas that signs and graphics help to actively strengthen and build communities.
Communicating Health and Safety Information
Communication through signage provides what's top of mind: staying informed and safe. From building access details and policy requirements, the messages that are shared through these signs help enhance the community's goal to protect its members.
Safety and policy signs found at community parks, supermarkets, churches, schools, and businesses can communicate how the community is incorporating mandates and executive orders. Custom face masks created for businesses can also show adherence to safety regulations and build customer confidence. Elevator graphics that display maximum capacity, posters about how to protect against the virus, and hand sanitizer stations further inform the community about health and safety practices.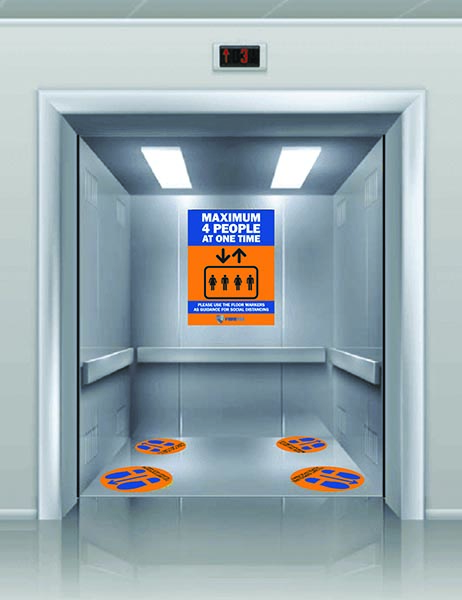 As one of the hardest hit industries, restaurants have had to update quickly by employing sidewalk signs, easy-to-move A-frame signs and eye-catching window graphics to let the community know they are open and how to safely access their business. Yard signs and banners assist business owners as they stay afloat and communicate effectively with their patrons.
Protective gear, such as acrylic guards and other clear plastic substrates, continue to be implemented across hospitals, schools, post offices, gyms, salons and more. From tables to grocery stores checkout lines, and school classrooms to cabs, the community is strengthened as each industry does its part to adjust.
Protecting and Guiding the Community
Within a community's infrastructure that's necessary for operation, signs act as informers to share important messages, guiding citizens to safety. A city's infrastructure relies on a shared understanding of certain messaging. In addition to well-known markers such as stop signs, a myriad of other community signs provide the structure for daily life such as those that identify restrooms, disabled parking and caution zones.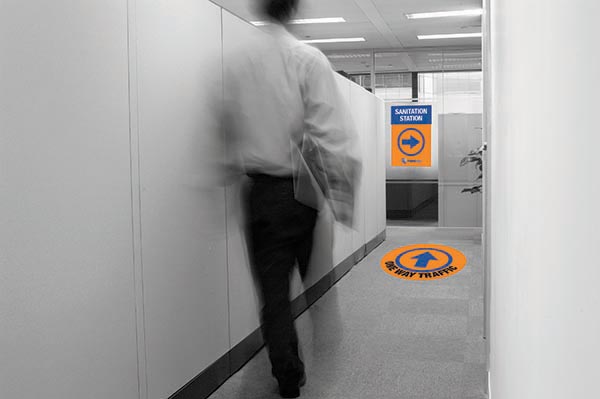 Regulatory signs are present everywhere. ADA signs—including room signs, exit signs, elevator signs, and more—must present the same information to every person regardless of physical limitations. These are the unsung heroes of signage, and their sole function is to protect each and every citizen in the community.
Infrastructure signs offer convenience and promote cooperation through wayfinding. When adequately positioned on the streets and in the hallways of communities, they inform residents of their whereabouts and direct them to their destination. Permanent wayfinding signs are specifically designed to seamlessly fit within their surroundings—creating a functional and attractive tool for the good of the community.
In the current climate, temporary signs have come alongside more permanent infrastructure signs for an additional layer of assistance. Wayfinding signs help community members maintain social distance with floor graphics as reminders anywhere that people stand or potentially gather.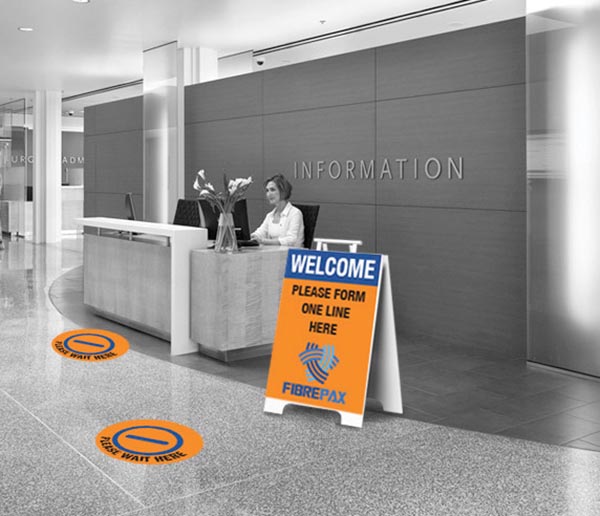 Encouraging Connection and Participation
Communicating a message and gaining participation is a critical component in a community, and signs provide the avenue to do this. The organization of a community can take place virtually anywhere but without active members, a community can struggle with cohesiveness.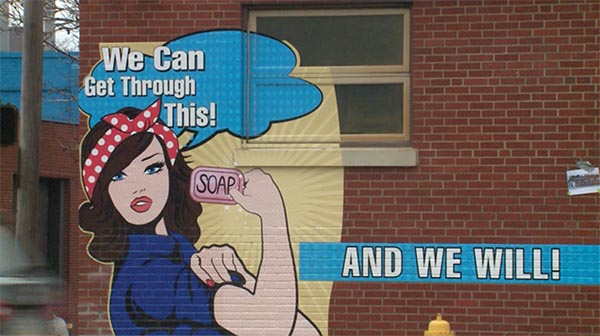 Despite the distance, people have learned how to encourage connection despite the need to maintain social distance. From celebration signs for special occasions to inspirational signs, community members have learned to find new ways of strengthening those bonds.
Giveback initiatives provide a way for community members to help, thus building a more connected community. Posters, banners, yard signs, and vehicle graphics can be placed in high-visibility areas to spread awareness or show support of a cause or group. Signs help get the word out about events connecting the community. Without proper publicity or organization, community initiatives fail to gather the momentum needed for success. A coordinated signage strategy is an effective way to build not only awareness and enthusiasm but also active engagement.
Signs to Inform, Protect, and Connect
In today's unprecedented world, having a sense of community is more important than ever before to our success, safety and overall happiness and well-being. The next time you get out of the house, take a look around to observe how your community is incorporating a visual communication strategy to strengthen and connect its citizens.