Digital color printing has come a long way since it first entered the market in the mid-1990s. Just when you think the technology has reached its pinnacle, even more advances come to market that raise the bar even more, driving the commercial print analog-to-digital transformation even further along.
The HP Indigo 15K B2 digital press is one of those innovative advances that demonstrates this dynamic at work. We spoke with San Diego based L&L Printers and Atlanta-based New London, both HP Indigo 15K beta customers, to learn first-hand how this new press has enabled increased efficiencies in their respective organizations. In addition, HP reports that these efficiencies and other new innovations can be enjoyed by owners of the Indigo 12000 digital press. New Indigo 12000 presses now include a factory preinstalled value pack, ensuring customers can benefit from the latest capabilities of the Indigo 15K. This is in line with HP's history of backward compatibility for many of the new features it develops, increasing the value of the customer's investment.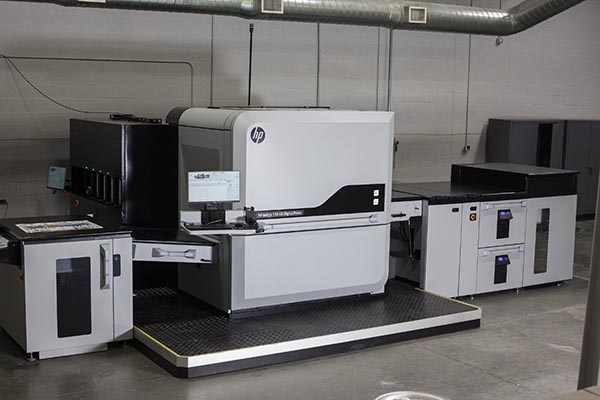 Additional details about HP Indigo 15K capabilities can be found at the end of this article.
New London: First-in-the-World 15K Install
In its 33rd year of business, New London Communications offers both offset and digital printing, as well as other marketing channels to get its clients' messages out to the marketplace, including direct mail, wide format and ecommerce. "As an example," said Eric Rountree, CEO, "we have 20 clients for whom we operate online marketing portals or corporate stores. We dress them up to look like an extension of their websites, and companies around the country can offer one-stop shopping while also controlling brand image and messaging."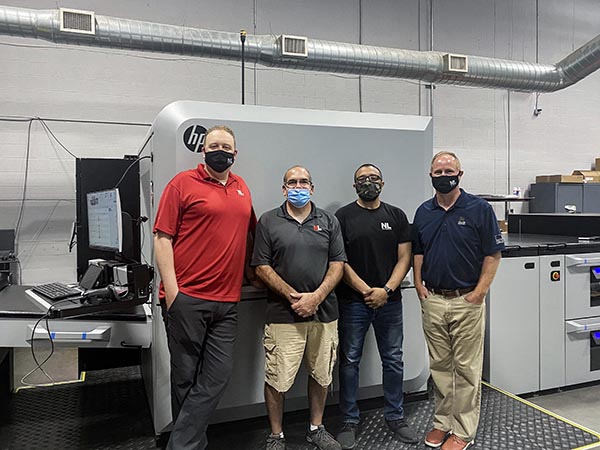 HP Indigo 15K team at New London. Left to right: Adam Silverberg, Production Manager; Mark Rafala, 15K Operator; Rafael Cautin, Premedia Manager; Eric Rountree, CEO.
Prior to installing the HP Indigo 15K, New London was operating with a 40-inch 6-color offset press with a coater, a half-size offset press, and an HP Indigo 7600. Both the half-size press and the Indigo 7600 are being replaced by the Indigo 15K. "That gives us a pretty significant amount of existing volume right out of the gate," Rountree says. "And we still have plenty of capacity to add new work and new applications that we couldn't produce before."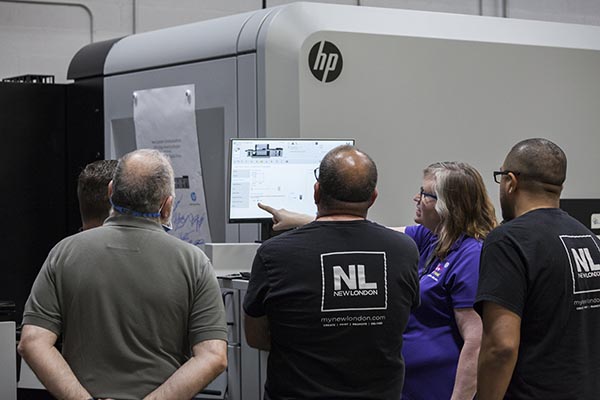 HP Indigo 15K training.
Rountree reports that from a volume perspective, the company is about 60/40 offset/digital. "I think we will soon be close to 50/50, and if you look at it from the perspective of number of jobs, about 75% are digital. There are a still a few jobs where size matters and we need to use the 40-inch press, or where we have longer run lengths. We also sometimes have to go to press for a spot color here and there and where it makes sense with our inline coating, but with the new orange, green and yellow fluorescent inks that will be available soon for the 15K, we expect the need to go to offset will diminish."
We asked Rountree what the deciding factor was in moving from the 7600 to the Indigo 15K. "The 15K's HD imaging is what really pushed us over the edge," he says. "It brought the quality level up to where we needed it. Opaque white ink was also and added value; its abilities are way better than offset; and if we are running on colored stock, we will go to the Indigo 15K every time. In addition, we can do sandwich printing—like push/pull door decals—with better quality than any other device in the industry.
"Plus, we are excited about the ability to use 24-point stock for short-run packaging and even for business cards—these days, customer business cards are never thick enough, and 24-point makes a difference to them. In packaging, we can do 500 to 1,000 units for customers for test marketing, something you simply can't do with flexo or offset." Rountree also reports that he can easily do press proofs on the 15K, getting almost exactly the same look and feel on the same stock that will be run on the offset press. "Before, we were using an Epson printer, and we couldn't really use the same stock," he says. "This has also made a big difference for us."
There were a few surprises after the install, according to Rountree, including the 15K's embedded G7 certification feature. "That was a nice surprise after the fact," he says. "The press also has calibration tools that tell you when you have to change out consumables and supplies. One of the greatest things HP does for its customers is to make it possible for them to be in charge of their own maintenance versus a lot of other digital manufacturers who tell you to call them when it breaks. Training is excellent, and support is there when you need it. But if you prefer to take on most of the maintenance and repair responsibilities, that is an option as well. When you are trying to do high quality work and fast turn times, always having to wait for a technician to arrive just doesn't work with our model. HP wants us to be able to fix everything we can to maximize press availability, if that's what we want to do."
That being said, Rountree reports that there has been little downtime and few if any bad sheets. "I am aware of the Auto Alert Agent enhancements that are coming," he says, "that will automatically extract and dispose of any defective sheets without human intervention; but so far we really haven't had an issue that that will solve!"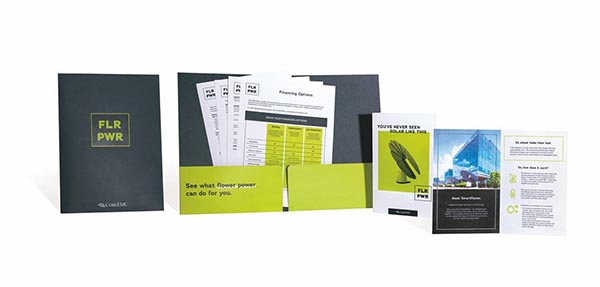 Example HP Indigo 15K job produced at New London Communications.
L&L Printers Reinforces "Never a Drop in Quality" with Acquisition of HP Indigo 15K Press
San Diego-based L&L Printers, a 61-year-old privately held commercial printer, added digital printing in 2006. "We went with the HP platform because they were concentrating on high quality rather than just acceptable commercial printing," says Bill Anderson, President and CEO. "Our motto is 'Never a Drop in Quality,' and that's demanded by our customers, most of whom are sophisticated advertising agencies and marketing departments. For them, it's more important that print looks good than how cheap it is." The company initially installed an HP Indigo 5000 and has now worked its way through the product line to the HP Indigo 12000 and Indigo 15K. The company currently operates with an HP Indigo 12000 and an HP Indigo 15K, the latter having replaced one of its Indigo 12000s.
Anderson cites a large customer as an example of how HP Indigo quality has met customer needs. "One of our biggest customers, a shoe manufacturer for whom we do all their catalog printing, is very particular about quality," he says. "They insisted on press checks, the color had to match the shoes and equipment exactly, and they wouldn't accept anything that wasn't perfect. As HP Indigo quality has evolved over the years, we found that we were able to not only provide a quality digitally printed product, but we could print large catalogs on either offset or digital, and they matched."
Anderson notes that the business moved over time from all offset to about 50/50 offset/digital these days. "Our salespeople were initially reluctant to use digital print," he says. "We had other brands in the shop, and when they did quote digital print, they always wanted it printed on the Indigo. As we have moved along with HP over the years, they now understand the value, where digital works and where offset is still needed, and are not reluctant at all to quote jobs on digital, especially now with the Indigo 15K on the production floor."
Bob Dixon, President of the company's Digital Solutions Division, stated, "One of the biggest draws of this press was being able to print on 24-point board. Packaging is a growth area for us, and that is a very big deal."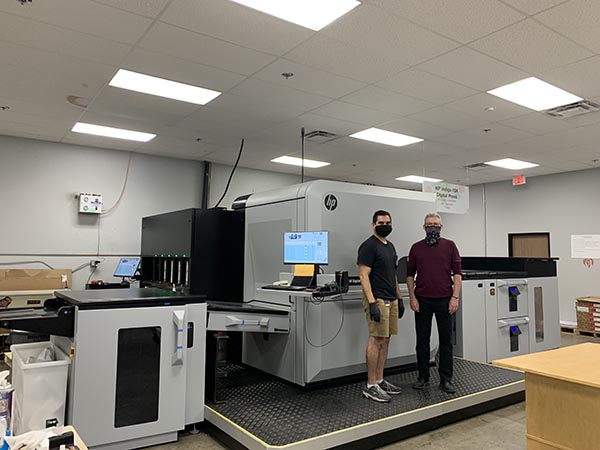 HP Indigo 15K operator Raul Lopez with Bob Dixon. The press was installed in July 2020.
Dixon also appreciated the Indigo 15K's high opacity white ink, stating, "We have done a couple of white ink jobs that would have required four hits to get to the right opacity, and now we only need two hits because of the exceptional opacity of the new white ink.
L&L has been a beta site for a number of HP Indigo presses over the years. "This one was the smoothest one yet," Dixon says. "We believed what they told us about the press, and it proved out once we were in operation. They are a good partner and have always been truthful with us."
Dixon also appreciates the tools HP provides to evaluate whether Enhanced Productivity Mode (EPM) using CMY inks only is appropriate for a given job. "Before, we had to proof the job both ways if we were considering EPM; now we can evaluate it prior to going to print."
Dixon also reports that he didn't think he needed the integrated G7 certification feature. "Now that we have seen what it can do," he says, "we are looking forward to using it. We are also in the process of implementing Color Beat, using the 15K's internal spectrophotometer and Print OS cloud connectivity to make sure our color standards are met consistently. We have had experience with AAA in previous generations and are looking forward to the new version next year that will detect, dispose of and correct for any faulty sheets without operator intervention. We do a tremendous amount of variable data work and it's critical to be able to immediately deal with any sheets that are not perfect." Dixon cites as an example a casino client with a loyalty program that has 130 different levels of personalization and many options to change content, including images, within each level. "These are very complex jobs, and accuracy is paramount," he says. "So the ability to automatically eject any problem sheets, reprint and continue with the job error-free without operator intervention is something we are really looking forward to."
Dixon has been so busy on the Indigo 15K with existing work that he hasn't had an opportunity to try out some of the many features that drove the buying decision. "I'm looking forward to testing 24-point and 50-pound text, switching between AM and FM screens and G7 certification," he says. "Even not having had time to do those things, the Indigo 15K has already made a big difference in our operations, and we only expect it to get better from here."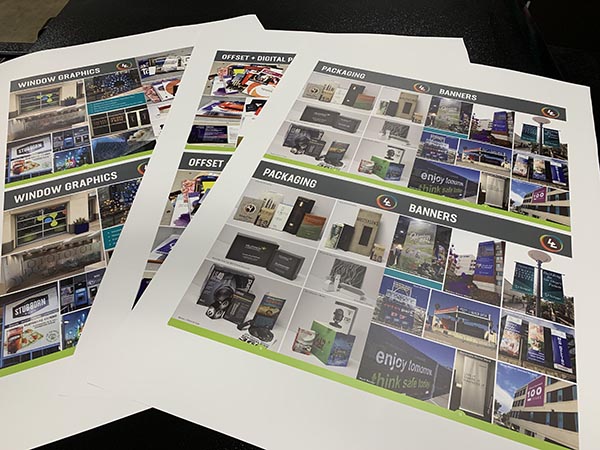 L&L Printers promotional materials produced on the HP Indigo 15K.
About the HP Indigo 15K Digital Press
The HP Indigo 15K digital press (and HP Indigo 12000 with factory preinstalled value pack)is a 7-color press that sets a new benchmark in quality with many innovative capabilities that will enable print service providers to deliver a wide range of high value applications and extend their offerings. = Highlights of the new press capabilities include:
Quality
With HD print quality, customers can easily create art-gallery quality prints with high detail reproduction and image smoothness that can exceed the quality of offset without affecting productivity.
Substrates
With the ability to print thick substrates (up to 600 microns/-24 pt.), customers can increase the impact of their direct mail and enhance their offerings to include folding cartons extra-thick business cards and more.
Inks
With seven available ink stations on the press, the HP Indigo 15K offers the largest variety of special inks including CMYKOVG, fluorescents, vivid, transparent, spot colors and more. New inks such as a double opacity Premium White and Invisible Yellow offer exciting opportunities in creating premium applications.
Premium white helps to fully utilize all substrate types (uncoated, black and colored, synthetics, metalized and more). The Indigo 15K is equipped with built in dark media sensors enabling the usage of black and colored media to create premium commercial work with white ink.
Color Quality
Achieve perfect color across Indigo presses, sites, and between Indigo and offset - day in and day out with Color Beat, helping you comply to the top global color standards, including G7, GRACoL 2013, Fogra 51 and 53, Japan Color, extended gamut standards, and CRPC7.
Security Print
New opportunities in security print are enabled by new Invisible inks, microtext capability with Fine Line RIP, and HD imaging with HDFM screening.
For More Information…
For more information about digital printing solutions from HP Indigo and the new HP Indigo 15K digital press, please visit https://www8.hp.com/us/en/industrial-printers/indigo-digital-presses.html.