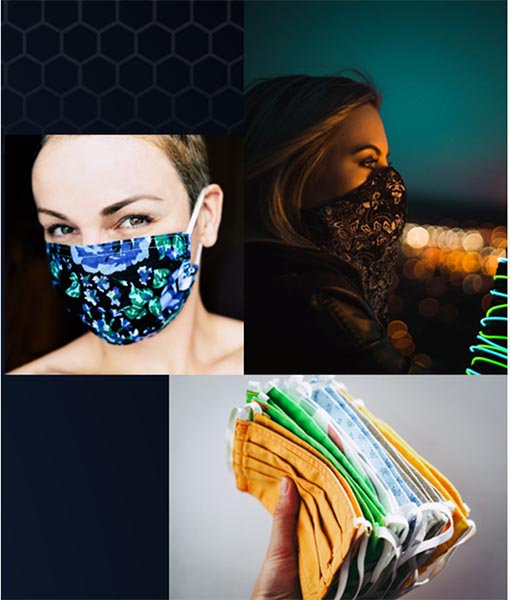 Image source: HP Latex Knowledge Center
"The COVID-19 health crisis has created a new product opportunity for the versatile digital print service provider. The HP Knowledge Center provides the necessary software and product specifications for speedy production while using the HP Stitch's dye-sublimation digital print technology."
Digital Print: The Technology for Proactive Production
Whatever you had planned for print production in 2020, rewind and reset. Around the world, supply chains are stretched to their limits and orders are stalled, cancelled, or frozen for the foreseeable future. Yet there are new opportunities for the print service provider.
The current pandemic has forced the print industry to pivot at great speed in order to meet the instantaneous demands brought about by the ongoing pandemic worldwide.
As the crisis has evolved, the print community has sprung into action, replacing orders for spring retail and merchandising or public events with those for protective PPE and signage for social distancing, such as flooring graphics, screens, and other point of sale merchandising. Textile manufacturers around the globe, hit by cancelled orders for apparel, sportswear, and furnishings, have switched gears to manufacture millions of PPE garments in an effort to protect front-line healthcare workers.
As the health crisis evolves and the global lockdowns come to an end, the focus on personal protection has taken center stage, and the industry is pivoting again. Governments have recommended, or even stipulated, that to save lives we adopt the practice of wearing face masks in public. In a show of solidarity, the face mask has now become an essential accessory and perhaps, a lifesaving item.
Printing face masks is big business and offers a stepping stone for many print service providers as we await the "new normal."
Millions of face masks are now required, and the creativity and adaptability of the print community is focused to meet this demand. Utilizing a digital workflow, new products can be designed and printed in a fraction of the time it would take to set up a conventional order.
Offering a simple, yet incredibly versatile web-to-print system, HP and their Knowledge Center were quick to provide the necessary software to do just that.
With a suite of tools and product information available online for download, protective face masks can be designed, manipulated, and created in minutes and then printed using the HP Stitch dye-sublimation printer.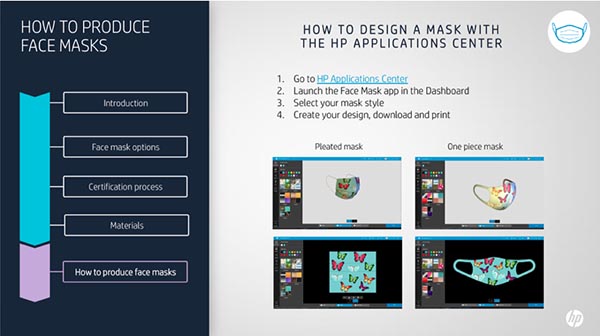 "HP customized protective face mask app offers the printer a simple web to print software suite to create print ready products in minutes." (Image source: HP Latex Knowledge Center)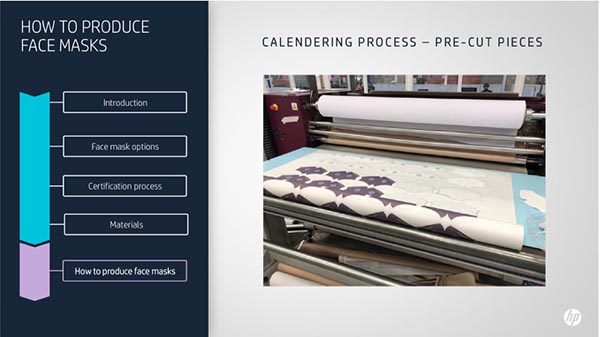 "The customized face masks are printed in a nested format for production efficiency, saving valuable fabric, ink, and processing time." (Image source: HP Latex Knowledge Center)
Without digital printing technology, the mass move towards product customization wouldn't be possible at speed. This digitization of the supply chain and the print workflow enables manufacturers to re-center production and take advantage of this unprecedented opportunity. Armed with an arsenal of technologies that can develop new products virtually, physically, and instantly, the HP app enables online customization, personalization, and seamless production.