"The most profitable work you can do is web-to-print work," said Brian Benson, founder and CEO of Benson Integrated Marketing Solutions. "About 80% of our orders come through the storefronts, and about 20% are what we call 'offline.'"
Founded in 1992 and based in Alpharetta, Ga., Benson's core business is building what the company refers to as "smart stores." "We define smart stores as [online] stores that really can take work from the web to true web-to-print," said Benson. "Certainly there are a lot of large players, such as the Vistaprints and Shutterflys and other companies that do it really well. We tried to replicate that in the multi-family space to the best of our ability." Benson Integrated Marketing Solutions serves a very specific niche: owners, operators, and developers of multi-family residences—apartment buildings, communities, and so on. Individual customers have their own unique smart stores, through which they can customize and purchase their own branded print products for residents and employees.
Bensonoffers seven categories of products and services to customers. "Print" includes small-format Indigo-based digital printing, as well as wide-format flatbed applications. "Signs" includes LED-lit monument signs, building signs, wayfinding, etc. "Apparel" includes embroidered clothing for apartment building staff, as well as a safety shoe line and a pant-hemming program. "Promo" includes promotional bags, umbrellas, awards, move-in kits, pens, key chains, and other decorated three-dimensional objects that fall into the ad specialties category. "And then we have our Express platform, which is our digital platform," says Benson. Based on EFI's Direct Smile, Benson Express lets customers quickly and easily design, customize, and share marketing communications and other materials using professional templates that have been developed specifically for the apartment industry.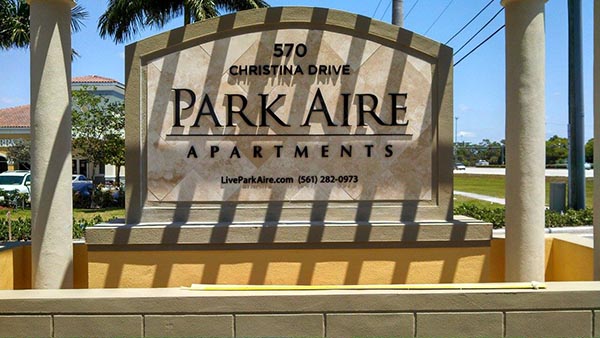 Monument sign for Park Aire Apartments.
"It's one thing to build a smart store that's a B2B platform like Shutterfly, but what we're really focused on is trying to replicate that environment but is highly customized for each customer," said Benson. "So every one of our 54 stores that we have is uniquely different."
Benson is constantly launching new products which then need to be added to the individual online stores. "We use our system to create the workflow," said Courtney Sumners, COO of Benson. "Once we have the artwork approved, the team goes into an internal store using [EFI's] MarketDirect StoreFront to submit the request. To add it to the storefront it goes into a queue for our technology team." Most products go live within 24 hours. Since most customers have their own Benson B2B sites, product development is one-on-one and no two sites are exactly the same. "A lot of what we like to sell to our clients is the ability to personalize or customize all their products to their specific brand or their property's brand," said Sumners. "In most cases, it's one-to-one because Location A is not going to want to use Location B's colors or content. We don't share many products across storefronts—outside of the COVID products."
During the pandemic, Benson developed a set of COVID-specific products and launched its first foray into business-to-consumer (B2C) webstores with a public COVID product store. "We had never built a B2C site before," said Benson. "The COVID site is a true B2C walk-up site, but that's not what we've historically done. We've traditionally built very custom B2B sites." The new site broadens the potential base of customers, but their core business remains committed to the multi-family market.
Benson's narrow vertical has unique challenges in the age of COVID. "Our COVID business is obviously significant for this particular vertical because they're trying to reopen and they've got a lot of communication needs," said Benson. "For a multi-family operator, you've got to communicate not just with your employees, but with residents. They've got hundreds of thousands or millions of residents, and 15–20,000 employees. They've got their work cut out for them, so what we've tried to do is take our expertise and market and deploy that through the stores so they can act."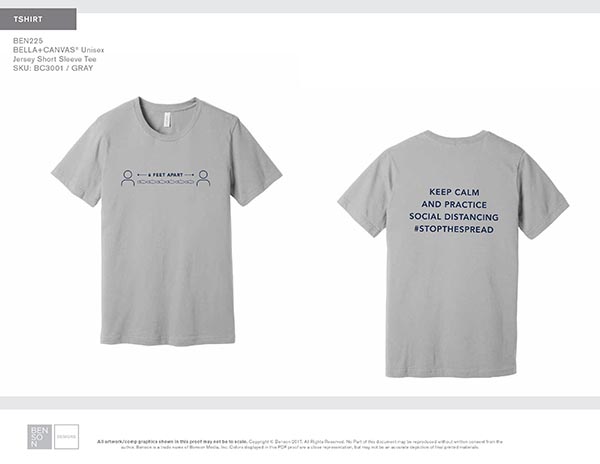 Benson produces customized apparel—such as branded shirts, hats, service bibs, etc.—and has also launched COVID clothing.
As an example, JLL, a large commercial real estate firm, offers a guidebook called (re)entry for businesses to start bringing employees back to work. "They've got doctors from Harvard and all these great publications on how a property owner or business owner might reopen post-COVID," said Benson. "From my standpoint, what's missing, at least for our customers, is once you have a strategy, how are you going to order all the COVID-related materials? How are you going to produce it all? How are you going to know who ordered it and who didn't? That's what we're leveraging the EFI platform to help us do for our customers."
Benson has launched its own 46-page PDF guidebook with reopening strategies and associated products.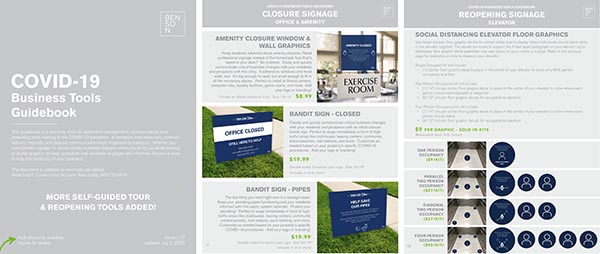 Pages from Benson Integrated Marketing's COVID-19 Business Tools Guidebook for customers.
Necessity, they say, is the mother of invention, and the COVID store came together quickly once the pandemic was in full force. "When COVID hit, we saw a significant decline in our day-to-day business," said Benson, "and we had two choices: sit around and wait for the recovery or find a way to be in the new 'market space,' so to speak. So we created the entire COVID marketing playbook/product line in probably a five-day period."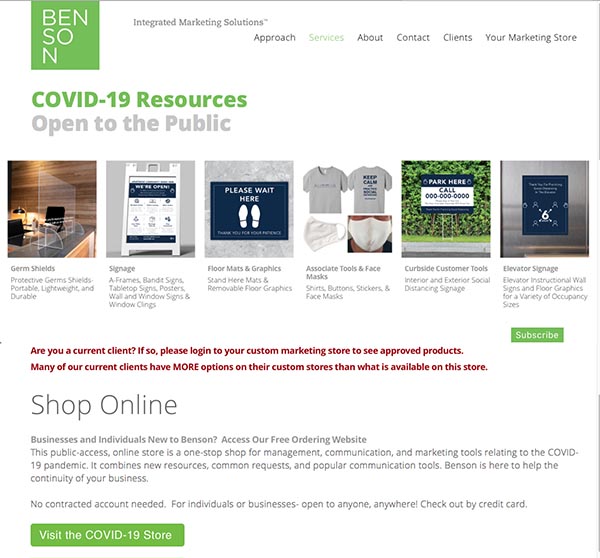 Benson launched a business-to-consumer site for its COVID-19 products.
Demand has spiked for COVID-related products, specifically PPE like germ shields, masks, and gloves. "We created multiple, custom germ shield options that were designed specifically for our vertical end users," said Benson. "We've got a mobile germ shield that's indoor/outdoor, we've got desk germ shields, made-to-measure germ shields, and a lot of products like that."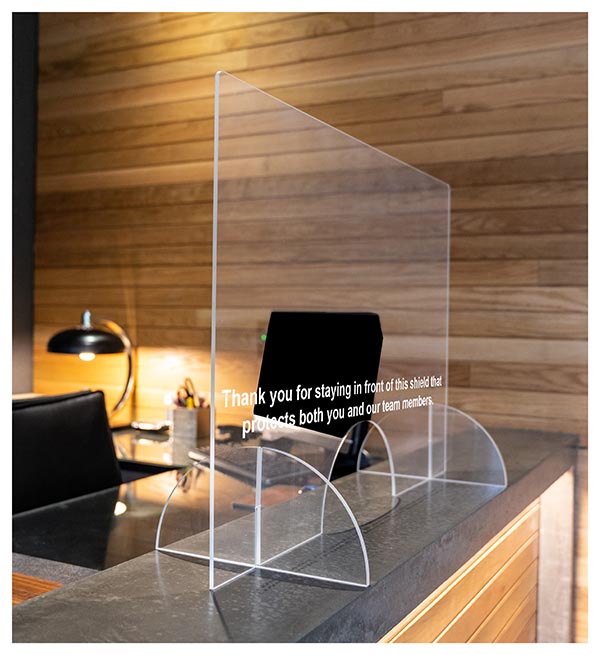 Desk/counter germ shield.
And signage. Lots of signage. "In the last 30 days, we've had more than 50,000 signs ordered through our storefront," said Benson. "We're having to change all the occupancy rates for common spaces, so there's a lot of signage updates. There's a lot of elevator occupancy signs, office occupancy signs, gym occupancy signs, new pool and gym rules, and how to schedule virtual and self-guided tours."
Be it B2B or B2C, Benson was an early adopter of web-to-print and the smart store concept, and not solely for technology's sake, but because it pays off. "What we've seen as a company is that the teams that are processing online work can create double the revenue of a team of customer service representatives working in an offline environment," said Benson. Interestingly enough, the same thing is happening with Benson's clients. "We're seeing customers truly embrace the smart store and really utilize it," he added. "They're able to reduce their marketing staff as well, and refocus them on more important initiatives."
It is also a testament to the skills of Sumners and her team—and their close relationship with EFI—that the COVID B2C site was launched so quickly. "It's definitely to Courtney and the way Benson has embraced and utilized this technology in their operation," said Charlotte Tueckmantel, GM, Web-to-print & Value Added Products, EFI. "They've got a dedicated team who really live and breathe the technology and made the decision years ago that the technology has an equal place in their strategy."
Benson is trying to accelerate to same-day turnaround, and MarketDirect StoreFront is vital to that effort. "We have embraced the technology because we believe it's the only path to get the same-day turn time," said Benson.
A lot of the rush of work is likely temporary, but given the variable state of reopenings around the country (Benson has customers all over the US), it tends to come in waves depending on where a particular state or region is in its reopening. Benson also has customers who own and manage commercial or office sites, as well as residential. "Right now, we're focused on reopening properties, but our next wave of efforts is going to be related to opening what I call offices," said Benson. "Very few if any of our customers has even looked at their corporate office space yet—they've been highly focused on their communities." As a result, Benson has been talking with major real estate groups about their COVID re-entry need for office and commercial spaces.
"That's kind of what we're shifting gears to now," he said.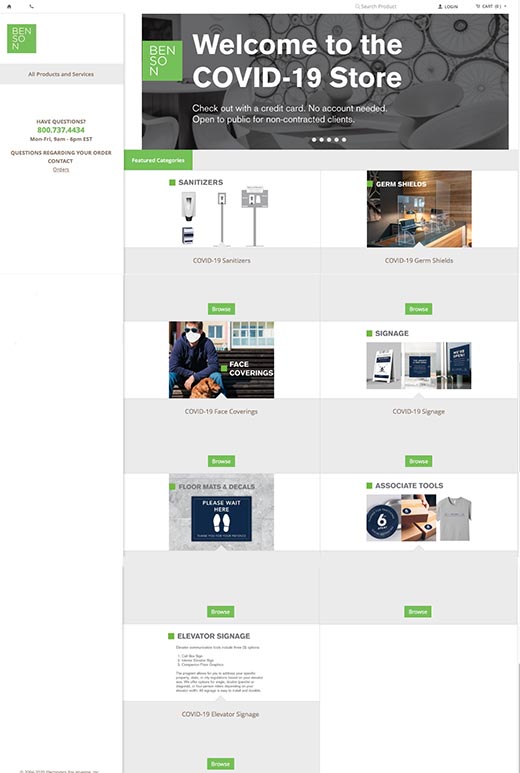 EFI's MarketDirect StoreFront is the software engine behind Benson's COVID site, as well as its B2B sites.