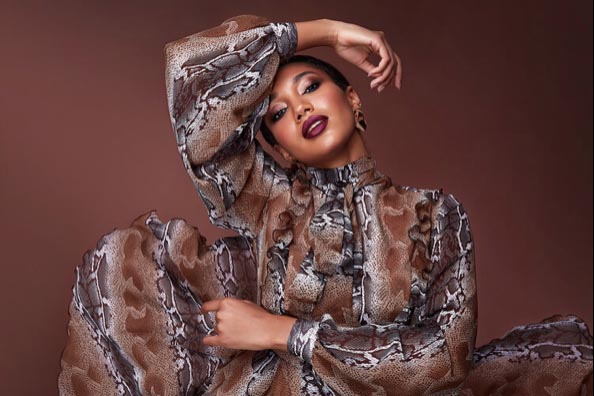 Image courtesy Texintel
(Don't forget to register for our LunchNLearn Webinar "Textiles and Apparel in a Post-Pandemic World," featuring Cary Sherburne, Debbie McKeegan, and Kirby Best, Wed., July 29 at 1 p.m. ET.)
"The crisis will consolidate the fashion industry, with a Darwinian shake-out. The strong will survive to deliver the consumer a new era of fashion built for a post COVID-19 culture, utilizing technology where sustainability is a given, and where consumer expects the Industry to be mindful of its impact on the planet." —Achim Berg
The fashion industry is broken and has been for some time. As a sector, the issues are complex, and it has taken a worldwide pandemic to expose the true depth of the industry's fractured business models: bricks and mortar, once the staple revenue source for the industry, is now a sector on fire. Meanwhile, ecommerce is booming.
Change is afoot and it can't happen fast enough!
COVID will without a doubt accelerate change and deliver an acceptance, brought about only through adversity. The fashion industry needs to adapt to survive and move to embrace sustainability and supply chain diversity if it is to reinvent itself and succeed.
At the Kornit Digital Live Talks event, titled "Business Unusual," one theme was that "Successful companies will be the ones that make moves early."
Omer Kulka, CMO of Kornit Digital, led a conversation with Achim Berg, Global Senior Partner at McKinsey & Company and the Leader of McKinsey's Global Apparel, Fashion & Luxury Group. Berg advises clients on strategy, operations, and marketing, helping executives design and optimize apparel sourcing and distribution approaches.
The fashion industry faces a step-change post-COVID. It requires new standards for design, supply, and retail. Shorter lead times are essential, and for an industry whose current supply chains are lengthy, the issues are pressing and painful. The wholesale supply chain can be as long as 47 weeks, and for vertical, it is often 28 weeks. This doesn't equate with consumer behavior, and, as such, poor inventory management is killing profits, leading to landfill for unsold stock, or sell-outs and an unsustainable culture of discounting.
The COVID pandemic has delivered distress to 80% of the fashion industry. McKinsey predicts that it will take nine months to recover, impacting the industry further through to summer 2021.
Post-COVID, what will the industry look like?
Fashion needs to recreate an agile, flexible supply chain if it is to successfully navigate the future. To do so, the lengthy chains of the past must be addressed. Design must be accelerated using technology and transparency. Sampling has a huge carbon footprint and needs to switch to virtual. On the whole, product design hasn't changed much in 15 years; yet the technology exists to digitize the workflow. Burdened by legacy systems and third-party low-tech suppliers, many companies will struggle to adapt. However, in order to survive, digitization is paramount.
Companies must reevaluate the sourcing footprint and create risk-averse strategies. This will result in a shake-out at all levels. To switch to an automated, transparent and, importantly, engaged supply route will deliver a need for reshoring and close-to-home production. The challenge is, as always, that margins are already established, and so for the "super brands," McKinsey predicts that bulk production will remain in the Far East. However, even here, speed of manufacture is becoming increasingly important. The lead times from the East serving the West must also be massively reduced.
The consumer is engaged by sustainable sourcing. On-demand production will be utilized as a flexible component for the industry, regardless of location. Furthermore, the use of AI and data will facilitate transparency and sustainable manufacturing worldwide. Re-evaluating assembly location offers new distribution opportunities and product diversity at speed, while also delivering sustainability and reduced carbon emissions for the near-to-shore supplier. All of these properties engage an eco-conscious consumer.
In the landscape of fashion, McKinsey predicts that bricks-and-mortar stores are here to stay, currently making up 70% of the industry. But retailers need to evolve and increase profitability with new initiatives, consumer interaction, and a flexible, efficient supply chain. Online sales make up the remaining 30% of the fashion industry, and in the online business arena, it's tough to excel. Here, too, inventory management is equally critical to success. Customization and personalization are on the rise and offer new opportunities for consumer engagement and successful ecommerce.
In tomorrow's world, the crisis will consolidate the fashion industry, with a Darwinian shake-out. The strong will survive to deliver to the consumer a new era of fashion built for a post-COVID-19 culture, utilizing technology where sustainability is a given, and where the consumer expects the industry to be mindful of its impact on the planet.