By Tom Wittenberg
Sponsored by HP
Several years ago, I attended a crisis management class. The first thing I learned was that those who could get beyond "I can't believe this is happening" and react quickly, were the ones most likely to survive the situation. I know this is true. In 2002, I owned a technology company that failed during the dot-com bubble. Why did we fail? We could not get past the "this is happening to us?" phase. If we had pivoted quickly into distance learning with a few of the local colleges, we may have survived. Instead, my partner and I lost both the company and our homes.
I know many print providers are now facing the same situation. My heart goes out to you as I know exactly how you feel and what you are experiencing. But hopefully, some of my guidance around technology can help you not only survive, but thrive, once we are past COVID-19. Below are three points for print providers to consider.
Point #1: If you're not using technology, you need to. Get it into your facility as soon as possible. Why? A recent survey by Keypoint Intelligence showed that "only 21% of North American respondents said that their processes were mostly or fully automated." In other words, there is an opportunity to get ahead of competition and be disruptive in your market. Making the case more compelling is the fact that "57% of North American PSPs are unaware of SPM (smart print manufacturing)." The heyday of easy revenue and easy competition is over. Going forward, in the words of Bette Davis, "It's going to be a bumpy ride."
Point #2: Having technology to be able to understand your costs, balance your equipment loads, manage your service, and be able to get all of this remotely will serve you well. With the possibility of a second wave of COVID-19 and lockdowns back in place, remote service and alerts will be key. Going forward, knowing costs and utilization will be able to help you manage your business more effectively and efficiently. Pricing pressures will be there, so having the data to outmaneuver your competition is a priority.
Point #3: Do you have an online storefront meaning do you have web-to-print capabilities? There is a great article by Jennifer Matt on Whattheythink.com. She quotes McKinsey as saying "Recent customer-behavior research shows that digital interaction with B2B customers is now two times more important than traditional channels—more than a 30% jump since before the COVID-19 crisis hit." An online storefront keeps your product visible and available for your customer base. Adding the back-end automation to go fully web-to-print helps to reduce your costs and increase profitability.
There are a number of compelling reasons to jump on the technology bandwagon for your facility, so how can this be done? I know print providers are really strapped for cash and don't have software spending really high on the list of expenses. But what if I told you that many of you can get it for free? If you are a large-format owner of an HP Latex, STITCH, PageWide XL, or DesignJet printer, HP PrintOS comes along with it for free. There are modules associated with each of the different printer models, but I only want to cover two here, one being HP PrintOS Applications Center to help get you an online storefront and second, HP PrintOS Mobile App.
Fundamentally, PrintOS is a cloud-based platform with browser-based and mobile apps that connect to and extend the functionality of HP production printers. There are multiple tools that provide robust analytics, mobile monitoring, access to PrintOS anytime and anywhere, and security. The image below gives an overview of the modules available depending on the model of printer.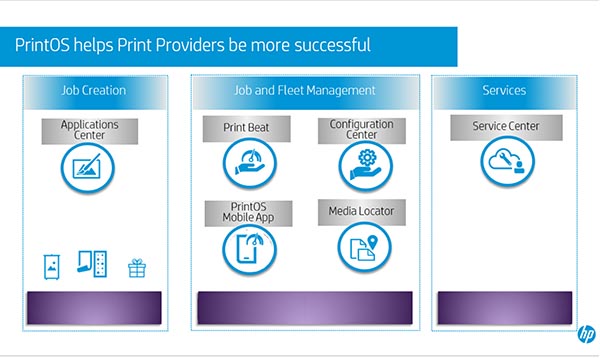 In looking at the Applications Center, it is a simple cloud-based design. Easy, clean navigation allows you to add content from the available libraries or upload your personal content. There are inspiration templates including photos, backgrounds, objects and text options, plus new COVID-19 content for signage and floor graphics for all HP Large Format Printers and masks for HP STITCH Printers.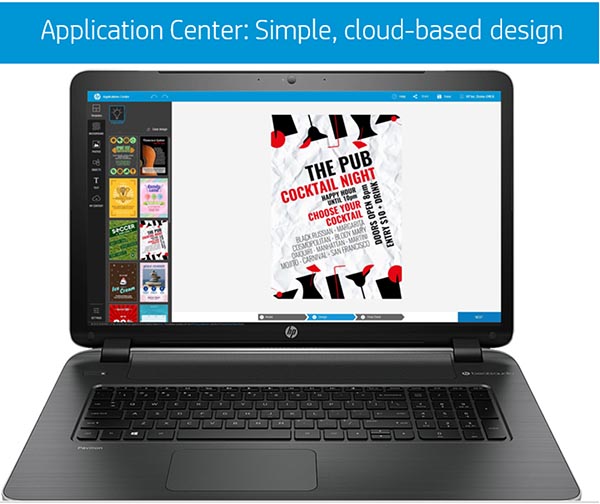 With this tool, you have access to a full web-to-print solution where designs can be shared securely with existing or new customers. In addition, you can power up a web-to-print business by helping customers easily create a variety of applications on your own website. Application support is included for: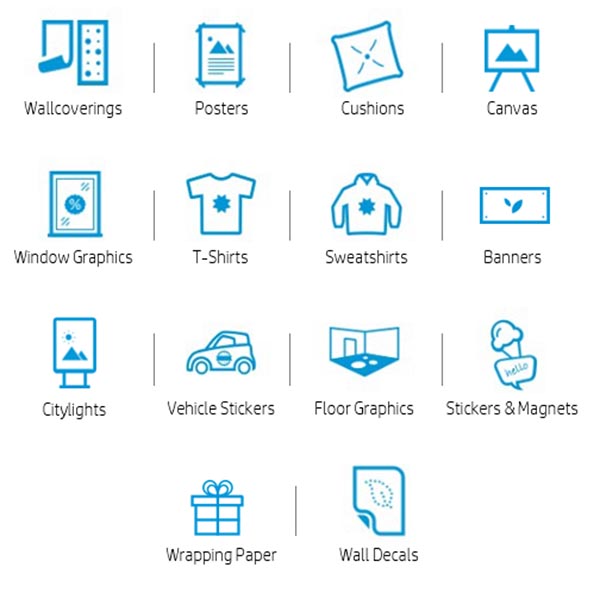 I previously mentioned the need to have remote access and alerts for your operation. The HP PrintOS Mobile App allows you to keep tabs on print jobs, to know the status of your printer(s) while you're away, and to receive alerts that can provide updates on consumable status or informing you of needed attention to the printer.

While this is just the tip of the iceberg, these modules provide a quick and easy way to enter the world of online and remote access. Data and data driven-decisions will be king in the new normal to compete effectively. For those of you with the HP Grand Format printers, there are even more modules to help you manage production and they're all available to you now, for free.
So pivot, be agile and create your own tomorrow. Beyond the goal of staying relevant, you want to push your business forward. Solutions are out there and HP is ready to help with academies, webinars, training, and one-on-one demos.
For more information on HP PrintOS or attending HP events, contact your local HP sales manager, HP reseller, visit us at www.hp.com/go/printos or call us at (877) 215-8584.
About Tom Wittenberg
Tom is the HP Large Format Industry Relations and Events Manager for North America. He has been in the printing industry for nearly thirty-five years, led turnarounds of three global printing companies and owned/operated a database management and development company prior to joining the HP Marketing team.