Greg Ellison Now Leads the Sixth Largest North American Studio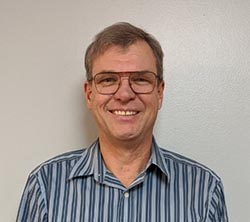 Denver, Colo. – Greg Ellison purchased the SpeedPro Denver franchise from eight-year owner Darin Schneider on November 1, 2019. "I've enjoyed an interesting and rewarding career in telecomm but was looking for a new-to-me industry to tackle. SpeedPro fits the bill in lots of ways. The guidance, support and training from the Home Office has helped me hit the ground running -- and fast!" enthused Ellison.

SpeedPro Denver provides large format graphics for vehicles including CDOT Bustangs and Mile High Custom Food Trucks. They also design, print and install graphics for trade show displays, banners of all shapes and sizes, elevator wraps, and wall murals and window graphics to businesses throughout the metro area and beyond.

"Greg is bringing his extensive knowledge and experience running high-performing teams to grow the Denver franchise. His energy and enthusiasm for this new venture shows and I'm sure he will be hugely successful. We're proud to have someone of his caliber join the SpeedPro team," said Larry Oberly, president and CEO of SpeedPro LLC Imaging of Denver.

There are four SpeedPros in the metro Denver area, five total in Colorado and more than 130 throughout North America. For more information, contact 303.426.4199, [email protected] or www.speedpro.com/denver.