Installers and aspiring printers showed off their best work at the inaugural PRINTING United in Dallas last month.
Wrapping Up First Place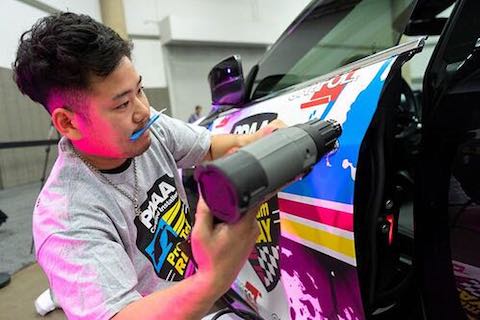 Keiichi Hasegawa, C17 Media (above), and teammate Blake Madsen, Remix Wraps, were first-place winners in last month's PDAA Pro Team Relay at PRINTING United 2019. The competition tested two-person teams in four graphics installation stations: a car's quarter panel, rivet wall, a two-panel graphic on a rough texture surface, and two-color vinyl on acrylic. The first-place team shared $2,000 in prize money, while second place (Kristin Lanzarone, WrapStar Pro, and Krystal Miszewski, Candy Wraps Orlando) received Orafol 2-Go Combo Packs, and third place (Kim Magraw, Vivid Sign & Design, and Rob Ivers, Rob Ivers Inc.) won $250 gift certificates from Yellotools.
Student Printers Shine
Members of the Academy of Screen and Digital Print Technologies (ASDPT) judged the annual Tom Frecska Student Printing Competition during PRINTING United. Best in Show awards went to students at Millersville University (Millersville, Penn.) and Genesee Career Institute (Flint, Mich.). All entries were displayed in the SGIA Awards Gallery at the show.
Best in Show, Post-Secondary
"VW Beetle"
Student: Clark Miller
Instructor: Mark Snyder
Millersville University, Millersville, Pa.
Entry Category: Fine Art
Sub-Category: Digital
Best in Show, Secondary
"Aqueous"
Genesee Career Institute, Flint, Mich.
Student: Myranda Bettendorf
Instructor: Michael Crawford
Category: Finished Garments (Light)
Sub-Category: Digital