Morton Grove, Ill. – Quantum Group, a trusted expert in direct marketing and business communications services, is continuing its investment in innovative new technologies to better serve its customer base with the purchase of a Landa S10P Nanographic Printing Press. The press will be installed mid-year 2020 and joins Quantum Group's extensive line of digital and offset equipment
Commenting on the purchase, Quantum Group Chief Executive Officer Cheryl Kahanec says, "We are excited to add the Landa S10P technology to our production fleet. Quantum Group is continuing to invest in industry-leading technology as we further our mission to create the highest quality customized print communications to help our clients connect with their customers and execute their marketing strategies."
Landa Nanographic Printing® technology yields the lowest cost-per-sheet of any current digital print technology. It combines the features of offset and digital print technology — high quality and speed with short-run, variable print flexibility. The Landa Nanographic Printing® Press generates a throughput of 6,500 B1 (29.5"x 41.3") sheets per hour. Using water-based Landa NanoInk® colorants with efficient, light-absorbing nanopigments, the press delivers a wide color gamut using CMYKOBG, and match more than 96% of the Pantone color chart. It also supports any off-the-shelf stock without priming or pretreatment.
According to Landa CEO Yishai Amir, "The technology investment will enable Quantum Group to deliver innovative direct marketing solutions to its Fortune 500 customers". He explains "Quantum Group not only understand the value of Nanography and its unique benefits for the markets they serve but will leverage the technology to open new markets and new business opportunities. We look forward to working closely with Quantum Group and supporting their growth as they pioneer the use of medium run-length B1 digital print in the commercial print market space."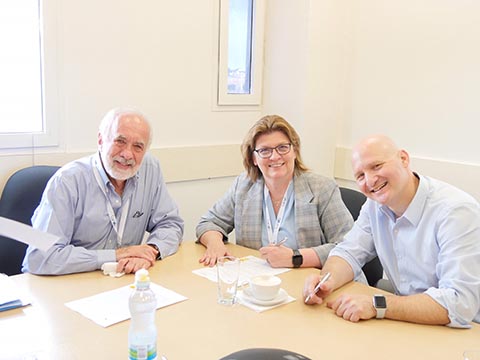 Quantum Group S10P Signing: Benny Landa, Chairman, Landa Digital Printing (left), Cheryl Kahanec, CEO, Quantum Group (centre), Yishai Amir, CEO, Landa Digital Printing (right).