Strong demand for hardcover binding in North America prompts the investment.
Multi Bookbinding is Canada's only hardcover book trade bindery, producing runs ranging from 100 copies to 50,000. Recently, they invested in Muller Martini's KM610 perfect binder in order to replace a legacy KM470. The purchase was spurred by increased demand for hardcover bookbinding in North America, particularly within the United States. Commented Multi Bookbinding's President, Yvon Sauvageau, "The main reason we upgraded our finishing line is because we're seeing more and more requests for hardcover bookbinding from the States. And, since run requests are getting shorter, we needed to shorten our makereadies as well. I'm pleased to say that the KM610 has cut makereadies in half."
The Muller Martini KM610 Perfect Binder can be utilized for all types of book block production, as well as perfect-bound brochures. Other advantages include:
• Speeds of 5,000-8,000 CPH.
• Spine prep technology delivers exceptionally robust construction.
• Processes book block thicknesses up to 70 mm.
• User-friendly CoPilot eliminates manual adjustments.
• Barcode matching system enables reliable processing of both traditional and digitally printed products.
Multi Bookbinding also selected the KM610 because of its versatility. The binder helps them accommodate growing customer requests for Layflat and Swiss bound binding typically found in high-end products such as coffee table books, annual reports, etc. In addition, although its average run on the KM610 is 3,500 copies, Multi Bookbinding also utilizes the perfect binder for specialized yearbooks with typical runs under 150 copies.
Another key benefit of the KM610 is its signature recognition feature which uses cameras to scan barcodes. Said Mr. Sauvageau, "As a bookbinder, signature recognition is a very valuable tool since every printer uses their own barcode system. The technology is a tremendous time saver that helps us meet deadlines."
Multi Bookbinding has utilized Kolbus equipment since 1995 and has had their operators trained at the Blue Saloon in Rahden, Germany. "We had a very strong partnership with Kolbus," remarked Mr. Sauvageau. "Interestingly, we made plans to invest in the KM610 just prior to Muller Martini's acquisition, so Muller's team installed the machine. I'm happy to say we're extremely pleased with their professionalism, knowledge and continued support."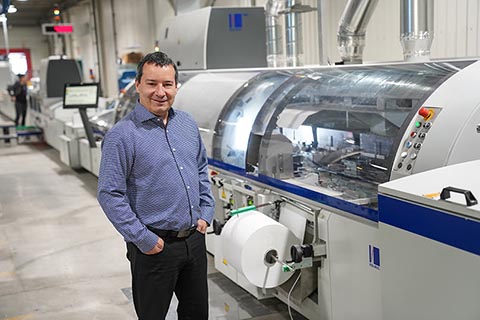 Multi Bookbinding President Yvon Sauvageau shown with the latest addition to their finishing line, the KM610 perfect Binder.