Krefeld – Baumer hhs sets standards in user-friendliness with the innovative Xtend3 controller for its modular glue application and quality assurance systems. "Since market introduction, a lot of our customers all over the word have upgraded to our latest-generation controllers. From their standpoint, the Xtend3 controller's innovative operating concept has one main advantage: They can set up their glue application systems, including the associated quality assurance functions, faster, more easily and more reliably than ever before, while enjoying maximum flexibility at the same time," says Andreas Schneiders, Technical Sales Manager - Corrugated at Baumer hhs.

The intuitive operation of Xtend3 via a 21.5" HD multi-touch display has been simplified to where it now resembles the use of a tablet or smartphone. To access the individual functions or switch between different views, machine operators need only swipe the screen or select one of the symbols shown. The intelligent software can be set up to offer operators only those options which make sense in a given situation.

Machine operators also welcome the support they receive from the expanded information management features of the Xtend3. For instance, short help videos with easy-to-follow animations explain how to set up the application heads and sensors, effectively shortening setup times even more. The videos additionally help to quickly resolve any system disturbances. Both of these advantages increase machine availability and therefore production efficiency.

In Xtend3, machine operators can individually configure each station for glue application and quality control, and assign each of the application heads and sensors to the various stations. This makes working with the innovative equipment from Baumer hhs transparent, and that means simple. Xtend3 significantly enhances overall ease of use for machine operators in many respects, which is one reason behind the market success of the new controllers.

But going beyond greatly simplified operation, the Xtend3 controller also offers expanded functionality. Among other things, it now incorporates various camera applications, such as verifying complex glue patterns. With two cameras, Xtend3 can scan up to 40 glue lines across a width of 800 mm, as well as those areas where no glue is to be applied. In addition, the two-camera system can inspect folds and flaps. Packaging producers thus have added options for offering their customers advanced quality control. And this equipment similarly guarantees maximum ease of operation: The cameras and glue patterns are also set up via the graphical user interface with intuitive user prompting. Automated setup procedures ensure that the various parameters are set the same way for all print products on a single sheet. Operators can store settings for individual jobs and access them at any time should the same job come up again later on.

Xtend3 perfectly supports the modular configurability of the glue application and quality assurance systems from Baumer hhs. Because all the monitoring sensors are digitalised, complex systems can be reliably and transparently configured on modern multipoint gluers, one example being several stations for glue application and quality assurance in the direction of travel through a machine.

More and more customers from Baumer hhs are using the CT-300 code reader in their multipoint gluers to avoid product mix-ups. With this digital sensor, they can be sure that shipments to their own customers contain only the products ordered. This is becoming an increasingly widespread requirement, and not only in the pharmaceuticals industry.

Adhesive delivery without extremes

Virtually at the same time as the Xtend3, Baumer hhs also launched its DPP8 double-piston pump on the market, which enables customers to achieve a new level of adhesive application with maximum ease of use. The pump's electronic operation supports precision pressure management at all times. In the past, high pressures were generated in feed pumps and subsequently reduced by pressure regulators. In contrast, the DPP8 generates only the pressure required at any given production speed to maintain a continuous flow of glue. The pump therefore prevents stress damage to the glue itself, delivering it to the application heads at the viscosity specified by the manufacturer. Especially with sensitive adhesives, this can make a critical contribution to improving gluing results. What is more, electronic control and the elimination of the pressure regulators significantly reduces maintenance requirements.

Colour displays show machine operators the status of the DPP8 units. One especially useful function of their controller is the calculation of glue consumption per job to within an accuracy of +/- 5%, which facilitates both cost analysis for existing jobs and preparations for follow-up ones. With the expanded statistics and analysis options of the Xtend3 controller, Baumer hhs customers can meet the constantly rising demands on quality and efficiency in packaging production.

The DPP8 has likewise been very well received by the market. With the success of both its Xtend3 controller and new double-piston pump, Baumer hhs once again underscores its position as the leading global partner for glue application and quality assurance.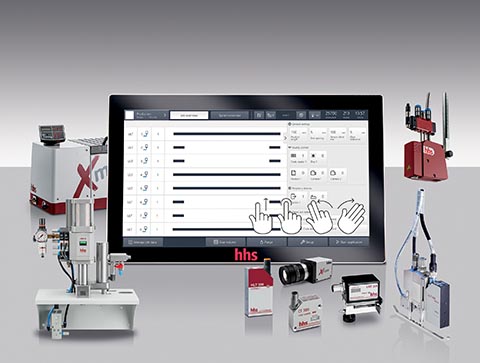 Baumer hhs sets standards in user-friendliness with the innovative Xtend3 controller for its modular glue application and quality assurance systems.