West Caldwell, N.J. – His memory serves Lantz Gleisner well. The director of print operations for The YGS Group, a York, Pennsylvania based total solutions provider, was in need of a new paper cutter last year. That's when he recalled having good luck years earlier with a SABER® machine when he worked at a different company. The experience would eventually lead to the installation last October of a new 45-inch SABER X-15 with Microcut® from Colter & Peterson, a decision that impacts work at the company every day.
"In the early 2000s, I had a 54-inch SABER but this is the first one we've had at YGS," said Gleisner, who has worked at the company for the last 3-1/2 years. "We did our due diligence. We saw a similar machine in production at another company and anticipated the results of what it would do for us. We bought the SABER that was on the floor at the PRINT Show in Chicago. It was installed less than a week later, just in time for our busiest time of the year."
New machine helps define company's cutting edge work
YGS has provided customized marketing and communications solutions to a nationwide clientele for over 60 years. Besides the 90,000 square-foot York headquarters, they operate a satellite facility 25 miles north of them as well. Gleisner and his team oversee the 85 employee, full-service print division, which handles offset and digital work ranging from full-color, high-end magazines with UV, aqueous and specialty coatings applications, to black-and-white brochures.
It is a 24/7 operation with no downtime, which factored into Gleisner's decision to choose the SABER.
"I've always had good success with C&P in the past so I talked with Bruce Peterson. I needed a machine pretty quick and he promised me the one from the show. We do work for a major chocolate manufacturing company, plus many association groups and insurance companies. The fourth quarter is extremely busy for us, especially since it is open enrollment period for insurance coverage."
In the past year, Gleisner says the amount of digital jobs YGS does has grown to account for between 30-40 percent of the overall work. The SABER and a smaller 36-inch PRISM® unit cut all of the work produced by three sheetfed presses and three HP Indigo digital presses. YGS is known for its short run capability, but for the most part, Gleisner says it can range from 1-50,000.
"Our company has a good vision for business. The amount and type of work we do is very diverse, and that's why we run three shifts around-the-clock," he says. "Our operators are always cutting some material, from 8.5-by-11 to 28-by-40 inches. The SABER does a real nice job with cover type stocks up to 16 pt. It's also a heavier machine. I like its accuracy and we've had no issues with it."
Having the newest technology associated with the upgraded Microcut package on all new SABER paper cutters was another win for YGS.
"Our operators love it. The one it replaced also had Microcut," said Gleisner. "To me, it's always been a productive machine. I compare it to the old Polars, which is another solid paper cutter. For the value and with my prior experience, the SABER is a very good cutter. It's a workhorse and I expect it to last for many years until I retire."
For more information, call (800) 932-0780 or visit www.papercutters.com.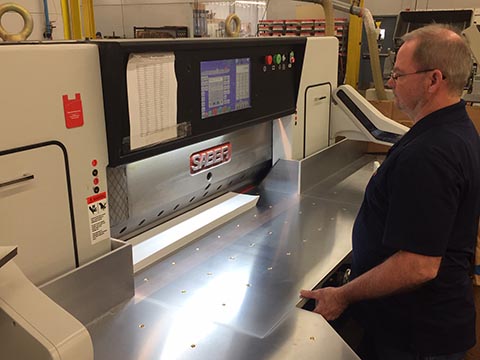 Joe Ward works on the new SABER paper cutter at The YGS Group in York, Pennsylvania.