West Chester, Ohio, USA – Xerox Mexico included the Color-Logic Process Metallic Color System in their #BeBrilliant launch at Expo Grafica last week in Mexico City. Discussing the successful Expo Grafica event, Color-Logic Director of Sales and Marketing Mark Geeves said: "This was the first showing of Color-Logic at a major show in Mexico, and the software was received with acclaim. The combination of the Xerox Iridesse press, Xerox silver and white dry inks on metallic substrates, and Color-Logic design tools showed the audience the many new applications now available in the Mexican market. The Xerox Iridesse press and Color-Logic design tools, together create product differentiation, higher margins, significant savings of time and materials, and dramatically reduced time-to-market. "

Geeves continued: "At Color-Logic, we recognize that All Print Starts With Design. The Xerox Iridesse press opens up exciting new markets for Color-Logic, and we expect Xerox Mexico to be a great partner in educating and demonstrating how to bring value-added print to the Mexican market."
For more information, visit www.color-logic.com or call +1-513-258-0047.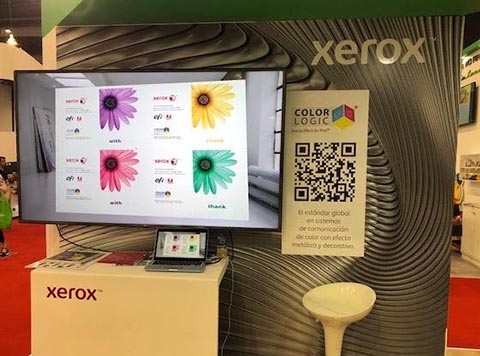 Xerox Stand with Color-Logic, at Expo Grafica (2019).