West Caldwell, N.J. – If there is a company that should know what newer and better equipment can do for a business, it should be SBPI, which is short for Standard Business Products, Inc. Since swapping an ancient paper cutter for a larger, reconditioned 61-inch Polar model with Microcut electronics one year ago from Colter & Peterson, the digital print end of the business has experienced greater productivity benefits and has increased capacity.
SBPI still services equipment but what drives their operation today is serving as a full service, large format printer of high quality specialty graphics and POP signage. Located about 20 miles northwest of downtown St. Louis, they handle work for national mass merchandisers and retail stores, as well as grocery and supermarket chains and C-stores.
Printing and shipping mostly Point-of-Sale price cards to 3000 stores per month requires a well-orchestrated performance that includes reliable equipment. When a 1950s era paper cutter started to falter, Tom Buehrle listened to his service technician and called C&P.
"He turned me onto Colter & Peterson. He was spending more and more time fixing an old 51-inch paper cutter and some parts were no longer available," recalled Buehrle, who has worked at SBPI for two years. "I called Bruce Peterson and he had a couple of options for us to look at. I did some research and determined the Polar he had available was a reliable machine. It was also a good price and I could get it installed within three weeks."
Better yield production, significant turnaround improvement
Buehrle says most of the large format signage is printed on three EFI VUTEk superwide printers. He likes the Polar for its versatility, and the lion's share of what it cuts is 13-by-19 inch work that is run through a 2-color offset press.
"We're doing mostly digital jobs, especially the last few years," he said. "Some of the work is for trade show houses and marketing agencies. We also do work for some plastic companies and the Polar cuts thin gauge up to .080 styrene, plus PETG and card stock. It's so good we use it to trim stock runs of heavy chipboard for one of our retailers."
Work is brisk and steady for the 60 employees at the 40,000 square-foot facility in Earth City, not far from the Missouri River. Buehrle has three smaller paper cutters, a pair of 42-inch machines and a 20-inch Challenge in his finishing department, but the larger Polar is the go-to unit that is making the difference.
"It has the ability to cut 60-by-120 inch sheets from the VUTEk. We are getting a better yield ratio now because, with the 51-inch paper cutter, we needed to use a forklift to turn the sheets," he said. "The Polar has dramatically sped up our turnaround times; with Microcut we are about 70 percent faster per job. It's been a perfect fit for us. We needed the capacity and with the uptick in our large format printing, we have a stronger arsenal to turn things around much quicker for our customers."
For more information, call (800) 932-0780 or visit www.papercutters.com.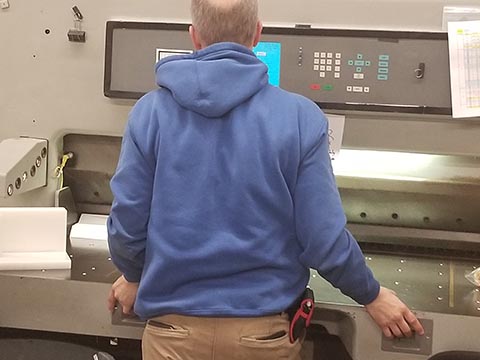 Operator Scott Yokley works on the Polar paper cutter at SBPI.