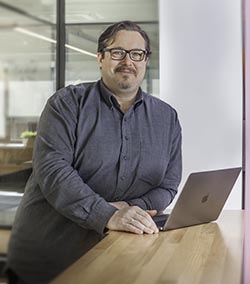 With more than 20 years of international experience in Integrated Marketing and a background in Management, Alvaro Cabrera returns to his hometown of San Sebastian, Spain, to assume the direction of Kendu In-Store Visual Solutions as Chief Executive Officer.
As CEO of Kendu's global operations, Cabrera's objective is to develop and implement the company's strategic global plan beginning with its daily processes to improve customer service and guarantee value add for clients. In addition to his management experience of multinational companies, Cabrera's specialization in digital transformation and his passion for understanding consumer behavior, will drive the new fully integrated vision for Kendu.
"I am excited to lead Kendu in its next chapter as a business. My goal for the company is continued growth and truly becoming a worldwide reference point in the retail sector," states Cabrera.
Kendu founder and CEO for the past 18 years, Joseba Egaña, will continue to play an active role in the company assuming the new position of Group President. The role will focus on new business ventures and project innovation to ensure the continued evolution of Kendu's products and services.
"I am pleased to announce Alvaro as the new CEO of Kendu. As a renowned thought leader with impressive experience in marketing and customer engagement, Alvaro is the right leader at the right time for Kendu," comments Joseba Egaña.
Cabrera has a Bachelor of Science in Communications from Less McRae College, USA, and an Executive MBA from ESDAE Business School, Spain. He began his career working in one of Spain's leading Marketing and Advertising agencies, BBDO, before moving to the US in 2008 to assume the role of SVP Executive Director of Interception with Dieste Inc. In 2012, Cabrera began his professional relationship with Ogilvy USA, where he most recently held the position of Group Managing Director and Head of Customer Engagement & Commerce in New York.
Cabrera will be based in Kendu's European Headquarters in San Sebastian.