United Kingdom – Intec Printing Solutions Limited, innovators in digital imaging and finishing, continues its expansion of unique solutions by introducing the ColorCut BC480 as part of the ColoCut range of digital cutting and creasing equipment.
See the BC480 in action in this introductory video: https://youtu.be/7iwcidwKyag
ColorCut BC480 - Versatile, fast multi-card cutting
The Intec ColorCut BC480 is an affordable and fast business card cutter. Setting new standards in cost, flexibility and speed, the BC480 works alongside any digital printer, or even digital photocopier, to produce professionally-cut business cards – automatically, easily and fast.
The BC480 is a compact desktop device that will easily find a home in any print shop environment. Using one of a series of self-sharpening cutting cassettes, the Intec BC480 automates and simplifies business card production – cutting an SRA3 sheet of 21 x cards in just over 8 seconds. This enables users to cut 250 x business cards in only 96 seconds! The feeder tray can hold, stack and auto-feed a quantity of printed sheets, leaving the operator to multitask in confidence.
Ultra-accuracy is standard
Able to sense the sheet's front edge, the BC480 cuts at precise intervals, as required. In addition, the unit can scan for cut registration marks placed on the printed sheet and will adjust itself to the image, automatically producing the perfect cut every time.
Business cards and beyond…
The BC480 is more than just a business card cutter. Using pre-set programs. It can also cut post cards, compliment cards, appointment cards and custom card sizes.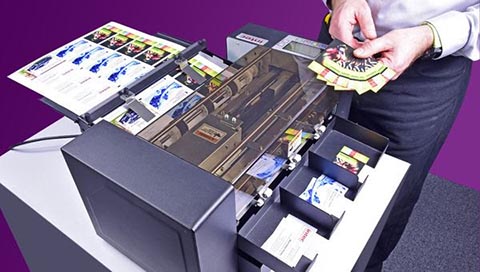 The Intec BC480 Business Card Cutter loaded with SRA3 sheets, printed with 21 x standard size business cards – resulting cards collected and sorted in adjustable catch tray.