Future Market Insights (FMI) delivers key insights on the global pharmaceutical plastic bottles market in its published report, titled "Pharmaceutical Plastic Bottles Market: Global Industry Analysis 2013-2017 and Opportunity Assessment 2018-2028". Globally, the revenue generated from the sales of pharmaceutical plastic bottles is estimated to be around US$ 25 Bn in 2018, and is projected to expand at a CAGR of 5.7%, during the forecast period 2018-2027. This can be attributed to numerous factors, about which Future Market Insights offers thorough insights and forecast in this report.
Pharmaceutical plastic bottles are specifically used for the packaging of pharmaceuticals including solid as well as liquids. Plastics used for manufacturing pharmaceutical plastic bottles include polyethylene terephthalate (PET), high density polyethylene (HDPE), low density polyethylene (LDPE), polyvinyl chloride (PVC), and polypropylene (PP). Among plastic bottles, packer and dropper bottles hold the major share in the pharmaceutical packaging industry. Manufacturers of pharmaceutical plastic bottles are primarily using HPDE and PET to manufacture pharmaceutical plastic bottles as these materials provide consistent quality that conforms to the FDA regulations. Closure types such as screw cap, crown cap, friction fit among other cap types are used for closure of pharmaceutical plastic bottles.
FMI Key Findings
· Among the various plastic types, the PET pharmaceutical plastic bottles segment is witnessing a higher growth and is projected to have a positive outlook during the forecast period, this can be attributed to its barrier properties, durability and stress- resisting properties of PET.
· Polyethylene terephthalate (PET) and high density polyethylene (HPDE) bottles are highly recyclable and reusable. They account for the major share of the pharmaceutical plastic bottles. Pharmaceutical plastic bottles are capable of withstanding tough stresses along with this they provide longevity, and integrity due to their structures. Hence are considered apt for substitution with metals and glass. This is anticipated to fuel the demand for pharmaceutical plastic bottles during the forecast period.
· However, emergence of more sustainable alternatives to PE and PET materials might hamper the growth of the pharmaceutical plastic bottles market globally. Sugarcane, a biodegradable material and can be used to make biomaterials. Bottles made from this biomaterial can be used for manufacturing of pharmaceutical plastic bottles.
· In 2016, Gerresheimer launched BioPack brand of pharmaceutical packaging products including pharmaceutical plastic bottles that are made of ethanol from sugarcane being converted into green polyethylene and has all the properties of PE and PET
· Screw cap segment in the global pharmaceutical plastic bottles marketis the most preferred closure type for pharmaceutical plastic bottles, followed by friction fit caps. Popularity of screw cap for pharmaceutical plastic bottles closures can be attributed to effective barrier properties coupled with cost effectiveness. Furthermore, these caps can also have tamper evident and child resistant features which act as added benefits to the existing line of pharmaceutical plastic bottles.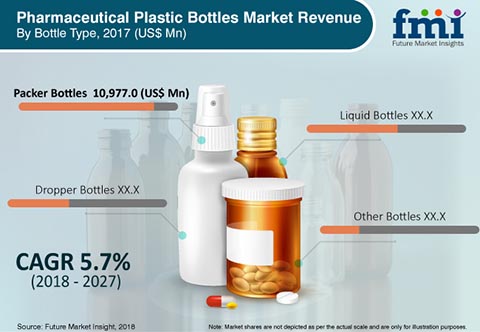 North America Estimated to Continue to Dominate the Global Pharmaceutical Plastic Bottles Market
The growing popularity of pharmaceutical plastic bottles, can be attributed to the convenience, safety, and security they offer. This is anticipated to propel the demand for pharmaceutical plastic bottles in the region, which might result in a significant rise in the market value over the forecast period. Also, the manufacturers operating in the U.S. region are offering their consumers with advanced pharmaceutical packaging solutions such as multi-extruded pharmaceutical plastic bottles which consists of three layers of plastic materials of different composition. These pharmaceutical plastic bottles are vital to provide special storage conditions for bioengineering drugs, which require high protection against external disturbances.
The key players in the global pharmaceutical plastic bottles market are Gerresheimer AG, Amcor Limited, Berry Global Group, Inc,AptarGroup, Inc., ALPLA Werke Alwin Lehner GmbH & Co KG, Alpha Packaging, Inc., RPC M&H Plastics Ltd., Graham Packaging Company Inc., Resilux NV, Drug Plastics & Glass Co., Inc., Pretium Packaging, LLC, Silgan Holdings Inc., O. Berk Company, LLC, Bormioli Pharma S.p.a., C.L.Smith Company, PACCOR International GmbH, Pro-Pac Packaging Group Pty Ltd, Comar LLC, and Weener Plastics Group BV among others. Many local and unorganized players are anticipated to contribute to the global pharmaceutical plastic bottles market during the forecast period.
For more insights, Future Market Insights analysts are available at [email protected]
Download sample copy of report with table of contents and Figures @ https://www.futuremarketinsights.com/reports/sample/rep-gb-7750.