With its automation software the German expert for prepress software solutions presents the perfect middleware acting as direct link between MIS and DFE at the EFI Connect in Las Vegas in January.
Regensburg / Las Vegas – Increased job throughput, better print quality and more profitability – these continue to be the goals for print service providers in the coming year. More incoming orders with smaller print runs in tighter windows require the adaptation to automated processes. The decisive factor here is a perfect interaction between software and hardware.
At the EFI Connect from 22-25 January 2019, OneVision Software, one of the leading manufacturers of prepress automation solutions, will demonstrate how commercial, label, book as well as wide format printers can streamline their production processes with proven prepress and workflow software.
An automated prepress workflow for a smooth printing process
With OneVision Software print production processes can be automated. Automation tools, that solve typical manual work steps in the prepress stage, are tied into an extremely flexible and easy-to-use workflow management system. In addition to software for individual process steps such as preflighting, flattening transparencies, PDF normalization, color management, impositioning, the automatic creation of bleed and varnish masks and much more, OneVision Software offers holistic software suites that automate the entire production of book printers, label converters and wide format printers. The suites offer innovative functions such as nesting, tiling and paneling, a cut line manager, automated calculation of spine thickness, the creation of barcodes, automatic design of die-cuts or laser cutting configurations and many other highlights, specially designed for the requirements of label, book and wide format printers. The result: faster turnaround, a relieved RIP and increased throughput.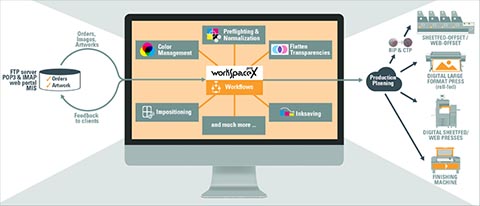 Prepress and workflow automation with OneVision's software solutions
Session on how to increase profitability with prepress and workflow automation
In the course of the session "How prepress and workflow automation software increases job throughput, print quality and profitability" the software will be put into life and demonstrate how printers can make their workflow more efficient and benefit from increased job throughput, print quality and profitability. The session, scheduled for Wednesday, January 23 2019, 2:15-3:15 pm, will also give insights on how to set up, standardize, automate and control print production process easily with OneVision's workflow management system and show how time-consuming manual steps in prepress can be automated.
Visit OneVision Software at EFI Connect in Las Vegas, booth 103.