It's finally that time again - Pantone, the global authority on color, today announced PANTONE® 16-1546, Living Coral, as the Pantone Color of the Year 2019. #LivingCoral is an animating and life-affirming shade of orange with a golden undertone. Just as coral reefs are a source of sustenance and shelter to sea life, vibrant yet mellow Living Coral embraces us with warmth and nourishment to provide comfort and buoyancy in our continually shifting environment.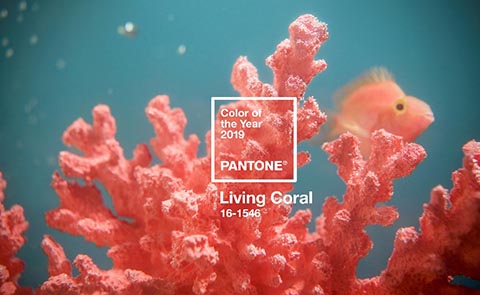 The Pantone Color of the Year selection is more than a culmination of recent color trends – it is a reflection of a concerted cultural moment. As we continue to seek immersive experiences that offer intimacy and genuine connection, Living Coral symbolizes our innate need for optimism and joyful, lighthearted pursuits.

Living Coral encourages the spirited, sociable connections that nourish and replenish the creative spirit. To help designers tap into this shade, Pantone today released limited-edition Pantone Color of the Year 2019 Formula and Color Guides, enabling easy integration of Living Coral into workflow to achieve color consistency and bring a vision to life. To celebrate and inspire the creative community, Pantone and Adobe Stock, an amazing resource for visual inspiration and creative development, have partnered to create a curated Color of the Year 2019 collection.

The experts behind #COY2019 sit within the Pantone Color Institute™, the color consulting arm of Pantone. Through seasonal trend forecasts, color psychology, and custom color consulting, the Pantone Color Institute partners with global brands to leverage the power and emotion of color in design strategy.

Understanding that color is innately visual, we have gathered a series of materials to help communicate Living Coral's impact across industries. At the following link, you will find the press release, hero imagery and video, proof points, and information on Pantone's lifestyle and standards products [Link here]. We can also share an image gallery from official Pantone Color of the Year 2019 partner Adobe Stock [Link here]. Also please do check out our Instagram post officially unveiling the color [Link here].