Clemson students, as well as industry, will benefit from X-Rite's top-of-the-line color management solutions
Clemson, S.C. — X-Rite Pantone recently donated a large collection of in-kind gifts totaling nearly $500,000 to Clemson University's graphic communications department and the Sonoco Institute of Packaging Design and Graphics. The donation includes the latest versions of X-Rite hardware and software, with installation and training built into the agreement, which spans a minimum of three years. X-Rite has played an important role in educating Clemson students over the years, providing resources that support talent development.
As a result of this gift, Clemson University now has the latest eXact and i1 spectrophotometers, iO scanning tables and Judge light booths, as well as software such as InkFormulation, ColorCert and NetProfiler. This technology will allow students to access sophisticated color measurement, ink formulation and print quality hardware and software.
"We are very grateful to X-Rite for working with us to provide students with the latest capabilities in color management and color measurement solutions," said Bobby Congdon, assistant director of the Sonoco Institute. "These gifts will enable us to enhance our ink lab capabilities to become a fully functional, professional ink lab."
With more than 150 collective years of color experience, X-Rite Pantone offers a full set of color solutions and services to ensure a streamlined color workflow that helps to avoid costly shipment rejections and delivers brand integrity and design intent from production to a final product.
Industry professionals will also have the opportunity to utilize these tools at the Sonoco Institute's ongoing training courses.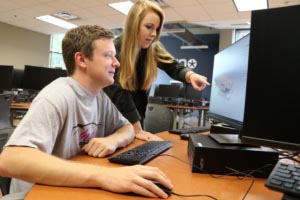 X-Rite technology is utilized in the Sonoco Institute's Packaging Supply Chain Computer Lab.