Compacta 818 from Koenig & Bauer for French printer
Successful 20-year partnership
Continuation of growth strategy
Relocation and commissioning by Koenig & Bauer
SIB Imprimerie S.A. (Societe D´Impression du Boulonais) is investing in a Compacta 818 from Koenig & Bauer. It will be joining two existing Compacta 318 presses at the company in the north of France and is scheduled to enter production in spring 2019. SIB print shop manager Francis Verbeke: "Our two presses from Koenig & Bauer run like clockwork. We are convinced that Koenig & Bauer is also the right partner to have at our side for this new press. Our 20 years of trustful partnership speak for themselves." The press is able to print up to 45,000 copies per hour with up to 72 pages, and was previously installed at a location near Paris. "Our customers appreciate our longstanding experience and our professional team," says Martin Schoeps, head of service management at Koenig & Bauer Digital & Webfed. "We have earned a reputation for always completing our relocation and commissioning projects on schedule. And the fact that we have now received another order from SIB is naturally seen as confirmation of our successful work."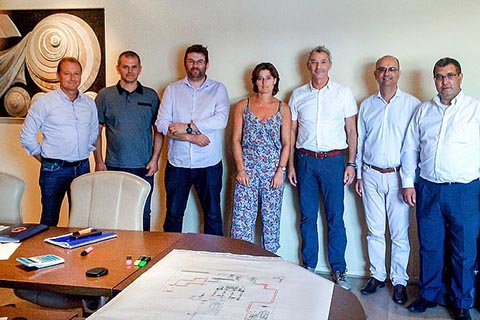 After signing the contracts (left to right): Volker Löber, service manager, Koenig & Bauer Digital & Webfed; Jérôme Barlet, project manager, SIB Imprimerie S.A.; Francis Verbeke, print shop manager, SIB Imprimerie S.A.; Sofie Bulteau, financial director, SIB Imprimerie S.A; Martin Schoeps, head of service management, Koenig & Bauer Digital & Webfed; Pierre Pommier, sales manager, Koenig & Bauer (FR); Najib Moumni, service manager, Koenig & Bauer (FR).
Young print company committed to further growth
SIB Imprimerie S.A. was founded in 1974 and pursues a strategy geared to constant growth. With a turnover of €37 million and almost 200 employees, the company is in the meantime one of the largest printing companies in northern France. In the course of digital transformation, SIB has further broadened its portfolio of high-quality and classic print products such as magazines, catalogues, posters and business cards. From layout through to the finished product, the company's digital division acts as a single contact and supplier for all process steps.
80-page press with high level of automation
The Compacta 818 is engineered with a cylinder circumference of 1197 mm for a maximum web width of 2060 mm. Up to 45,000 copies with a maximum of 72 pages can be printed per hour. The press features an automatic reelstand for paper loading, four printing units with semi-automated plate changers, a high-performance Contiweb dryer with integrated afterburner, and a variable V5 folder for long- and short-grain production. An inline colour measuring and control system ensures maximum process stability, while the LogoTronic production management system handles the exchange of digital presetting data, along with production monitoring and evaluation.