The idiom " the proof is in the pudding" means that that you can only judge the quality of something after you have tried, used, or experienced it. Now one year after purchasing their high speed W+D Halm i-Jet 4 color inkjet overprint press that prints at 32,000 #10 envelopes/per hour at 1600 x 1375 dpi, Kent Gundlach President of Victor Envelope of Bensenville, IL agreed to sit down and talk about their experience and why he feels high-speed inkjet overprinting definitely has a place in the envelope market.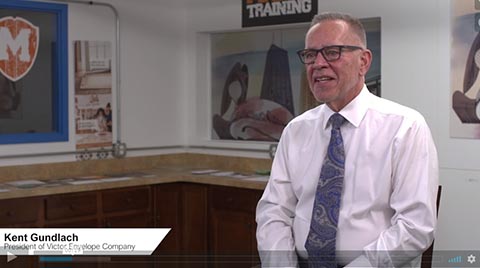 Click here to watch the Kent Gundlach interview
W+D has prepared several financial tools for customers to evaluate profitability of their short-run overprint work. Many have the opinion that inkjet overprinting is not profitable on job lengths over 5,000. This is really not supported by our analysis or results of our Halm i-Jet users. We strongly believe there is a profitable market for runs as high as 100,000 envelopes. With the lowest cost for ink and print heads of any memjet inkjet system, overprinted envelopes of 1,2 or 4 colors with job run lengths of 1 to 100,000 can be produced faster and profitably with a reasonable amount of ink coverage. Simply stated the real "sweet spot" for almost any type of overprint job on the Halm i-Jet is 30,000 or under.
Ask for a copy of our inkjet profitability excel tool and do an analysis of your work.
Email [email protected] and ask for free excel tool and let us run a demo with your jobs to see.