Paired with Shanghai Dragon Printing Machinery's Dumax-330 label press at All in Print
Ann Arbor, Mich. – Xitron, the leading independent developer of RIP and workflow products for commercial, digital, and high-speed inkjet printing has partnered with China's Dragon Printing Machinery, launching a DFE developed specifically for presses using Memjet DuraLink technology. Dragon, a member of UP Group introduced their Dumax-330 label press at All in Print, China. Revealed first to a select group of industry dignitaries and the media, the Dumax-330 with Xitron's DFE was one of the most popular exhibits at the show.
Able to print at 100 meters per minute, the Dumax-330 is a high-speed roll-to-roll inkjet press designed for labels, custom packaging, and variable data applications. It features a maximum printing width of 222 mm and can handle a 600 mm diameter roll of coated, uncoated, glossy, matte, synthetic stock, or plastic film. The new Memjet DuraLink printhead carries a 1600 dpi resolution with 70,400 nozzles and five times nozzle redundancy. This means five nozzles address each pixel on the page for truly sustainable quality.
Xitron's Navigator DFE controls job queuing, imaging, and color management, and includes an innovative spot color matching capability that is important for brand owners. RIP speed is among the fastest in the industry, even when incorporating variable data options for custom applications. Because of this, Navigator is able to drive the Dumax-330 at full rated speed. Built around the industry standard Harlequin platform, Navigator's command and control of jobs allows operators to maintain complete production visibility throughout each print run.
"We're extremely honored to be working with UP Group and Memjet on this important launch," said Karen Crews, president of Xitron. "The interest at the exhibition was high and the press performed flawlessly through the entire show schedule." Willie Huang, Chairman of UP Group added, "Our teams have kept in close contact throughout this development process and the result is a tightly integrated system that is producing superior results. The product launch at the exhibition was very well attended and I anticipate much future success due to our intense collaborative efforts."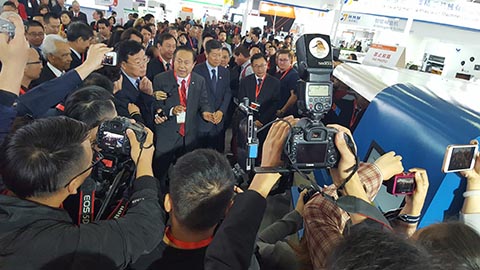 Willie Huang, President and CEO of Shanghai UP Group presents the Dumax-330 inkjet label press to printing industry dignitaries and the media at All in Print China. The high-speed label press - configured with Memjet Duralink heads – is being driven with the Xitron Navigator Digital Front End.