"CERADROP, a MGI Group company, expands its horizon and welcomes their new customer and partner – The Tampere University of Technology. TUT is located in Tampere, the Nordic countries' largest inland city, and conducts research in the fields of technology and architecture. TUT has an extremely strong societal impact by generating research knowledge and competence for the benefit of society. The University is a strong partner for collaborative research and development projects with business and industry by providing an excellent ground for innovation.
CERADROP is proud to collaborate with such a prestigious foundation and provides TUT with its cutting-edge equipment for advanced R&D and production purposes. CERADROP expertise is focused on design and manufacturing of advanced systems for printed electronics and smart 3D printing and is based on the company's strong knowledge in materials science. The CeraPrinter F-Serie enables complex functional multi-material components design, printing and characterization and represents a breakthrough for emerging applications in organic and printed electronics. Providing our customers with such an all-in-one tool for complex systems is in the core of our company's mission. We are continually expanding our network all over the world in order to offer users flexible digital printing solutions that permit them to overcome any challenge in complex functional device manufacturing."
– stated Nicolas BERNARDIN, Sales and Business Development Director at CERADROP
"The CERADROP F-Serie is operating in the Laboratory for Future Electronics of Tampere University of Technology, Finland, for the additive manufacturing of high-resolution thin-film electronics, energy autonomous sensors, conformable wearable electronics (soft/stretchable, on-skin, textile), and hybrid systems. The CeraPrinter strengthens TUT in academic research, but also strengthens our close collaboration with industrial partners in the field of printed and organic electronics.
We chose the CeraPrinter F-Serie because it offers a complete modular high-resolution inkjet platform with integrated post-processing options and a user-friendly interface.
The main advantages are:
High-accuracy printing with excellent layer-to-layer registration
Support of various inkjet heads from disposable cartridges to high-quality industrial heads
Integrated drop watcher with software for automated drop analysis
Integration of online annealing units i.e. UV LED and near infrared
Integrated 4-point resistance measurement system
Fully integrated software, with a single interface, for print file/program design, printing, post printing processes, and post-printing characterization
The equipment gives us the opportunity to print functional materials for numerous applications in the field of electronics, bioelectronics, and optoelectronics. The great support from CERADROP team and our first on-site experiments have demonstrated that we made a right choice."
– noted Professor Matti Mäntysalo at TAMPERE UNIVERSITY OF TECHNOLOGY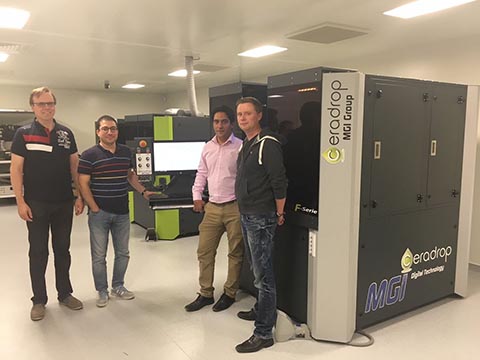 Successful first on-site experiments.