Continued investment in the latest technology and superior customer service
Over 50% increase in net press speeds over prior equipment
Flexibility to print straight or five-over-five perfecting at maximum speeds
October 2018 marks 50th anniversary milestone in business
In a drive for innovation and enhancement, Kingery Printing is marking its 50th anniversary this month with the operation of its new Koenig & Bauer Rapida 105 PRO 41-inch ten-color five-over-five perfecting press with an inline tower coater. It was December 2017 when the Midwestern firm that specializes in unique print-driven products and services, such as catalogs, publications, marketing collateral, and book production, took delivery at its headquarters facility in Effingham, IL. Since then, the firm has experienced higher quality and accuracy, over 50% increase in net press speeds, significant waste reduction, and incredibly fast changeovers from job to job in under eight minutes.
"As we celebrate this milestone in our company's history, we maintain our founding vision of continued investment in the latest technologies and superior customer service that have contributed to our company's success," says Michael Kingery, president of Kingery Printing, who proudly oversees the growing firm as a second generation owner. "Our customers demand the highest quality available in the industry today at a price that can compete with printing companies located all over the world. We take great pride in staying ahead of the competition by investing in equipment that delivers the highest quality at the fastest speeds."
Steve Korn, Koenig & Bauer's Director of National and Key Accounts, adds, "This new Rapida 105 PRO press investment made by Kingery Printing signals that the largest independent downstate Illinois printer has chosen to invest with Koenig & Bauer to provide access to higher technology for its existing and growing roster of clients. We at Koenig & Bauer are most appreciative of the strong partnership that we've forged together with Kingery Printing as we worked hand-in-hand on this important project. This investment is already realizing greater manufacturing efficiencies and providing increased capacity because of its industry leading sheetfed press technology. We congratulate Michael Kingery and his entire team on what they've accomplished, their remarkable growth in both sales and physical facilities, and even more important, on their extremely talented team who focus on customer satisfaction each and every day. We are certain that this new Rapida 105 PRO perfecting press will efficiently drive more jobs and volume through Kingery Printing's production facilities, fuel ongoing growth, and continue Kingery Printing's high quality and on-time service for many years to come."
To maintain its steady growth, Kingery chose to invest in a new highly-automated industry-leading press from Koenig & Bauer, which replaced three older presses. Every aspect of the new perfecting press brings superior advantages that Kingery had not had before. The Rapida 105 PRO produces jobs either straight or perfecting at 15,000 sph, 50% faster net speeds than was previously possible.
"We had only had the Rapida 105 PRO in our pressroom for less than six months and we were already reaping the benefits of its automation and unique features," says Kingery. "The Rapida is equipped with the combination of Koenig & Bauer inline QualiTronic Color Control capability and System Brunner Instrument Flight print quality measuring system. Having earned a reputation as the leading inline color control system on the market, the Koenig & Bauer QualiTronic Instrument Flight emphasizes color balance and gray balance, taking into account more than 30 process variables. The Rapida's inline color control and register control of both sides of the sheet are all computer controlled and linked to prepress, thus quickly getting the press preset for operation. This has reduced makeready in comparison to previous presses exponentially. The lightning-fast makeready in under eight minutes is truly incredible to witness day in and day out. The inline color control also provides detailed reporting and measurement documentation to pinpoint the accuracy of each sheet as it is printed. Its camera system reads both sides of every printed sheet on this perfecting press with the same high quality camera that is found on Koenig & Bauer's currency press models. Having the press equipped with LED drying for each side of the sheet ensures that each sheet passes through the press completely dry and with no possibility of marking, guaranteeing that customers will receive their jobs quickly, timely, and with optimum quality control."
On the front end of the new Rapida 105 PRO, two non-stop fully-automatic feeding options are in place that allow for either sheets or paper from rolls to be fed into the press with no operator intervention. Printing from rolls has enabled Kingery to realize paper savings of up to 30%. To the delight of press operators, the Rapida's auto-plate loading system has also contributed to reducing makeready time. All of this top-flight automation has reduced waste significantly by as much as two-thirds, making this one of the greenest assets in the Kingery Printing arsenal.
The Rapida 105 PRO's rugged, durable construction translates to outstanding up-time for Kingery's operators. A unique feature added by the German press manufacturer is its smooth cylinders throughout the entire press. These smooth cylinders ensure that quality from the A and B side of every printed sheet are identical for optimum printing quality.
With Kingery's array of customers, the firm is challenged to print on a broad range of substrates from lightweight paper to heavy board stock. It was necessary for its new Koenig & Bauer press to offer the flexibility and quality to tackle these demands. The Rapida 105 PRO is designed to print 40 lb book substrates up to 28 pt board as well as on specialty substrates such as plastics, synthetic paper, and label stock, which will allow Kingery to open new markets.
"It just felt like Koenig & Bauer (US) was a better partner," says Kingery, regarding his decisive conclusion to invest in a new Koenig & Bauer press. "The sales team at Koenig & Bauer came to us with a superior solution and delivered on a firmer partnership that includes a deep bench of service and support. The response times have been dramatically better than any other manufacturer."
In fact, notes Kingery, his press operators, mechanics, and crew received excellent practical training to properly care for and operate their new Rapida 105 PRO providing them with the utmost knowledge and support from Koenig & Bauer's professional organization.
"As we celebrate our 50th anniversary in business, I have to thank and send gratitude to the numerous employees who have helped us get to this amazing milestone," says Kingery. "We're a Midwestern-based firm focused on our customers; we are people of our word. We have maintained the same values that my father, John Kingery, promoted when he began the business. We're blessed with great success due to the fine abilities of our craftsmen. We offer fair pricing and 50 years of on-time delivery. Our investment in next-generation technology, including our new Rapida 105 PRO, will solidify Kingery's place as a leader in the industry for many years to come."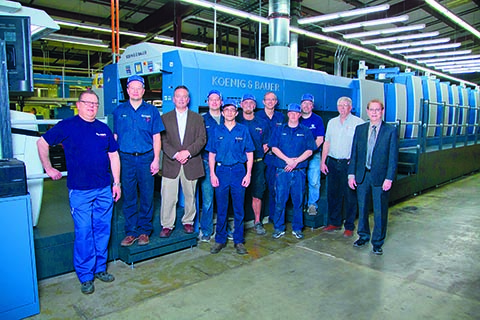 Left to right: Andreas Ullbrich, Andy Huber, John Wurtsbaugh, Logan Sanders, Loren Zerkel, Tyler Smith, Steve Gillespie, David Pearcy, Kevin Wright, Kurt Jansen, and President Michael Kingery in front of the new Koenig & Bauer Rapida 105 PRO press.